No one wants a "solitary experience" anymore, says Conviction's multiplayer director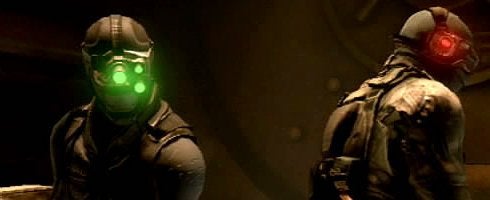 Patrick Redding, the game director for Splinter Cell: Conviction's multiplayer, has revealed that the co-op portion of the game came about because no one wants a "solitary experience" anymore.
Speaking with VideogamesDaily, Redding said that co-op used to be more for the hardcore gamer, and now that it has become more mainstream, the developers felt the need to add more elements to the mode in order for it to fit the game.
"I see this co-op as fitting within a trend or a tendency that I think is emerging – actually it emerged a long time ago, but I think it's just moved into the mainstream – which is that before, co-op was a relatively hardcore gaming paradigm for people," he said.
"It tended to be the thing that people who were PC tactical shooter gamers were really obsessing over, or that sports gamers were really obsessing over, and I think now what we have is a generational shift, where the core of the mass market are people who both want to have a deep story, memorable moments and all of the drama and meaning and investment that we typically have always had in single player games, and they also want to be able to share it with their friends.
"They don't want it to be a solitary experience, they want to be able either to sit on the couch with their girlfriend and play, or be on Xbox Live with their best friends and play, and feel that something is unfolding according to some design intention, and they're getting a chance to experience that but it doesn't have to be that alone.
"That was what motivated us to move in the direction we did. I think when we looked at what single player was trying to do with Conviction, it's a more internal story, it's less about the outside world going to hell in a handbasket and there's one man who can go in and save the day, and it's a lot more about Sam's personal hell, and what he's doing to get out of it, or go deeper into it depending on how you look at it, and how situations are being manipulated by outside forces who have their own agendas, and how he reacts to that.
"And I think that informs a lot of the game design choices we made, it informs the whole dynamic of this slightly more active mode of stealth, and the offensive qualities that come out of that: being able to strike at enemies with impunity, that sort of thing. And I think when we looked at co-op we thought, 'we have to do the same thing': there has to be a story there for the reasons I gave, but there has to be an extension of what the Splinter Cell universe is now".
Splinter Cell: Conviction's out in North America today, and the UK Friday.
So far, people seem to like it.
PC'ers get it on April 29.