How to get Cryo Freeze Ammo in MW3 Zombies
Slowing down zombies using Cryo Freeze Ammo is no problem, but finding the ammo? Well...
Modern Warfare 3's Zombies mode isn't just about mowing down legions of the undead. There are story missions for players to complete if they want to unlock more resources to use across the battlefield, and one such resource you'll need to use during the Freezer Burn mission is Cryo Freeze Ammo.
This Act 1: Welcome to Operation Deadbolt mission tasks you with slowing down multiple zombies and hellhounds using frozen ammunition, but you'll need to get your hands on it first. So, with that said, here's how to get Cryo Freeze Ammo in MW3 Zombies.
---
How to get Cryo Freeze Ammo in MW3 Zombies
You can get Cryo Ammo in MW3 Zombies either from Aether Caches or by crafting.
But during Act 1 of MW3 Zombies' story missions, the Freezer Burn mission will request that you slow 50 zombies and 10 Hellhounds using Cryo Freeze Ammo. But where can you get your hands on this type of ammunition?
First things first, you'll want to have completed the Take Up Arms mission, which is a Tier 1 mission in Act 1. This will reward you with some Cryo Freeze Ammo to play around with.
If you have already taken this ammo into a match, it won't be available for free again. If you're yet to use it, then you're in luck.
If you have completed Take Up Arms and don't have any Cryo Freeze Ammo available, you'll instead want to loot the ammo from Aether Caches and hope that you find the ammo or the schematics to craft it with.
How to get Cryo Freeze Ammo from Aether Caches
The first way to get your hands on some Cryo Freeze Ammo is - technically - by completing the Take Up Arms mission mentioned above. After that, your next best bet opening Aether Caches. These caches can be found around the map on occasion, but a surefire way to get your hands on them is in infected strongholds. These are recognisable when you run past them as there'll be some green smoke emitted from the buildings entrances, and they're also marked on your map.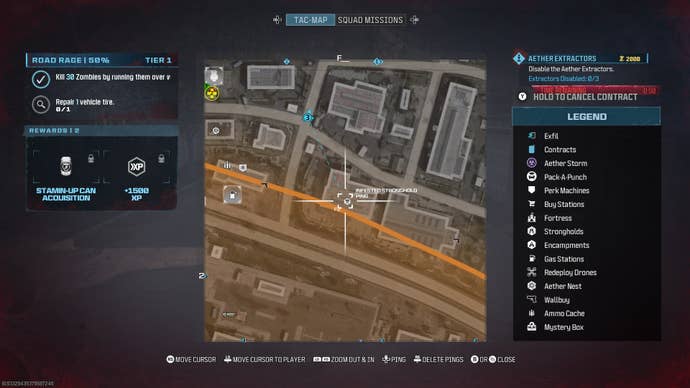 To enter these buildings and open the Aether Caches without taking damage, you'll first need to find and equip a gas mask. Once inside, you'll then need to clear the infestation. There'll also be plenty of essence vials to pick up and collect here.
Once that's done, look for a small chest with pink crystals on it and open it.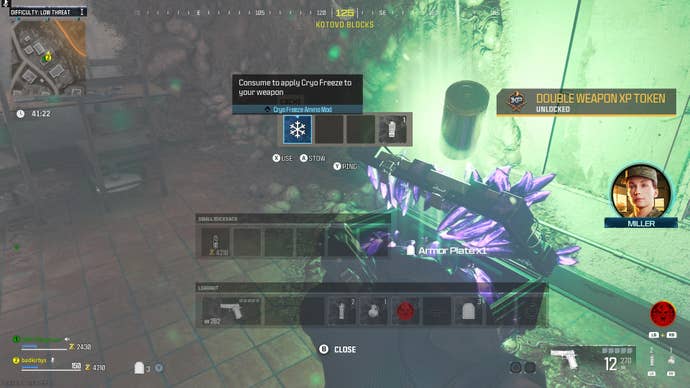 Loot inside of Aether Caches is also randomised, so there's still no guarantee you'll get your hands on Cryo Freeze Ammo or a schematic for it. When you do, though, you've got your work cut out for you as you then use the ammo on 50 zombies and 10 hellhounds.
How to craft Cryo Freeze Ammo in MW3 Zombies
To craft Cryo Freeze Ammo in MW3 Zombies, you'll need to find the relevant schematics for it during a match.
Schematics can be found in Aether Caches, loot chests, and Reward Rifts, but the schematics provided during a match are completely randomised. This means you could find a schematic for crafting Cryo Freeze Ammo right away, or not at all.
When you do find a schematic, you'll need to exfil with it as soon as you can to be able to craft it. Then, go about customising your loadout and open up your rucksack. You'll be able to use the schematic crafting menu here, and craft yourself some Cryo Freeze Ammo to take into your next match with you.
It's also worth noting that while you don't need any materials to craft schematics with, items you do craft will have a cooldown before you're able to craft and use them again, including the Cryo Freeze Ammo.
---
For more on MW3, how are your multiplayer loadouts looking? Take a look at what we think the best guns in MW3 are, and how to make sense of the Armory Unlock challenges.