LittleBigPlanet has over 600,000 user-created levels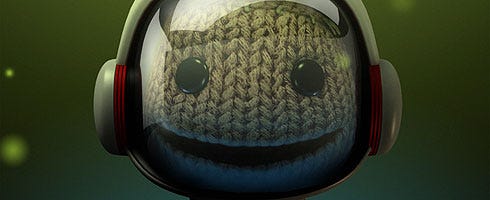 Media Molecule announced via a lovely press release this morning that LittleBigPlanet now has over 600,000 user-created levels.
That's 35,373 levels created per week since release, bringing the grand total to 646,135.
There are 1,934,700 members in the game's online community, apparently.
Wow.
Full thing below.
'LittleBigPlanet(TM)' Adds Top Awards from Academy of Interactive Arts and Sciences, British Academy of Film and Television Arts and NAVGTR(TM) Corp. to Extensive List of Accolades
FOSTER CITY, Calif., March 20 /PRNewswire/ -- Sony Computer Entertainment America (SCEA) today celebrates the recent success of the PLAYSTATION(R)3 (PS3(TM)) exclusive and community-based title, LittleBigPlanet(TM), which has been recognized with a slew of industry awards since its launch. Of particular note, LittleBigPlanet was awarded an impressive eight awards, including the prestigious Game of the Year title, at the Academy of Interactive Arts & Sciences' (AIAS) 12th Annual Interactive Achievement Awards(R) (IAA) in Las Vegas, and was recognized by the British Academy of Film and Television Arts (BAFTA) organization for the Best Artistic Achievement GAME award. In addition, the National Academy of Video Game Testers and Reviewers Corp.(TM) (NAVGTR) presented LittleBigPlanet with a leading six awards, including Game of the Year, as part of the 8th Annual NAViGaTR Awards.
Since its launch, LittleBigPlanet has dominated video game industry award categories with over 60 award wins, making it the most decorated PS3 system title to date. Additionally, the number of nominations LittleBigPlanet has received is another indicator of its success, including recent nominations for seven awards, including Game of the Year, as a part of the upcoming 9th Annual Game Developers Choice Awards. Winners will be announced on Wednesday, March 25.
"We've been overwhelmed by the positive reception LittleBigPlanet has received from gamers," said Alex Evans, Co-founder and Technical Director of Media Molecule. "The awards it has received further validate the goals we had in mind when we began development. As the proud parents of SackBoy(TM), we couldn't be happier about how well he has been accepted by the gaming community."
"The Annual Interactive Achievement Awards aim to showcase the best confluence of art and science," said Joseph Olin, President of the Academy of Interactive Arts and Sciences. "LittleBigPlanet's combination of creativity and innovation make it the standout among a field of strong contenders and we're proud that this game acts as a shining example of the talent and skill represented by the video game industry."
Since its launch last October, LittleBigPlanet has made a tremendous impact on the game industry and overall gaming community by allowing players from across the globe to interact through the LittleBigPlanet online community via shared levels and objects, rankings and user comments. With over 646,135 levels*(1) created by users alone, the worldwide LittleBigPlanet community continues to grow exponentially to encompass 1,934,700 total users*(2) in the LBP online community with an average of 35,373 user-generated levels*(3) uploaded each week in the short period of time it has been available.
Recognized for its unique, groundbreaking and genre-defying abilities, LittleBigPlanet continues to receive accolades from the game industry's key media outlets, which include IGN (Best PS3 Platform Game of 2008, Most Innovative Design), GameTrailers (Most Innovative Game of 2008), GameSpy (Best PS3 Game of 2008) and GamePro (Game of the Year 2008), to name just a few. Additionally, LittleBigPlanet has been awarded with several highly coveted E3 honors by 1Up (E3 2008 Game of Show), G4TV (Best E3 Original Game, E3 Game of Show), GameCritics (Best E3 Console Game) and GameSpot (Best Platform Game at E3), recently received two awards and eight nominations at the 2008 Spike Videogame Awards, as well as has been listed in top 10 and favorite videogame lists by the Associated Press, and in USA Today, Entertainment Weekly, MSNBC.com, WIRED Magazine and PC World.
Developed exclusively for the PS3 system by Media Molecule, LittleBigPlanet allows players to control the iconic and customizable SackBoy as they play, create and share their masterpieces in a stitched-together, 3D-crafted material world. LittleBigPlanet invites players of all ages and skill types into an innovative and imaginative experience where they can explore and play through developer and user-generated levels. Additionally, players can use the same design tools, materials and stickers Media Molecule built the actual game with to shape or build objects and entire game levels. Players can then share these creations with the LittleBigPlanet community online via PlayStation(R)Network.
LittleBigPlanet features cooperative multiplayer gameplay, which allows up to four players the opportunity to play and complete their levels offline with friend at home or play online with other members of the community.
For more information on LittleBigPlanet, please visit: http://www.littlebigplanet.com/