Jak and Daxter: The Lost Frontier coming to PS2 and PSP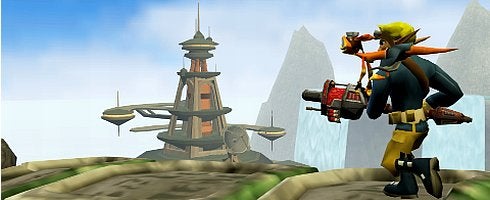 Sony's just announced Jak and Daxter: The Lost Frontier for PS2 and PSP .
The duo travel across "mysterious lands" and "take to the sky" in the game, in order to save their planet from destruction.
The Lost Frontier takes up where the original trilogy left off, with the duo striking out on a journey to help their pal Kiera become a sage.
The new game contains five different aircraft in which to battle sky pirates, along with a new weapon called the Gunstaff, which transforms into other weapons.
Expect to see it at retail this fall.

Jak and Daxter™ reunite for a brand new sky-high adventure!
The legendary duo are back in action for Jak and Daxter™: The Lost Frontier on both PSP™ (PlayStation®Portable) and PlayStation®2
London, 01st April 2009: Hero Jak and his mischievous sidekick Daxter are back together… and for the first time-ever they've joined forces on PSP™ (PlayStation®Portable). Get set for the latest addition to the smash-hit Jak and Daxter™ series, Jak and Daxter™: The Lost Frontier from Sony Computer Entertainment Europe. Prepare for non-stop action and adventure as the duo travel across mysterious lands and take to the sky on a mission to save their planet from destruction. Take this incredible adventure with you anywhere on your PSP™, or play it at home with PlayStation®2 – both out this autumn for PAL territories.
Picking up fromwhere the original Jak and Daxter trilogy left off, Jak and furry friend Daxter team up with their friend Kiera on her quest to become a Sage and save their world from the threat of darkness. As the environment of their planet slowly dies, our two worldly heroes embark on a mission to protect their world from the threat of "dark eco".
Beginning on foot, you'll run and jump across undiscovered lands, before taking flight in one of five different aircrafts. With cheeky Daxter and our serious Hero Jak together on the adventure, fun and laugher is never far away. Blast airborne enemies and battle sky pirates with your powerful Gunstaff – a brand-new weapon that can transform into other new weapons.
Since launching in 2001, the Jak and Daxter franchise is an ongoing success story with nearly 6 million units sold across PAL territories and seven Guinness World Records under its belt. All five titles, including the Jak and Daxter trilogy, follow Jak and Daxter's journey as they strive to strike a balance between the light and dark eco on their planet.
The latest installment takes players to the long awaited "Lost Frontier" reached by the much-loved Jak and Daxter. Get set for a sky-high, laugh out loud and colourful new adventure with Jak and Daxter: The Lost Frontier. The future of their planet is in your hands with PSP - or save the day at home with PlayStation 2. Jak and Daxter: The Lost Frontier will be released on both platforms this Autumn. To find out more, please visit www.playstation.com
ENDS