Idris Elba to voice Knuckles in Sonic the Hedgehog 2 movie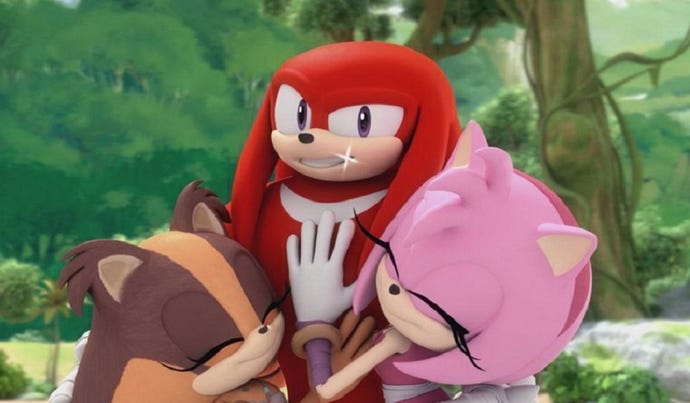 A new tweet from Idris Elba appears to suggest the actor will be voicing Knuckles the Echidna in Sonic the Hedgehog 2 when it launches next year.
This follows news of a new movie synopsis for Sonic the Hedgehog 2 that seemed to suggest the film will be following the events of the Sonic 3 game, with Robotnik and Knuckles taking a central role.
Those rumors and that leaked synopsis, it seems, had some credibility: as you can see from the tweet below, Elba appears to be teasing his presence in the film, giving us our first look at what Knuckles will look like in live action.
"After settling in Green Hills, Sonic is ready for more freedom, and Tom and Maddie agree to leave him home when they go on vacation," reads the synopsis, which is attached to the movie's copyright filing (via Paramount).
"But, no sooner are they gone, when Dr. Robotnik comes back, this time with a new partner, Knuckles, in search for an emerald that has the power to both build and destroy civilizations. Sonic teams up with his old sidekick, Tails, and together they embark on a journey to find the emerald before it falls into the wrong hands."
It makes sense that the studio will want to go down this route, especially given that Sega will want to prickle the nostalgia glands of Sonic 3 lovers. Sega announced Sonic Origins – which will feature Sonic the Hedgehog, Sonic the Hedgehog 2, Sonic the Hedgehog 3 & Knuckles, and Sonic CD – earlier this year. It's the first time we're going to see a proper rerelease of Sonic 3 for a very long time.
We already know that a sequel to the Sonic the Hedgehog movie is in development, but we're starting to get a little more information about exactly what the film will look like once it hits theatres in April 2022.