gamescom interview: Ray BioWare confirms intro content for ME2 PS3, included DLC, more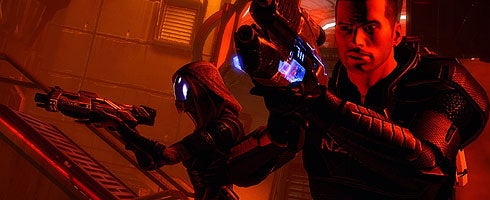 BioWare boss Ray Muzyka, speaking in Cologne today, has told VG247 that the PS3 version of Mass Effect 2 is to include introductory content to provide a "seamless introduction" to the IP's universe, as well as confirming the inclusion of DLC and access to the Cerburus Network.
Following confirmation of a January 2011 release for a PS3 version of Mass Effect 2 in EA's gamescom press conference yesterday, Muzyka said it was important to the studio to "bring some new things to bear" for the PS3 version.
"One of the things we're doing is that we're bringing a lot of the post-release downloadable content and will integrate it into the experience, so that PS3 fans can check that out and play it," he said.
While confirming the inclusion of an introductory segment for the PS3 SKU, Muzyka was cagey on specifics, refusing to confirm whether or not new gameplay is to be included over the 360 and PC version.
"We're making sure there's a really seamless introduction to the world of Mass Effect, for players that haven't experienced it before," he said.
"So even though it's Mass Effect 2 specifically, we're making sure there's a nice introduction experience, that provides the back-story and the things that have happened up to that point in the universe, and makes it a really seamless introduction."
He added: "We haven't revealed what that is yet. It'll be something that provides a good introduction and provides a lot of the back-story and introduces you well to the story-arc, and kind of makes you feel like you're part of it all. And then you can jump right into the action in Mass Effect 2."
Muzyka said that, while Cerberus Network features are unnannounced for the PS3 version, it will be available in a "full way".
"I guess in terms of what the Cerberus Network represents, it really represents a lot of content, it represents a lot of post-release support, and we... do want make sure the PS3 fans get that experience in as full away as possible," he said.
"But we'll reveal more of that over time."
Multi-format future is "good guess"
When asked the obvious question of whether or not this announcement of a PS3 version of Mass Effect 2 means we're going to see future games appear across the console formats, Muzyka would only hint at what's to come.
"That'd be a good guess, but we haven't announced any details on any future formats or anything, or even formally announced Mass Effect 3 yet, although there's a natural assumption that there will be a Mass Effect 3 as it's a trilogy. We've said that and more or less confirmed it, but we haven't announced any details on the product yet, or the platforms.
"EA is a company that wants to support different platforms, reach different audiences; we're part of EA and we want to make sure we can embrace that as well. I think we're trying to do that with all of our products, whether it's Dragon Age or Mass Effect."
Whatever the future holds for Mass Effect, though, Muzyka laughed when we told him the announcement of the second game on PS3 flattened VG247, saying it was "fun" to see reaction from gamers.
"We're really excited about the idea of bringing Mass Effect to PS3," he said.
"I said it on stage; we've been asked again and again by journalists, fans, the community, 'When's it going to happen?' We wanted to make sure we could do it right. We've been working on it for a while. We're pretty excited by it. We're excited to bring Mass Effect to a new audience."
Mass Effect 2 releases on PS3 next January.