Forza Horizon 4 full car list, early access and start time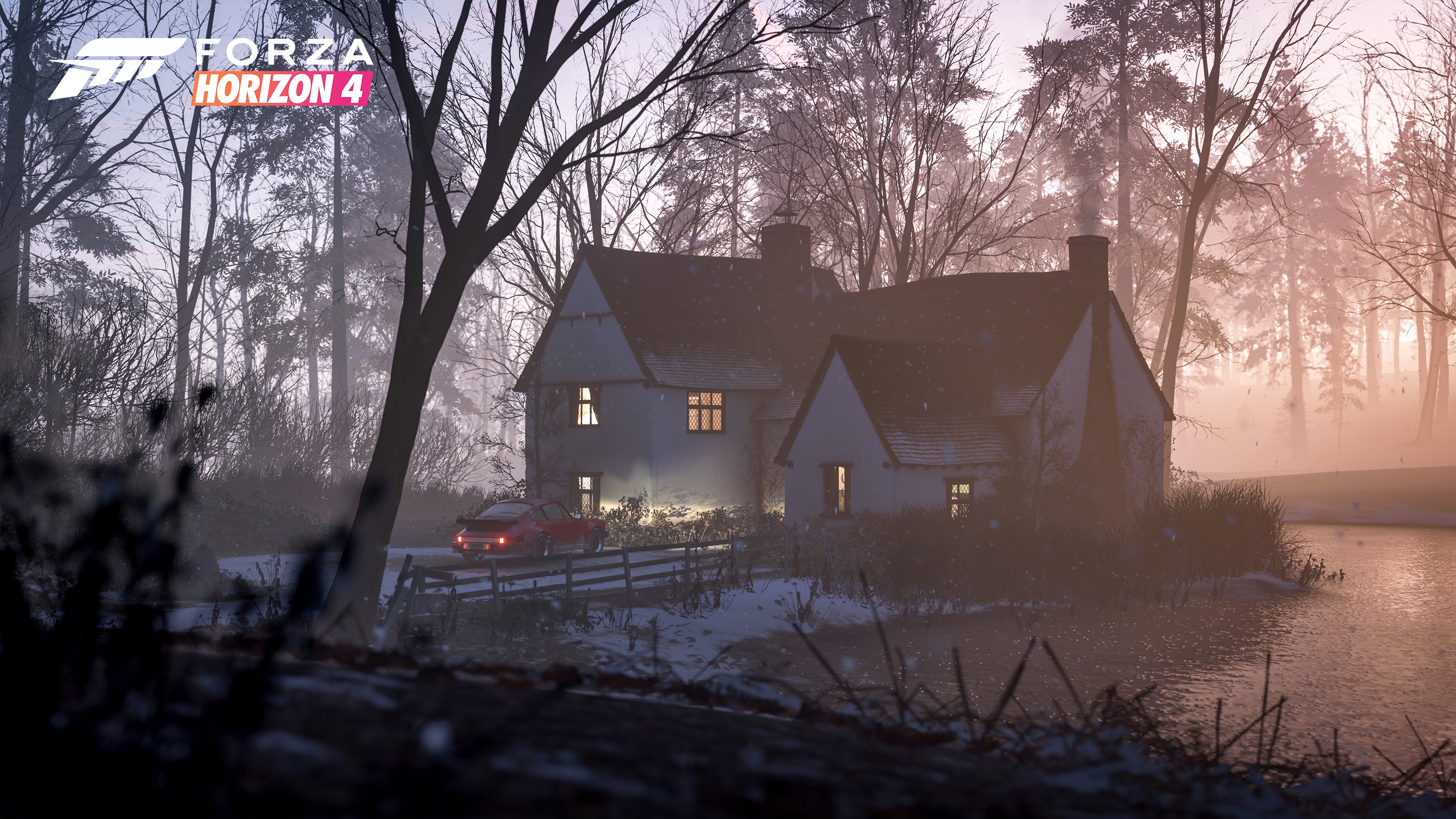 Get ready to burn your clutch out and drive far in your reasonably priced cars, more details have emerged about which vehicles will be available in Forza Horizon 4.
As usual, the line up is phenomenal and the cars are looking fine as hell in 4k.
Forza Horizon 4 early access
Players who have pre-ordered the Forza Horizon 4 Ultimate Edition will be able to play it 4 days early from September 28, 2018.
Fans who have Xbox Game Pass or who have ordered either the Standard or Deluxe Editions will be able to play on October 2, 2018.
Forza Horizon 4 pre-order
There are three versions of Forza Horizon 4 to pre-order:
Forza Horizon 4 Standard Edition
Forza Horizon 4 Deluxe Edition
Forza Horizon 4 Ultimate Edition
With the Standard Edition you'll get:
Forza Horizon 4 Formula Drift Car Pack
And with the Deluxe Edition:
Forza Horizon 4 Formula Drift Car Pack
Forza Horizon 4 Car Pass
And finally the Ultimate Edition:
Forza Horizon 4 Formula Drift Car Pack
Forza Horizon 4 Car Pass
Forza Horizon 4 Best of Bond Car Pack
Forza Horizon 4 VIP
Forza Horizon 4 Expansion 1
Forza Horizon 4 Expansion 2
Forza Horizon 4 Barn finds
Barn finds will be making a comeback in Forza Horizon 4 with a host of classic cars that look a little worse for wear hidden in barns across the map. We've compiled a list of the majority of cars and locations with a few notable exceptions. Seasons will affect whether a barn is accessible or not so you may need to revisit a locked barn over the course of a few weeks to get the car that awaits inside.
Forza Horizon 4 Season changes
Seasons will change weekly on Thursdays at 15:30 GMT in Forza Horizon 4 and should do so automatically without the need to log in and out. Seasons will affect some barn find locations as well as typical effects on driving conditions.
Forza Horizon 4 LaRacer @ Horizon missions
Forza Horizon 4's best set of missions pay tribute to the great racing games of the past. The LaRacer @ Horizon story missions involves helping a streamer capture footage for a top ten best car experiences in games list. Each of the ten missions pays tribute to a classic racing game series, including Daytona and Sega Rally.
Forza Horizon 4 Best of Bond
Those who have ordered the Forza Horizon 4 Ultimate Edition will receive the Best of Bond Car Pack as the Day One Car Pack. Those who purchase the Ultimate Edition will get early access to the game, beginning on September 28. Players will also be able to purchase the Best of Bond Car Pack separately at the global launch of the game on October 2.
The Best of Bond car list features modern classics like the BMW Z8 from The World Is Not Enough as well as several Aston Martin models, including the spectacular Aston Martin DB5. In addition to the cars, players who own the James Bond Car Pack in Forza Horizon 4 will also receive some in-game Bond perks, including two Bond outfits as well as six "Quick Chat" phrases for use in multiplayer to annoy your friends with.
Here's the full lineup of James Bond Edition cars inspired by the films in the Best of Bond Car Pack:
1964 Aston Martin DB5 inspired by Goldfinger (1964), Thunderball (1965), GoldenEye (1995), Skyfall (2012) and Spectre (2015)
1969 Aston Martin DBS from On Her Majesty's Secret Service (1969)
1974 AMC Hornet X Hatchback from The Man With the Golden Gun (1974)
1977 Lotus Esprit S1 from The Spy Who Loved Me (1977)
1981 Citroën 2CV6 from For Your Eyes Only (1981)
1986 Aston Martin V8 from The Living Daylights (1987)
1999 BMW Z8 from The World is Not Enough (1999)
2008 Aston Martin DBS from Quantum of Solace (2008)
2010 Jaguar C-X75 from Spectre (2015)
2015 Aston Martin DB10 from Spectre (2015)
Halo vehicle showcase
Last week, Playground Games revealed the Halo Showcase event in Forza Horizon 4. In addition to showing off the Warthog in all its Horizon 4 glory, the reveal detailed the Forza Horizon 4 car list, talking about the Forza Racing Championship ahead of the Series 2 Playoffs in Mexico City, and showing off all the cool stuff coming to Forza Motorsport 7.
Covenant shields pepper the horizon and a Pelican follows you throughout the event, with a few Banshees thrown in for good measure. Cortana will be there with a few choice quips up her digital sleeve, remarking on the "ancient dwellings" as you zip by some cottages through the British countryside.
You'll be able to race with the Warthog outside of this event in the base game, so let's get tactical, Marines.
Influence in Forza Horizon 4
Starting with the launch of the Forza Horizon 4 demo, players will begin to earn "Influence" in Forza Horizon 4 when watching the demo being streamed. Influence represents a player's progression in Forza Horizon 4 and is essential for the game's Horizon Life campaign.
Whatever you do in-game, you'll be earning Influence as you go, whether that's by completing campaign missions, performing stunts, taking photographs, creating (liveries, tunes and Blueprints), and even streaming or viewing on Mixer.
It is worth noting, however, that players must unlock the Mixer thread in the Horizon Life campaign to take advantage of Mixer-earned Influence. Once you have earned Influence for viewing a Forza Horizon 4 Mixer stream, you can claim it in the game using the same Xbox Gamertag you used to watch or stream on Mixer.
Players who stream Forza Horizon 4 on Mixer will earn Influence every two minutes, with a bonus applied for larger audiences, so there's a real emphasis on social playing with Forza Horizon 4.
Forza Horizon 4 full car list
Acura
2016 Acura NSX (Forza Edition Available)
2002 Acura RSX Type-S
2001 Acura Integra Type-R
Alfa Romeo
2016 Alfa Romeo Giulia Quadrifoglio (Forza Edition Available)
2014 Alfa Romeo 4C
2008 Alfa Romeo 8C (Forza Edition Available)
1968 Alfa Romeo 33 Stradale
1965 Alfa Romeo TZ2
1934 Alfa Romeo #12 Scuderia Ferrari P3
Alumi Craft
2015 Alumi Craft Class 10 Race Car (Forza Edition Available)
Arctic Trucks
2016 Toyota Land Cruiser Arctic Trucks AT37
2007 Toyota Hilux Arctic Trucks AT38
AMC
1973 AMC Gremlin
1971 AMC Javelin AMX
AMG Transport Dynamic
Ariel
2016 Ariel Nomad
2013 Ariel Atom 500 V8
Ascari
Aston Martin
2017 Aston Martin DB11
2016 Aston Martin Vulcan (Forza Edition Available)
2014 Aston Martin V12 Vantage
2013 Aston Martin Vanquish
2010 Aston Martin One-77
1977 Aston Martin V8 Vantage
1964 Aston Martin DB5 Vantage
1960 Aston Martin DB4 GT
Audi
2016 Audi R8 V10 Plus
2015 Audi S1
2015 Audi RS6 Avant
2015 Audi TT S
2013 Audi R8 V10 Plus
2013 Audi RS4 Avant
2013 Audi RS7 Sportback
2011 Audi RS3 Sportback
2011 Audi RS5
2010 Audi TT RS
2009 Audi RS6
2006 Audi RS4
2003 Audi RS6
2001 Audi RS4 Avant
1995 Audi RS2 Avant
1986 Audi #2 Audi Sport Quattro S1
1983 Audi Sport quattro (Forza Edition Available)
Austin
1964 Austin FX4 Taxi (Stories and Forza Version Available)
1965 Austin-Healey 3000 MkIII
1958 Austin-Healey Sprite MkI
Auto Union
BAC
Bentley
2017 Bentley Continental Supersport
2016 Bentley Bentayga
2013 Bentley Continental GT Speed (Forza Edition Available)
1931 Bentley 8 Litre
1931 Bentley 4-1/2 Litre Supercharged
BMW
2016 BMW M4 GTS
2016 BMW M2
2015 BMW i8
2014 BMW M4
2013 BMW M6 (Forza Edition Available)
2012 BMW M5
2011 BMW Z4
2011 BMW X5 M
2011 BMW 1M
2009 BMW M5
2008 BMW Z4 M Coupe
2008 BMW M3
2005 BMW M3
2003 BMW M5
2002 BMW Z3 M Coupe
1997 BMW M3
1995 BMW M5
1991 BMW M3
1988 BMW M5 (Forza Edition Available)
1981 BMW M1
1973 BMW 2002 Turbo
1962 BMW Isetta
Bowler
Bugatti
2018 Bugatti Chiron
2011 Bugatti Veyron Super Sport
1992 Bugatti EB110 Super Sport
1924 Bugatti Type 35
Buick
Cadillac
2016 Cadillac ATS V
2016 Cadillac CTS V Sedan
2013 Cadillac XTS Limousine
Caterham
2013 Caterha, R500 (Forza Edition Available)
Chevrolet
2017 Chevrolet Camaro ZL1 (Forza Edition Available)
2016 Chevrolet Camaro
2015 Chevrolet Corvette Z06
2015 Chevrolet Camaro Z/28
2009 Chevrolet Corvette ZR1
2002 Chevrolet Corvette Z06
1995 Chevrolet Corvette ZR1
1988 Chevrolet Monte Carlo
1979 Chevrolet Camaro Z/28
1970 Chevrolet Corvette ZR1
1970 Chevrolet Camaro Z/28
1970 Chevrolet El Camino SS
1970 Chevrolet Chevelle
1969 Chevrolet Camaro SS
1969 Chevrolet Nova SS
1967 Chevrolet Chevelle 396
1967 Chevrolet Corvette Stingray
1966 Chevrolet Nova SS
1964 Chevrolet Impala SS
1960 Chevrolet Corvette
1957 Chevrolet Bel Air
1955 Chevrolet 150 Utility Sedan
1953 Chevrolet Corvette
Chrysler
1972 Chrysler Charger VH Valiant Charger R/T E49
Datsun
Dodge
2018 Dodge Durango SRT (Forza Edition Available)
2018 Dodge Challenger SRT Demon
2017 Dodge Ram 2500 Power Wagon
2015 Dodge Challenger Hellcat (Forza Edition Available)
2015 Dodge Charger Hellcat
2013 Dodge Viper GTS
2008 Dodge Viper SRT10 ACR
1999 Dodge Viper GTS ACR
1970 Dodge Challenger R/T
1969 Dodge Charger Daytona (Forza Edition Available)
1969 Dodge Charger R/T
1968 Dodge Dart HEMI Super Stock
Donkervoort
Eagle
Ferrari
2015 Ferrari 488 GTB
2015 Ferrari F12 tdf
2015 Ferrari California T
2015 Ferrari 458 Speciale
2014 Ferrari FXX K
2013 Ferrari LaFerrari
2013 Ferrari F12 Berlinetta
2011 Ferrari 599 GTO
2011 Ferrari FF
2010 Ferrari 599 GTO
2010 Ferrari 599XX
2010 Ferrari 458 Italia
2007 Ferrari F430 Scuderia
2003 Ferrari 360 Challenge
2002 Ferrari 575 Maranello
2002 Ferrari Enzo
1996 Ferrari F50 GT
1995 Ferrari F50
1994 Ferrari F355 Berlinetta
1991 Ferrari 512 Testarossa
1989 Ferrari F40 Competizione
1987 Ferrari F40
1984 Ferrari 288 GTO
1969 Ferrari Dino 246
1968 Ferrari 365 GTB/4
1967 Ferrari #24 Ferrari Spa 330 P4
1965 Ferrari 250 LM
1964 Ferrari 250 GTO
1963 Ferrari 250 GT Lusso
1960 Ferrari 250 GT
1957 Ferrari 250 Testarossa
1954 Ferrari 500 Testarossa
1949 Ferrari 166 MM
FIAT
2017 Fiat 124 Spider
2016 Fiat 695 Abarth Biposto
1980 Fiat 124 Spider
1968 Fiat Abarth 595 esseesse
Ford
2018 Ford Mustang GT
2017 Ford F-150 Raptor
2017 Ford #14 Fiesta ST Rallycross
2017 Ford Fiesta M-Sport Edition
2017 Ford Focus RS
2017 Ford GT
2016 Ford Shelby GT350 R (Horizon Edition Available)
2016 Ford Gymkhana 9 Focus RS RX
2015 Ford Falcon GT F 351
2014 Ford Ranger T6
2014 Ford #11 Rockstar F-150 Trophy Truck
2014 Ford Fiesta ST
2014 Ford FPV Limited Edition Pursuit Ute
2013 Ford Shelby Mustang GT500
2011 Ford F-150 SVT Raptor
2011 Ford Transit SuperSportVan (Forza Edition and Stories Version Available)
2010 Ford Crown Victoria Police Interceptor
2009 Ford Focus RS
2005 Ford GT
2003 Ford Focus RS
2000 Ford Mustang Cobra R
1993 Ford Mustang SVT Cobra R
1992 Ford Escort Cosworth RS
1987 Ford RS200 Evolution
1986 Ford Escort
1981 Ford Fiesta
1977 Ford Escort RS1800
1975 Ford Bronco
1973 Ford Escort RS1600
1973 Ford Capri RS3100 (Forza Edition Available)
1972 Ford Falcon XA Street (Forza Edition Available)
1971 Ford Mustang Mach 1
1969 Ford Mustang Boss 302
1966 Ford #2 GT40
1966 Ford Lotus Cortina
1965 Ford Hoonicorn (V1 and V2)
1965 Ford Mustang GT
1964 Ford GT40
1959 Ford Anglia
1956 Ford F-100
1946 Ford Super De Luxe Woody
1940 Ford De Luxe Coupe
1932 Ford De Luxe Coupe
GMC
1983 GMC Vandura (Stories Version Available)
Hennessey
Holden
2014 Holden HSV GTS Maloo
2014 Holden HSV GTS
1996 Holden HSV GTSR
1988 Holden Commodore VL
1985 Holden HDT VK Commodore Group A
1977 Holden Torana
1974 Holden Sandman HQ
1973 Holden Monaro GTS
Honda
2016 Honda Civic Type-R
2015 Honda Ridgeline Baja Trophy Truck
2009 Honda S2000 CR
2007 Honda Civic Type-R
2005 Honda NSX-R
2004 Honda Civic Type-R
1997 Honda Civic Type-R
1992 Honda NSX-R
1991 Honda CRX Si
Hoonigan
1992 Hoonigan Mazda RX-7 Twerkstallion
1991 Hoonigan RWB Porsche 911 Turbo
1978 Hoonigan Ford Escort RS1800
1972 Hoonigan Chevy Nova
1955 Hoonigan Chevy Bel Air
HUMMER
Hyundai
Infiniti
2016 Infiniti Q60
2014 Infiniti Q50 Eau Rouge
International
1970 International Scout 800A
Jaguar
2017 Jaguar F-Pace R
2016 Jaguar F-Type Project 7
2015 Jaguar XKR-S GT (Forza Edition Available)
2015 Jaguar XE-S
2015 Jaguar XFR-S
2015 Jaguar F-Type R Coupe
2012 Jaguar XKR-S
1993 Jaguar XJ220
1990 Jaguar XJ-S
1964 Jaguar E-Type Lightweight
1961 Jaguar E-Type
1959 Jaguar MkII 3.8
1956 Jaguar D-Type
1954 Jaguar XK120
Jeep
2018 Jeep Grand Cherokee Trackhawk
2017 Jeep Trailcat
2014 Jeep Cherokee SRT
2012 Jeep Wrangler Rubicon
1976 Jeep CJ5 Renegade
Kia
Koenigsegg
2016 Koenigsegg Regera
2015 Koenigsegg One:1
2011 Koenigsegg Agera
KTM
Lamborghini
2016 Lamborghini Centenario
2016 Lamborghini Aventador SV
2015 Lamborghini Huracan
2014 Lamborghini Urus Concept
2013 Lamborghini Veneno
2012 Lamborghini Aventador (Forza Edition Available)
2011 Lamborghini Gallardo LP570-4 Superlegerra
2011 Lamborghini Sesto Elemento (Forza Edition Available)
2010 Lamborghini Murcielago SV
2008 Lamborghini Reventon (Forza Edition Available)
1997 Lamborghini Diablo SV
1988 Lamborghini Countach LP5000 QV
1986 Lamborghini LM002
1967 Lamborghini Miura P400
Lancia
1992 Lancia Delta HF Integrale EVO
1986 Lancia Delta S4
1982 Lancia 037 Stradale
1974 Lancia Stratos HF Stradale
1968 Lancia Fulvia Coupe Rallye 1.6
Land Rover
2015 Land Rover Range Rover Sport SVR (Forza Edition Available)
1997 Land Rover Defender 90 (Cover Car)
1973 Land Rover Range Rover
1972 Land Rover Series III (Horizon Edition Available)
Local Motors
2014 Local Motors Rally Fighter
Lola
1969 Lola #6 Penske Sunoco T70 MkIIIB
Lotus
2016 Lotus 3 Eleven
2012 Lotus Exige S
2011 Lotus Evora S
2009 Lotus 2 Eleven
2005 Lotus Elise 111S
2002 Lotus Esprit V8
2000 Lotus 340R
1997 Lotus Elise GT1
1972 Lotus Elan Sprint
1956 Lotus Eleven
Maserati
2010 Maserati Granturismo S
2004 Maserati MC12 (Forza Edition Available)
1960 Maserati Tipo 61
1957 Maserati 300S
1953 Maserati A6GCS/53 Pininfarina Berlinetta
1939 Maserati 8CTF
Mazda
2016 Mazda MX-5 Miata (Forza Edition Available)
2013 Mazda MX-5 Miata
2011 Mazda RX-8 R3
2005 Mazda MX-5 Miata
1997 Mazda RX-7
1994 Mazda Miata
1990 Mazda Savanna RX-7
McLaren
2018 McLaren Senna (Cover Car)
2018 McLaren 720S
2016 McLaren 570S Coupe
2015 McLaren 650S Coupe
2013 McLaren P1
1997 McLaren F1 GT
1993 McLaren F1
Mercedes-Benz
2017 Mercedes-AMG GT-R
2016 Mercedes-AMG C63 S Coupé
2015 Mercedes-Benz #24 Tankpool24 Racing Truck (Forza Edition Available)
2015 Mercedes-AMG GT-S
2014 Mercedes-Benz Unimog U5023
2013 Mercedes-Benz G65 AMG
2013 Mercedes-Benz E63 AMG
2013 Mercedes-Benz A45 AMG
2012 Mercedes-Benz SLK55 AMG
2012 Mercedes-Benz C63 AMG
2011 Mercedes-Benz SLS AMG
2009 Mercedes-Benz SL65 AMG Black Series (Forza Edition Available)
1998 Mercedes-Benz CLK GTR (Forza Edition Available)
1990 Mercedes-Benz 190E 2.5-16 Evolution II
1955 Mercedes-Benz 300 SLR
1954 Mercedes-Benz 300 SL Coupe
1947 Mercedes-Benz W154
Mercury:
Meyers
MG
1986 MG Metro 6R4
1966 MG MGB GT
1958 MG MGA Twin-Cam
MINI
2013 MINI X-RAID All4 Racing Countryman
2012 MINI John Cooper Works GP
2009 MINI John Cooper Works
1965 MINI Cooper S
Morgan
2014 Morgan 3-Wheeler
2010 Morgan Aero SS
Morris
1958 Morris Minor 1000 (Forza Edition Available)
Nissan
2017 Nissan GT-R
2016 Nissan Titan Warrior Concept (Forza Edition Available)
2012 Nissan GT-R
2010 Nissan 370Z
2003 Nissan Fairlady Z (Forza Edition Available)
2002 Nissan Skyline GT-R V-Spec II (R34)
2000 Nissan Silvia Spec R (S15)
1998 Nissan R930
1998 Nissan Silvia K's (S14 Kouki)
1995 Nissan GT-R LM (Forza Edition Available)
1994 Nissan Silvia K's (S14 Zenki)
1993 Nissan Skyline GTR V Spec II (R33)
1993 Nissan 240SX SE
1993 Nissan Skyline GT-R (R32)
1992 Nissan Silvia CLUB K's (S13)
1987 Skyline GTS-R (R31)
1973 Nissan Skyline H/T 2000GT-R
1971 Nissan Skyline 2000 GT-R
1969 Nissan Fairlady Z 432
Noble
Oldsmobile
1969 Oldsmobile Hurst 442
Opel
Pagani
2016 Pagani Huayra BC
2012 Pagani Huayra
2010 Pagani Zonda R (Forza Edition Available)
2009 Pagani Zonda Cinque Roadster
Peel
Penhall
Peugeot
1984 Peugeot 205 Turbo 16 (Forza Edition Available)
Plymouth
1971 Plymouth GTX 426 HEMI
Polaris
2015 Polaris RZR XP 1000 EPS
Pontiac
1987 Pontiac Firebird Trans Am GTA
1977 Pontiac Firebird Trans Am
1973 Pontiac Firebird Trans Am SD-455
1969 Pontiac GTO Judge
Porsche
2018 Porsche 911 GT2 RS (Forza Edition Available)
2018 Porsche Cayenne Turbo
2017 Porsche Panamera Turbo
2016 Porsche 911 GT3 RS
2016 Porsche Cayman GT4
2015 Porsche Cayman GTS
2014 Porsche 918 Spyder
2014 Porsche 911 Turbo S
2012 Porsche 911 GT2 RS
2012 Porsche 911 GT3 RS 4.0
2012 Porsche Cayenne Turbo
2004 Porsche 996 GT3
2003 Porsche Carrera GT
1998 Porsche 996 GT1 Strassenversion
1995 Porsche 911 GT2 (Forza Edition Available)
1993 Porsche 928 GTS
1989 Porsche 944 Turbo
1987 Porsche 959
1982 Porsche 911 Turbo 3.3
1973 Porsche 911 Carrera RS
1971 Porsche #23 917/20
1960 Porsche 718 RS 60
1957 Porsche 356A Speedster
1956 Porsche 550A Spyder
Radical
Reliant
1972 Reliant Supervan III (Stories Version Available)
Renault
2013 Renault Clio RS 200
2010 Renault Megane RS 250
2010 Renault Clio 200 R.S (Forza Edition Available)
1993 Renault Clio Williams
1980 Renault 5 Turbo (Forza Edition Available)
1973 Renault Alpine A110 1600s
RJ Anderson
2016 RJ Anderson #37 Polaris RZR-Rockstar Energy Pro 2 Truck
Saleen
Shelby
1965 Shelby Cobra Daytona Coupe
1965 Shelby Cobra 427 S/C
Spania GTA
2016 Spania GTA GTA Spano
Subaru
2016 Subaru #199 WRX STi Rally Car
2015 Subaru Impreza WRX STi
2013 Subaru BRZ
2011 Subaru Impreza WRX STi
2008 Subaru Impreza WRX STi
2005 Subaru Impreza WRX STi
2004 Subaru Impreza WRX STi
1998 Subaru Impreza 22b STi
1990 Subaru Legacy RS (Forza Edition Available)
Sunbeam
Talbot
1979 Talbot Sunbeam Lotus
Tamo
Terradyne
Toyota
1993 Toyota #1 T100 Baja Truck
Triumph
TVR
2005 TVR Sagaris (Forza Edition Available)
1998 TVR Cerbera Speed 12
Ultima
2015 Ultima Evolution Coupe 1020
Vauxhall
2016 Vauxhall Corsa VXR
2012 Vauxhall Astra VXR
2005 Vauxhall Monaro VXR
1980 Vauxhall Lotus Carlton
Volkswagen
2017 #34 Volkswagen Global Rallycross Beetle
2014 Volkswagen Global Rallycross Beetle
2014 Volkswagen Golf R
2011 Volkswagen Scirocco R
2010 Volkswagen Golf R
2008 Volkswagen Touareg R50
2003 Volkswagen Golf R32
1998 Volkswagen Golf GTi VR6
1995 Volkswagen Corrado
1992 Volkswagen Golf GTi 16v Mk2
1983 Volkswagen Golf GTi
1981 Volkswagen Scirocco S
1977 Volkswagen Golf GTi
1970 Volkswagen #1107 Desert Dingo Racing Stock Bug
1969 Volkswagen #551 Class 5/1600 Baja Bug
1966 Volkswagen Beetle
1963 Volkswagen Type 2 Bus (Forza Edition Available)
Volvo
2016 Volvo Iron Knight Racing Truck
2015 Volvo V60 Polestar
1997 Volvo 850 R
1983 Volvo 242 Turbo Evolution
W Motors
2016 W Motors Lykan Hypersport
Willys
Zenvo
And that concludes our list! Once more information is released both pre and post-launch, we'll update this with any new cars added to the roster.