Forza Horizon 4 now available through Steam with cross-play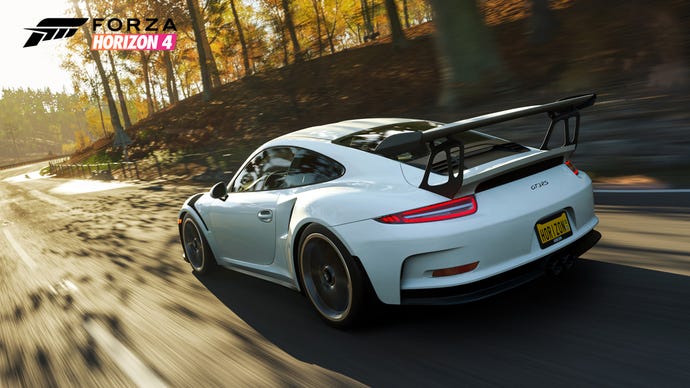 Forza Horizon 4 has landed on Steam.
The standard, Deluxe, and Ultimate Editions of Forza Horizon 4 are all available through the storefront.
You can buy car packs and expansions separately, but here's what each edition comes with:
Standard Edition digital bundle $59.99/£54.99/€ 69.99:
The game
Formula Drift Car Pack
Deluxe Edition digital bundle $79.99/£69.99/€ 89.99:
The game
Formula Drift Car Pack
Car Pass
Ultimate Edition digital bundle $99.99/£84.99/€ 99.99:
The game
Formula Drift Car Pack
Car Pass
Best of Bond Car Pack
Welcome Pack
VIP
Fortune Island
LEGO Speed Champions
Packs available for separate purchase include:
Mitsubishi Car Pack - Free
Welcome Pack - $2.99
Hot Wheels Legends Car Pack - $9.99
Fortune Island -$19.99
LEGO Speed Champions - $19.99
VIP - $19.99
Best of Bond Car Pack - $9.99
Any Terrain Car Pack - $9.99
Barrett-Jackson Car Pack - $6.99
High-Performance Car Pack - $6.99
Japanese Heroes Car Pack -$6.99
Open Top Car Pack - $6.99
Icons Car Pack -$6.99
British Sports Car Car Pack - $6.99
Treasure Map - $2.99
Starting today through March 14, players regardless of the platform who log into the game can add the 2019 Porsche 911 GT3 RS to their collections for free. To gain the car, players need to just play the game while logged into their Xbox profile. The next time they log in, a message will pop up in the message center regarding the new car which will be redeemed to the garage upon opening.
Speaking of additional cars, today's Series 33 update contains the RAESR Tachyon, a 1250 horsepower EV hypercar that can reach 240mph and travel 150 miles on a single charge. Players can get the Tachyon Speed by completing 50% of the seasonal playlist in Autumn.
Another car is the Peugeot 207 S2000 which returns from Forza Motorsport 2. In order to get the rally car, players will need to complete the Seasonal Championship "Forest Monster."
Alongside the two new rides come improvements to high contrast mode and screen reader for accessibility, plus stability improvements.