Fortnite's DJ Marshmello concert was broadcast live and watched by more than 10 million players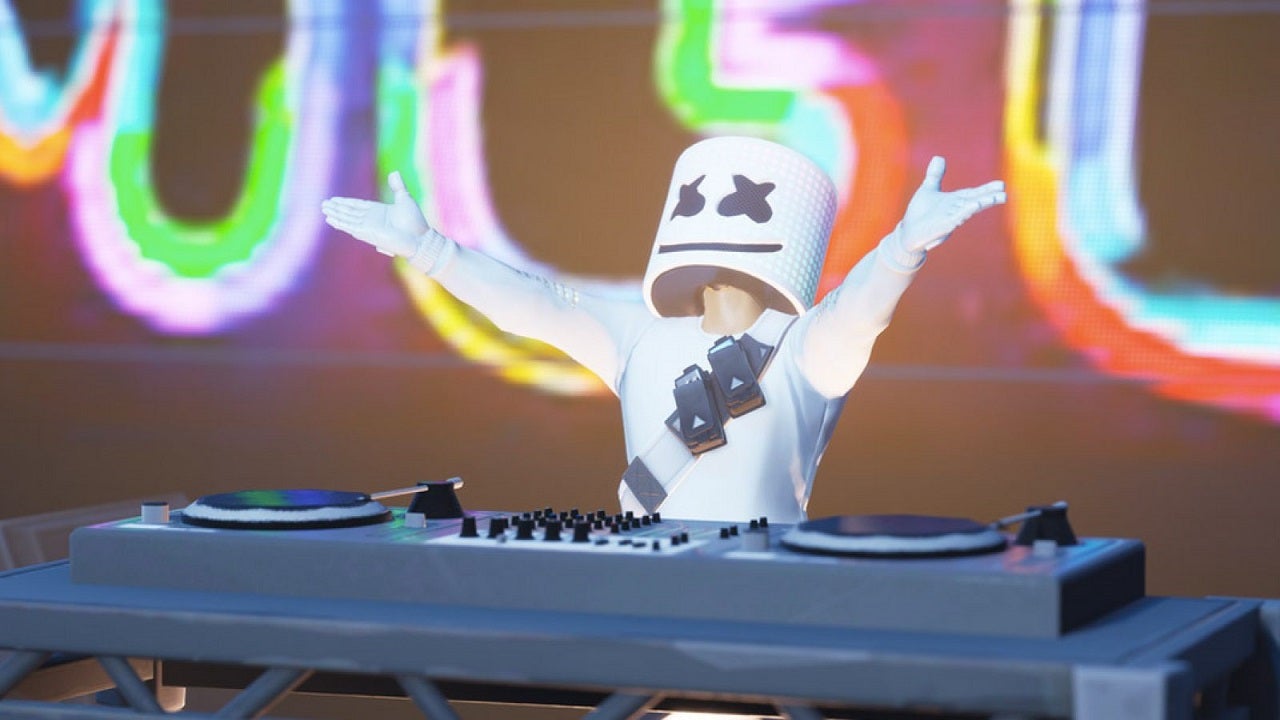 DJ Marshmello's Fortnite set was watched by 10 million concurrent players and is now available to download on iTunes.
This weekend, Fortnite players were treated to an in-game concert courtesy of Philadelphia DJ and producer Marshmello a.k.a. Christopher Comstock. The 10-minute event took place in Pleasant Park and was apparently attended by 10 million players.
Geoff Keighley shared the news on Twitter, saying his sources told him that the event was watched by "more than 10 million concurrent players."
The event was teased earlier this week and a number of Marshmello themed items were available beforehand, including a skin, glider, and emote. Additional items could be unlocked through a challenge quest.
Marshmello uploaded the whole concert to his YouTube channel which you can watch below. An encore performance took place this morning for fans who missed it the first time around.
Epic disabled the ability to shoot other players for the duration of the event to make sure no one tried to play silly buggers and ruin it for anyone else.
The in-game set even appeared on Marshmello's tour schedule (via Kotaku), and the DJ also announced the news on Twitter ahead of the concert.
Marshmello confirmed that the event was not pre-recorded, and was broadcast live.
During a conversation with streamer Jack 'CourageJD' Dunlop after the show (via Dextero), he was asked if his "voice and everything" was pre-recorded.
"That was all live, man!" Marshmello responded. "That was the whole thing, so you know, in the very early workings of it all we weren't sure what could be handled as far as bandwidth and stuff like live voice, and live everything.
"But they [Epic] took their time and figured it all out and when it was time to go they had it all sorted. Stuff like that is what makes it next level."
Taking to Twitter earlier today, he added that the videos from fans and players on social media were "amazing," so we've rounded up a few for you below.
What makes me happiest about today is that so many people got to experience their first concert ever. All the videos I keep seeing of people laughing and smiling throughout the set are amazing. Man I'm still so pumped

— marshmello (@marshmellomusic) February 3, 2019
I burst into Dash's bedroom at 11pm and screamed "Get out of bed! We're going to a @marshmellomusic concert in Pleasant Park!"

We then danced and laughed and sang for 15 mins. It was actually incredible. @FortniteGame isn't a game. It's something else. pic.twitter.com/u5N59efuf6

— Robert Bowling (@fourzerotwo) February 3, 2019
Best View of Marshmello fortnite event #Fortnite #XboxShare pic.twitter.com/wHTJoOrv9k

— Mitchigan (@_Mitchigan) February 3, 2019
This is my favorite part of the event. Breakin' it down. The @marshmellomusic homage to @Logic301. pic.twitter.com/QelN2kUjTx

— Trevor "IamTrevorMay" May (@IamTrevorMay) February 2, 2019
This is just INCREDIBLE @marshmellomusic @FortniteGame ??? pic.twitter.com/KgwE5xA5ci

— SIEFE (@Siefe) February 2, 2019
The Marshmello Fortnite Extended Set is now available to download on iTunes.