Fortnite Omega Skin: What are the tier 100 Omega Skin challenges?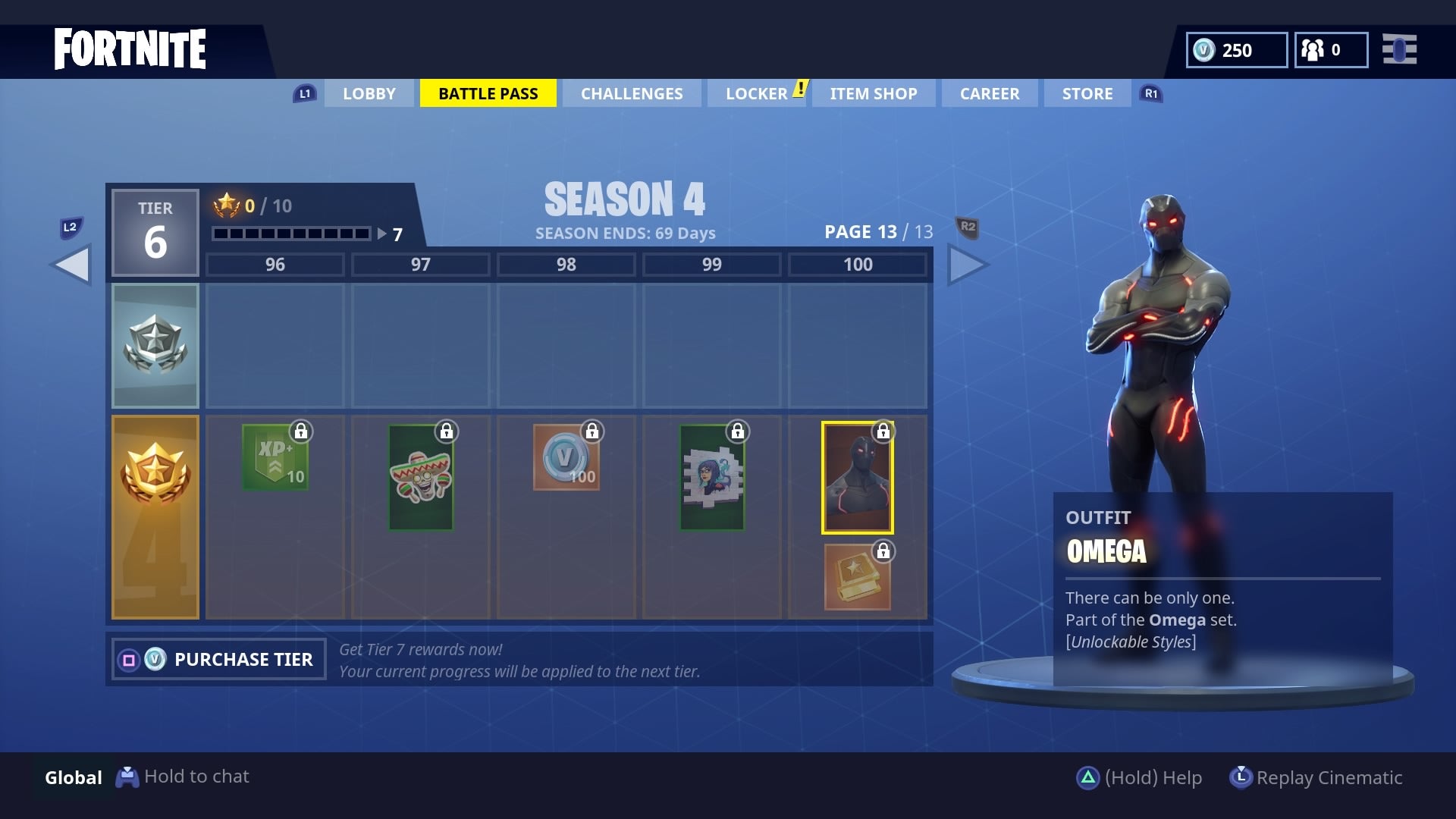 Now that Season 4 is underway and tier progress has been reset, there's a new goal for everyone to work toward: Fortnite's Omega Skin.

This cool superhero-styled skin is available once you reach tier 100 on the Season 4 Battle Pass, either by leveling up with Battle Stars or by buying your way there with V-Bucks.
[align="alignnone" width="1920"]
It'll take a lot of grinding to get there, but since there's still more than two months left of this season, you'll likely get there eventually. You need a total of 1000 Battle Stars to reach Tier 100 in Fortnite. So when Weekly Challenges give you 50, you'll already be half-way there if you get all of them done.
Interestingly though, once you've finally made your way to the highest tier you'll unlock a set of Omega challenges. By completing these challenges, you'll gain access to extra pieces of cosmetic armour that attach themselves to, and upgrade, the Omega suit.
This is similar to what happens with the Carbide skin, where as you level up your Season Level, you unlock new pieces.
Omega Skin Challenges - How to upgrade the Omega skin:
The Omega challenges themselves are quite straightforward, and are as follows:
Reach Season Level 25
Reach Season Level 35
Reach Season Level 45
Reach Season Level 65
Reach Season Level 80
This might not sound too difficult, but to reach Season Level 80, from level 1 you'll to collect at least 403,300 XP. Which will take a long time and a lot of matches, when completing Daily Challenges only grants you around 500 XP each, and completing a whole week's gets you a 5K boost.
Fortnite Omega Skin Fully Upgraded:
When you've finally reached your goal, you'll be able to equip you armour pieces by hovering over the Omega skin in your Locker and clicking "change style", or by pressing Square on PS4, or X on Xbox One.
With all the armour pieces equipped, the Omega skin looks like this:
The Season 4 Week 1 challenges aren't impossible, but will take some time to do. To help and speed up the process, you could use our guides on where you can search F-O-R-T-N-I-T-E letters, and how to find the Tomato Town treasure map location.
Fortnite Week 2 Challenges are also live, so you can start ticking those off, including where to search between a scarecrow, pink hotrod and big screen, and where to dance in front of 7 different cameras.
So in summary, the Omega skin challenges are going to take a good while to unlock, since you not only have to reach tier 100 on the Season 4 Battle Pass, but gain a truck-load of XP to get to Season Level 80 as well. It's a good thing that there's so much new to explore in Season 4 then - from the meteor crater Dusty Divot, to the drive-in cinema Risky Reels.