New pictures of Fortnite John Wick skin leak along with details on Wick's Bounty crossover event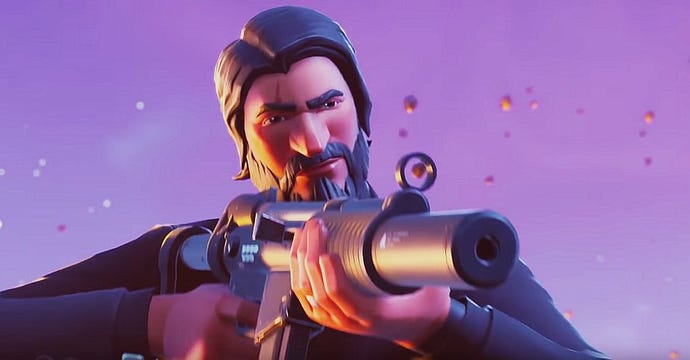 The Reaper returns.
Back in Season 3, the tier 100 skin was a cheeky nod to Keanu Reeves' action vehicle, John Wick, but now it looks like there's going to be a proper licensed crossover to tie in with John Wick 3 - Parabellum.
Fortnite John Wick skins
Uncovered by Fortnite leaker Hypex on Twitter, the new John Wick skin is a bit of a departure from the previous Reaper outfit, and most Fortnite skins in general.
The more photo-realistic representation of Reeves' character goes a step further than the Black Widow and Starlord skins that tied into Avengers: Endgame last month, and is probably the most "realistic" Fortnite outfit around.
His Back Bling however - one of the gold coins used as currency in the assassin's haven Continental Hotels - looks to be a bit more cartoon-y.
Also in the files was an outfit resembling Halle Berry's character in the new movie.
At this point it looks like the skin itself will be coming to the item shop - where you'll have to pay for it with V-Bucks - but the Back Bling is free, and there's also going to be a suite of challenges to complete.
Fortnite Wick's Bounty event
The datamine also confirmed the leaked challenges that we saw last week, suggesting that there's going to be a Wick's Bounty LTM mode added to Fortnite.
With the skin and Back Bling being in the item shop, it'd make sense that these challenges are how you get a special John Wick glider to complete the set.
The challenges are as follows:
Win 1 match of Wick's Bounty
Play 7 matches of Wick's Bounty
Collect 150 Gold Coins
Collect 25 Gold Coins in a single match
Deal damage with the Combat Shotgun
Deal damage with the Tactical Assault Rifle
Judging by those tasks, the Wick's Bounty LTM looks to revolve around collecting Continental Gold Coins - probably for eliminating specific players that you're given a bounty on in a match.
For more on challenges that you can actually complete right now, take a look at our page on Fortbyte locations.