Fortnite new map: Discover named locations and landmarks as you play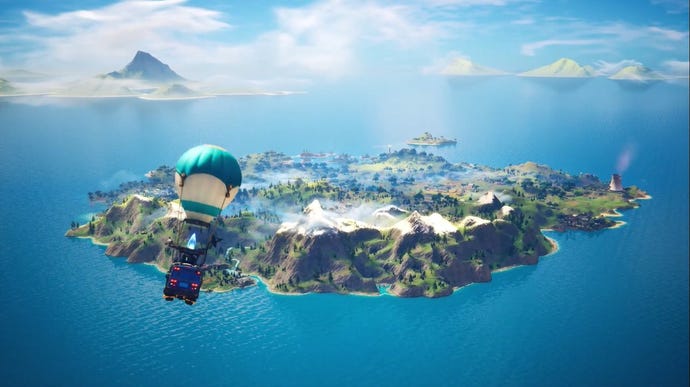 Fornite has a whole new map for the start of Chapter 2 Season 1.
Now that the downtime has ended, we can see that you need to explore the new island's named locations yourself to unlock them on the map:
You can see the leaked image of Fortnite's new map as a whole below:
There looks to be an area with snow-capped mountains, as well as new points-of-interest, including a seaside port with a lighthouse, and one with cooling towers.
Apparently the new map's name in Fortnite's files is "Apollo":
You can see a little more of it in these leaked loading screens from twitter user Lucas7Yoshi as well:
Looks like the cooling towers are for some kind of Slurp Juice factory, and the goopy skin is a Slurp monster.
Last night we saw a leaked trailer for Fortnite's next chapter that revealed boats, diving, and - of all things - new pogo stick gameplay.
The new battle pass trailer for Fortnite Chapter 2 has leaked online, following yesterday's spectacular end-of-season event which saw the Fortnite map being sucked into a black hole.
The battle pass trailer, which was spotted by the eagle-eyed Fortnite News (via Skin Tracker), shows the game has undergone a graphical overhaul and features an entirely new map. Chapter 2 will see new Battle, Survival, and Scavenge medal upgrades tied into the battle pass as well.
But its most significant changes are to gameplay. The leaked trailer shows what appears to be diving gameplay, as well as speed boat combat, fishing, pogo sticks, and the ability to carry downed team mates.
There is still no word on when we might see the new season arrive. However, a new update is ready to download on PC and console now. Fortnite was deleted as a category on Twitch and all social media channels remain dark as of this morning, suggesting that the wait is long from over. Fans can still watch the stream of the black hole, although there's not much happening right now.
As well as this, there's also a leaked story trailer circulating, which pans from the black hole to show characters enjoying new activities, like Fishing.
Fortnite wasn't completely dark during "The End" downtime. If you input the famous Konami Code at the Black Hole screen, you could play a shoot-'em-up mini-game.