Final Fantasy 15 upcoming story DLC hints shown in TGS 2017 trailer, more content coming in 2018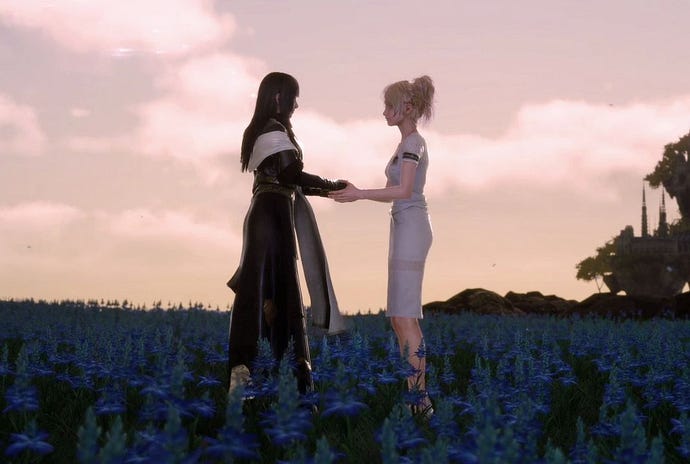 Hints regarding upcoming story DLC for Final Fantasy 15 has shown up in a new trailer which will lead to more content releases in 2018.
Final Fantasy 15 players have some free story DLC to look forward to at some point this year, along with increased hunt capacity and the aforementioned added content into 2018.
That's according to the trailer Square Enix released today out of TGS 2017, which showed a couple instances of Gentiana and Luna having a conversation.
During an Active Time Report out of TGS 2017, Final Fantasy 15 director Hajime Tabata said the additional content will be provided due to continued demand from players. This was especially true regarding some plot holes in the storyline.
Tabata said DLC will delve more into other characters through additional episodes. He said if the team didn't "convey the setting that is the foundation of the world," it wouldn't be able to communicated the "characters' way of life."
A date was not provided for the additional content, so we'll just have to be satisfied with the seen toward the end of the trailer.
The trailer also shows off the PlayStation VR fishing expansion Monsters of the Deep which is out on November 21. Along with that, the it also provided glimpses of Final Fantasy 15: Pocket Edition for Android, iOS and Windows 10 devices, and it also reminded viewers that Brotherhood: Final Fantasy Episodes 1-5 are now available for streaming.
It also mentions that Kingsglaive: Final Fantasy is now on sale.
Before the new Final Fantasy 15 story DLC drops, players have Episode Ignis to look forward to in December, and before that, the Comrades multiplayer expansion will be released next month.
Last month, Square announced Final Fantasy 15 would be released on PC in 2018 with both free and Season Pass content.
Sounds like there is plenty of Final Fantasy goodness to look forward to in the foreseeable future.
Original post was updated to reflect information provided by Tabata at TGS.