E3 Schedule 2021 - Full dates and start times list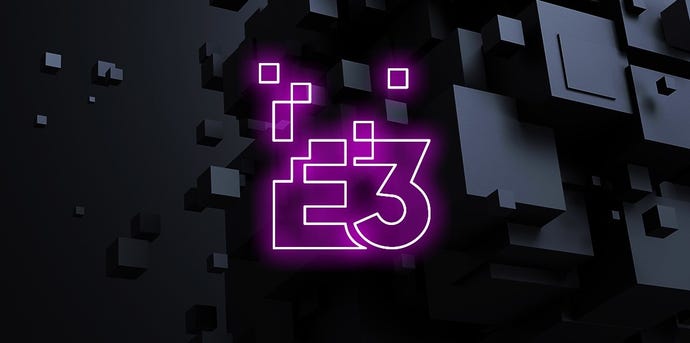 Cross off your calendar, because the week of E3 is upon us! There's a packed E3 Schedule full of new announcements from the world's biggest developers and publishers to look forward to, so it's time to draw up your itinerary and settle in for the show.
This time around, things are set to work a bit differently than they have during previous E3 presentations. Instead of physical shows on the west coast of the US, the video games industry is opting for a summer-long programme of reveals in a bid to hold your ever-stretched attention.
So while that does mean there are more dates to remember, with more and more livestreams popping up every day, it has meant that the start times have shifted earlier - which is good news for global fans hoping to tune in live.
Not every summer show is an official E3 event, of course. Sony has decided to stick to its own timetable for the last couple of years - basically swooping in whenever it feels like it can best undermine its rivals. In 2021, Sony has not even committed to doing a show at all, and has been dropping hints in interviews instead.
Nevertheless, you can expect E3-timed shows from the major console platforms like Sony, Microsoft and Nintendo, as well as the biggest publishers like EA and Ubisoft.
What's more, this is the first full E3 schedule since the release of the PS5 and Xbox Series X, so there's added impetus for the big dogs to try and influence your next console purchase.
There will also be intrigue aplenty thanks to Microsoft's relatively recent purchase of Bethesda Softworks, who for the last few years has done their own E3 show, but will now share the Xbox stage. With some huge franchises in Bethesda's roster, Sony is sure to retaliate with well-known names of their own.
Outside of direct video game makers, the Summer Games Show returns, hopefully with another slew of exclusive info to divulge from a more diverse set of creators than you'd see at the publisher specific events.
First we'll give you a quick overview of the E3 schedule as it stands so you can make a quick note of when and where you need to be, then we'll delve into a little of what you can expect from each show:
E3 Schedule 2021 - Full dates and start times list
| E3 Schedule 2021 - Dates and Start Times | | | | | | |
| --- | --- | --- | --- | --- | --- | --- |
| Scheduled Stream Name | Date | US Time | UK Time | European Time | Australian Time | How to watch link |
| Guerrilla Collective Showcase & Black Voices in Gaming | June 5 | 8am PT, 11am ET | 4pm UK | 5pm CEST | 11pm AW, 1am AE (June 6) | Link |
| Battlefield 6 Reveal Event | June 9 | 7am PT, 10am ET | 3pm UK | 4pm CEST | 10pm AW, 12am AE (June 10) | Link |
| Summer Game Fest Kickoff Live! | June 10 | 11am PT, 2pm ET | 7pm UK | 8pm CEST | 2am AW, 4am AE (June 11) | Link |
| Netflix Geeked Week | June 11 | 9am PT, 12pm ET | 5pm UK | 6pm CEST | 12am AW, 2am AE (June 12) | Link |
| Koch Primetime | June 11 | 12pm PT, 3pm ET | 8pm UK | 9pm CEST | 3am AW, 5am AE (June 12) | Link |
| IGN Expo | June 11 | 1pm PT, 4pm ET | 9pm UK | 10pm CEST | 4am AW, 6am AE (June 12) | Link |
| Guerrilla Collective Showcase & Wholesome Direct | June 12 | 8am PT, 11am ET | 4pm UK | 5pm CEST | 11pm AW, 1am AE (June 13) | Link |
| Ubisoft Forward | June 12 | 12pm PT, 3pm ET | 8pm UK | 9pm CEST | 3am AW, 5am AE (June 13) | Link |
| Devolver Digital Showcase | June 12 | 1:30pm PT, 4:30pm ET | 9:30pm UK | 10:30pm CEST | 4:30am AW, 6:30 AE (June 13) | Link |
| Xbox + Bethesda Games Showcase | June 13 | 10am PT, 1pm ET | 6pm UK | 7pm CEST | 1am AW, 3am AE (June 14) | Link |
| Square Enix E3 Conference | June 13 | 12:15pm PT, 3:15pm ET | 8:15pm UK | 9:15pm CEST | 3:15am AW, 5am AE (June 14) | Link |
| Back 4 Blood Showcase | June 13 | 2pm PT, 5pm ET | 11pm UK | 12am CEST (June 14) | 5am AW, 7am AE | Link |
| PC Gaming Show | June 13 | 2:30pm PT, 5:30pm ET | 11:30pm UK | 12:30am CEST (June 14) | 5:30am AW, 7:30am AE (June 14) | Link |
| Future Games Show | June 13 | 4pm PT, 7pm ET | 12am UK (June 14) | 1am CEST (June 14) | 7am AW, 9am AE (June 14) | Link |
| Nintendo Treehouse Live | June 15 | 9am PT, 12pm ET | 5pm UK | 6pm CEST | 12am AW, 2am AE (June 16) | Link |
| Steam Next Fest | June 16 | 10am PT, 1pm ET | 6pm UK | 7pm CEST | 1am AW, 3am AE (June 17) | Link |
| Nacon Connect | July 6 | 10am PT, 1pm ET | 6pm UK | 7pm CEST | 1am AW, 3am AE (July 7) | Link |
| EA Play Live | July 22 | TBA | TBA | TBA | TBA | Link |
| Possible Sony E3 Presentation | TBA | TBA | TBA | TBA | TBA | TBA |
We'll update the table as more shows are announced.
What to expect from each E3 show
Now that we've got the specifics of the E3 schedule out of the way, it's time for the rampant speculation.
Sony has yet to even reveal their plans for the coming weeks, but that doesn't stop the rumour mill churning.
Summer Game Fest
The Summer Game Fest has mopped up pretty much every major developer and publisher that doesn't have their own show, and even a few that do, as a partner, so there's a huge amount that could be shown off during the event - but also a lot that couldn't.
With 2K Games, Amazon, Activision, Bandai Namco, Blizzard, Capcom, Devolver Digital, EA, Epic Games, Gearbox, Hi-Rez, PlayStation, Riot, Sega, Square Enix, Steam, Ubisoft, Warner, and Xbox all on the roster, there's a huge stable of studios to call on.
Blizzard has delayed its own online Blizzcon event until 2022, so we might see some teases for Diablo Immortal, Diablo 4, Diablo 2: Resurrection, and Overwatch 2 to stoke the flames of hype before Blizzard can speak to its own audience.
And while there are multiple DC Comics games under development at Warner Bros, it's unknown how any plans they had could be affected by the AT&T/Discovery merger.
Obviously we'll see MiHoYo talk about Genshin Impact and Amazon talk about the New World MMO, but the collaboration with DoubleFine on the Day of the Devs indie showcase would also suggest something new is coming from them.
Summer Game Fest mastermind, host, and producer Geoff Keighley has a well-documented and long-standing relationship with Metal Gear Solid and Death Stranding legend Hideo Kojima. So it's very possible that we'll see Kojima Productions' new game at some point in the festivities.
Sony
There's still no official word on whether Sony will even hold a livestream event, but it does remain a possibility.
We know that PlayStation has one huge blockbuster coming before the end of 2021 - Horizon Forbidden West - but could others be closer than you think?
Sony is yet to reveal the timing of a bigger summer show following the Horizon Forbidden West State of Play, but with 25 PS5 reportedly in development at PlayStation Studios, you can't see them completely ceding the floor to the guys and gals in green.
Apparently nearly half of those 25 are new IPs not based on any existing brand, so there's scope for at least one potential franchise-builder to be announced. PlayStation Studios head Herman Hulst said in an interview with the PlayStation Blog that Sony Bend - the developer behind Days Gone - are working on a new open world IP which could fit the bill.
God of War: Ragnarok has long been mooted to appear some time during 2021, but thanks to that same interview with the PS Blog, we now know that we won't see Kratos again until 2022. The announcement via interview could have been placed to pre-empt disappointment before a new trailer drop, but there's still a lot of question marks floating around.
One thing we do know has driven off into the sunset is Gran Turismo 7. Polyphony's venerable driving sim lines up at the grid in 2022, but that doesn't mean we won't see some super-shiny gameplay at this year's presentation.
Of course, there's always the ridiculous, but evergreen rumour that Rockstar owes Sony an exclusive game. But while that definitely won't happen, some timed-exclusive Rockstar content - a GTA Online Heist, or PS5 version of Red Dead Redemption 2, perhaps - might not be so far fetched.
Microsoft and Bethesda
After the disastrous birthing of Craig the Brute last year, I'd be very surprised if Microsoft didn't come out swinging with a slick, bombastic showing to really make the case for their new hardware.
Many of Xbox's biggest brands are due an update, so there's plenty of choice picks to mull over. If it's good and it was on an Xbox, there's probably a new one coming.
It's almost a dead certainty that we'll get an adjusted release date for Halo Infinite, most likely with some new gameplay to show off a possibly reworked visual style in response to feedback.
Based on previously revealed trailers, it could also be time for some updates on the new Fable and Forza Motorsport games in the works. However, there might just be too much other stuff to cram in.
Now sporting the might of Bethesda at its back, we could see Microsoft reveal more info on the cheekily teased Elder Scrolls 6, despite it looking like it was in very early development when it was first shown.
And with Bethesda seemingly happy to drum up the hype with such incredibly thin teasers, you can't rule pretty much anything out. Dishonored 3? Fallout New Vegas 2?
Hype. Hype never changes. And anything's possible when you just show the camera panning across a CG landscape and call it a trailer.
In the realms of reality, more concrete details on the mysterious RPG Starfield and the Indiana Jones game announced at the start of the year seem a safer bet.
Some ID@Xbox indie games and probably some expansion or special deal to do with the excellent industry-leading Game Pass subscription service will also most likely feature.
Nintendo
Nintendo has said that it's June Nintendo Direct will contain 40 minutes of information exclusively on Nintendo Switch software, "mostly releasing in 2021".
This means you can probably look forward to more details on the remakes of Pokemon Diamond and Pearl, but a couple of big games have been dark for a while, and look ready to come out of the oven.
Both Metroid Prime 4 and Bayonetta 3 were teased all the way back in 2017 and could be due at least an update if not a release date.
Then there's also Zelda: Breath of the Wild 2 to consider. That was revealed in 2019, but its positioning as a direct sequel could have sped up the development cycle.
Further afield there's Splatoon 3 that's supposed to drop in 2022, while there may also be announcements for new content in already released games, like long-awaited updates to reintroduce fan-favorite characters in Animal Crossing New Horizons.
Finally, on the hardware front, there are red-hot rumours of a new console skew on its way from Nintendo: the Switch Pro. It's very likely coming, and very likely to be coming this year.
Ubisoft
Ubisoft has its usual slate of big-budget, massive world games on the horizon, but has also been pushing a lot of competitive action games recently to capitalise on the Battle Royale and MOBA crazes.
From Roller Champions to Hyperscape, Ubi's slew of esports-styled games are likely to feature.
We've already seen some of Far Cry 6, but it would be a surprise for it not to appear at all during the Ubisoft Forward event.
Ironically, at the start of the year the Prince of Persia: The Sands of Time remake was delayed indefinitely, but we'll probably see it again with a new date here.
Another game seemingly lost to the sands of time is whatever Rainbow Six: Quarantine will be rebranded as. Originally delayed in 2019, it's apparently due before the end of the fiscal year next April.
On the Assassin's Creed front, we're much more likely to see more from Assassin's Creed Valhalla's second story DLC expansion, The Siege of Paris, than anything else.
Finally, there's an outside chance we could see the re-emergence of Beyond Good and Evil 2 or the revamped city-builder, The Settlers.
Square Enix
Leaks have ravaged the surprise factor of Square Enix's E3 showing for 2021, with reports detailing a Final Fantasy spin-off in the works at Nioh, Ninja Gaiden, and Dead or Alive developer, Team Ninja.
You can also expect to see some more details on the next main series entry in Square's most famous franchise, Final Fantasy 16.
Outside of FF, a fuller reveal for the intriguing Project Athia/Forspoken could be on the cards, while after a turgid year of Avengers, there could be something new in store for the Marvel license.
EA Play
For better and definitely worse, EA always has its stable of genre-owning sports games to fall back on, so you can always count on new info for FIFA 22 and Madden NFL 22.
A separate reveal event is being held for Battlefield 6, so while some more gameplay will likely be shown, the could be more of a focus on something new from the Star Wars license, and hopefully updates from Bioware on the new Dragon Age.
Speaking of Bioware, as it moves on from Anthem and in the wake of the Mass Effect Legendary Collection, could it be too soon to see a return to the Mass Effect series at large?