Exclusive: Dying Light 2 concept art shows the base of some post-apocalyptic football hooligans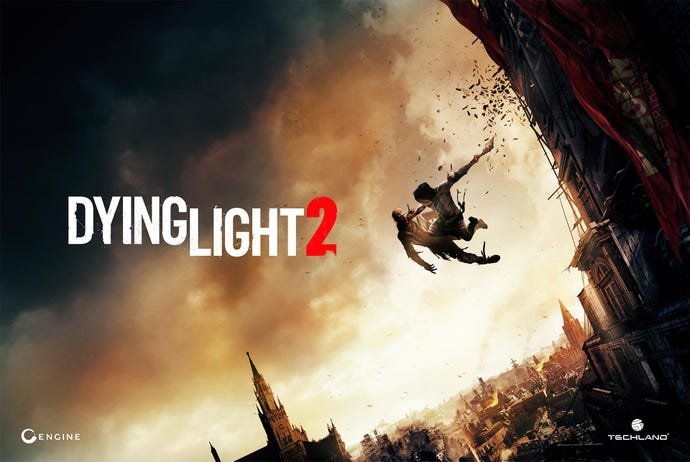 Techland sent us some exclusive concept art ahead of Dying Light 2's E3 showing. more
The artwork, titled Bandit Arch, shows the home base of one of the enemy factions in the game's fictional European city.
"The world of Dying Light 2 has fallen into a period of Modern Dark Ages," creative director Adrian Ciszewski tells VG247. "What has brought out the survivors' resourcefulness and resilience has also brought out the worst in others. Broken monuments from the old world are constant reminders of a fallen civilization, one that used to hold great plans for the future.
"This arch, once a monument to society's great achievements, is now the home base of violent thugs. Hedonism and greed are the governing values of Dying Light 2, and those are not strong foundations for building more than a house of cards. As players work towards destroying the Bandit compounds, the more hope there will be for survivors to build this new world."
If you take a close look at the image, you can see a flag that says "Ultras", as well as some graffiti on the side of the building that says "Hools", presumably short for "hooligans". Click the image to make it larger.
You might also notice, you know, all the dead people. Techland appears to be pulling from real world influences here, pointing at how tribalism is already rife within our society and how the end of the world only makes those divides deepen.
These bandit compounds are dotted around the map and function much like the outposts in a Far Cry game.
We'll see some more of Dying Light 2 during E3 and send you impressions as we have them. If you can't wait until then, we have a big, in-depth interview with the team and freelance writer Chris Avellone. It's not just Avellone, however, as Dying Light 2 also has the people responsible for The Witcher 3's Bloody Baron quest working on it.