Destiny's Gjallarhorn: the myth, the legend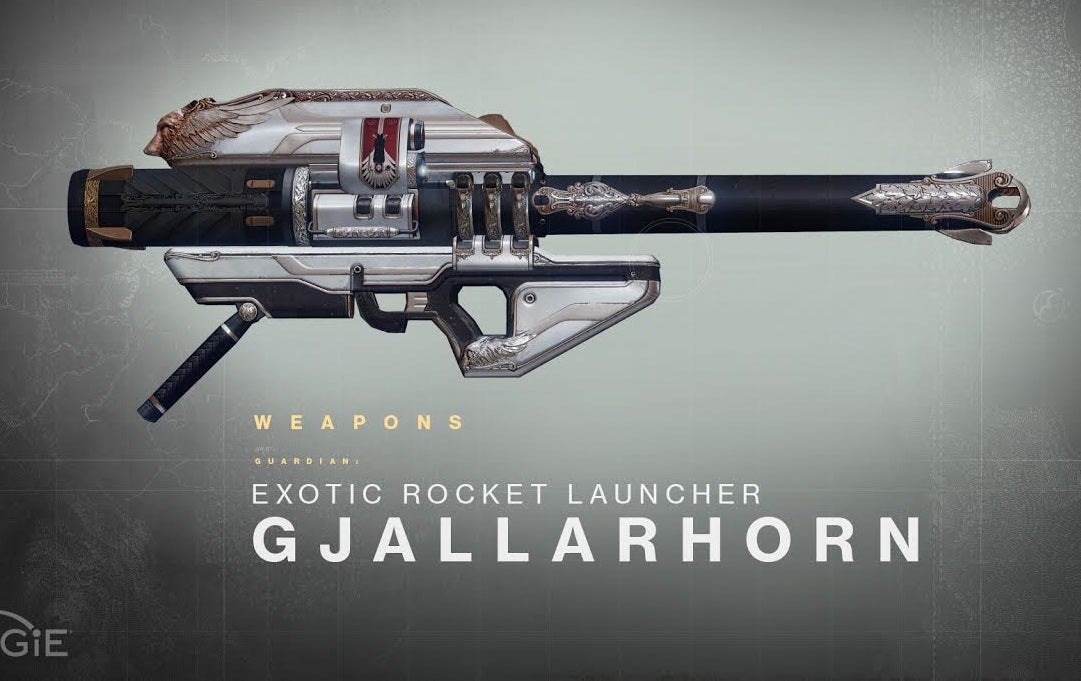 The most desirable object in Destiny remains elusive to so many players, even after 100s of hours played. Here's why this exotic-class RPG continues to torment those that are denied.
"Xur did sell Gjallarhorn in Week 2, for a modest 17 Strange Coins. But since many had blown most of their stash on Red Death or class-specific armour the first week, it was already out of reach."
In Norse mythology, Gjallarhorn is the horn blown by the god Heimdallr. Its name literally translates from Old Norse as 'loud sounding horn', and anyone who hears it trembles.
In the Bungie/Activision videogame Destiny, Gjallarhorn is an extraordinarily cool rocket launcher that looks like it was lifted from the Louvre. Its fictitious designer, Feizel Crux, poses: "If there is beauty in destruction, why not also in its delivery?" Yes, Gjallarhorn truly gives the impression of To Die For. However we all know that there's more to its status than gold gilt livery replete with winged-wolves.
Other exotic weapons within Destiny are equally rare, among them SUROS Regime, Hawkmoon and Thunderlord. Plenty of folk own these, as do Gjallarhorn. The difference is that Gjallarhorn helps you go places; it is without doubt the hottest ticket in the game that a casual glance on DestinyLFG.net will confirm. Just one example: "#LFG looking to join a group on CROTA CP, 32 exp with gjally".
There's a certain swagger to Gjally toting Guardians perfectly counterbalanced with the suffering of those without. It's the first requirement asked of raiders by ruthless fireteam leaders. Your presence is duly accepted with a fully upgraded specimen. Without, expect to be rudely discussed as though invisible while a replacement is sought. If you have Hunger of Crota (aka Baby Gjallarhorn) that'll have to make do, and further down the list of target-tracking lvl.331 tubes until you're tossed out.
Focused damage-per-second against single targets makes Gjallarhorn ideal for boss scenarios, which significantly boosts Raid efficiency. Damage radius is smaller than fellow exotic RPG Truth. It doesn't eliminate tightly packed groups of enemies as fast as Legendary-class Hunger of Crota. But it does, without fail, waste Vault of Glass Gatekeepers within seconds, and it always puts Crota on his knees. It's not just the initial impact of the shell that counts but the additional damage of tracking missiles. Not only does this get the job done, it looks and sounds truly spectacular. Of course you want one.
It took yours truly 500+ hours to bag the first Gjallarhorn, while a PSN friend had clocked 900+. For a very long time he listed his real name as 'Where's My Gjallarhorn' – it was becoming that desperate. But while we empathise with everyone still waiting, honestly the alternatives have their advantages.
Truth excels in the Crucible owing to its proximity perk combined with maxed out blast radius, you'll still need to equip a Legendary in the other weapon slots though – so no Vex, Hawkmoon or Thorn! Hunger of Crota does close to the same damage as Gjallarhorn, can be devastating in PvP and since it's a Legendary means that Icebreaker need never leave that Special Weapon slot ever again… unless you're one of those people that wait around corners clutching Murmur (curse you guys).
In order to feel better, we guess, quite a few discussion threads currently exist along the lines of 'Would Xur Selling Gjallarhorn be a Game Breaker?' First of all, lest we forget, Xur did sell it back in Week 2, for a modest 17 Strange Coins. But since many had blown most of their stash on Red Death or class-specific armour the first week, Gjallarhorn was already out of reach. It is amusing, though, watching YouTube videos from the time, casually skimming over the icon without much comment.
To answer that question directly though, the only game-breaking aspect that we believe possible is the hunger to keep playing in pursuit of the impossible dream. And we think Bungie's Head of User Research, Dr. John Hopson Ph.D., provided the clearest possible insight into where the studio stands on this point when at GDC 2015 somebody asked why, after 700 hours, they were yet to score Gjallarhorn. "Unfortunately, someone had to end up being that unlucky," came his reply.
Evidently the RNG mystique combined with the blown out-of-proportion status of Gjallarhorn will continue to drive community discussion for many moons to come.