How to get the Grand Overture Exotic and catalyst in Destiny 2: The Witch Queen?
The Grand Overture is a brilliant new exotic machine gun added with The Witch Queen. Here's how you can get it.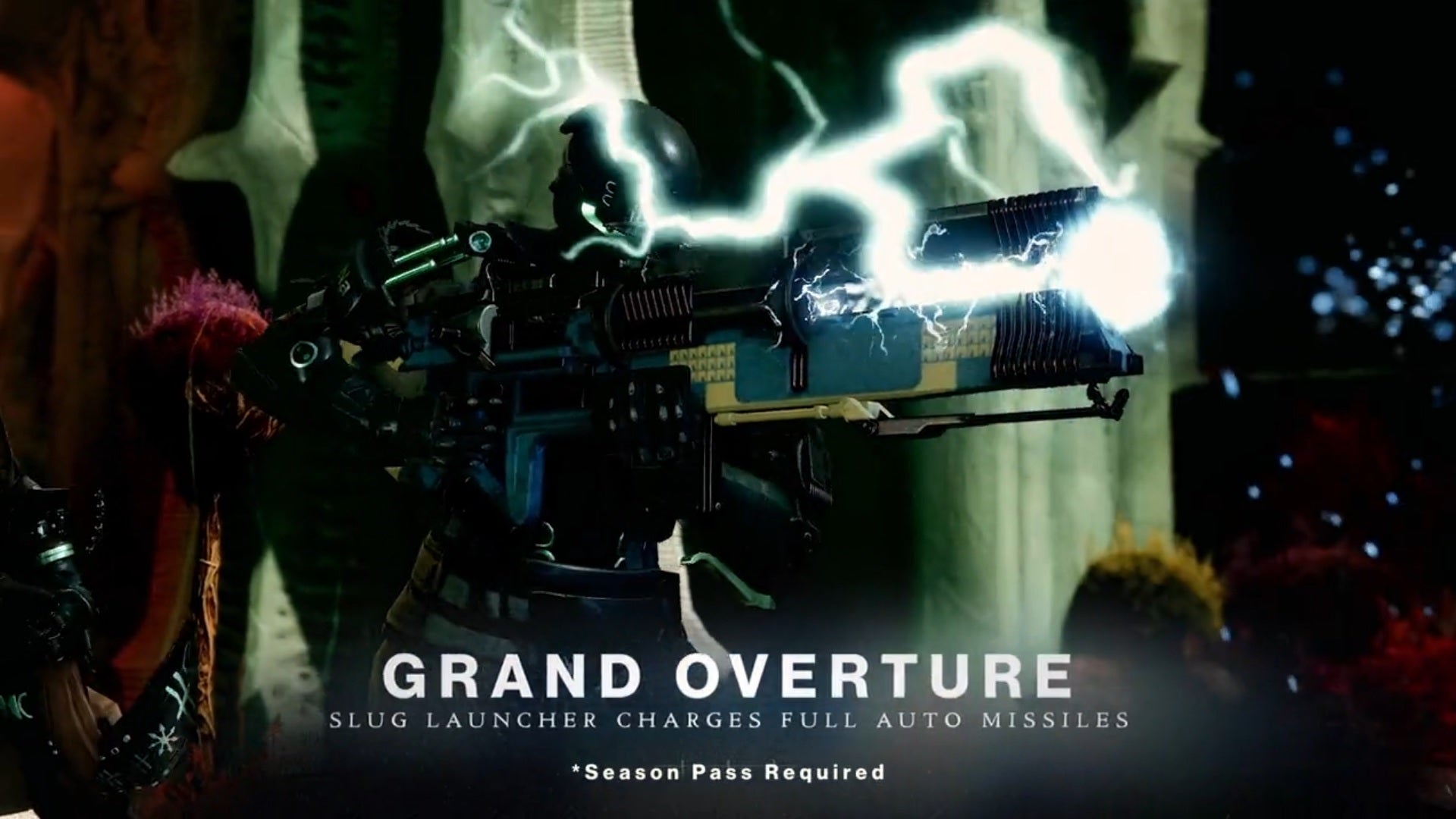 With the launch of Destiny 2: The Witch Queen players are set to explore a whole new planet, fight new enemies, and obtain a range of new gear including valuable exotic weapons and armour. One of the more explosive guns coming to your arsenal is the Grand Overture - but how do you get the Grand Overture in The Witch Queen?
This guide will take you through all the up-to-date information we have on the Grand Overture exotic, broken up into sections on what the gun does, how to get the Grand Overture, and how to obtain the Grand Overture catalyst.
Destiny 2 - How to get the Grand Overture exotic weapon?
The Grand Overture can be obtained via the Season of the Risen battle pass, by both free to play and paid-pass players. For free to play players, the weapon is unlocked at season pass rank 35, while those who pay for the pack can start using it straight away!
The Grand Overture have the following stats:
Impact - 53
Range - 100
Stability - 91
Handling - 70
Reload Speed - 64
Rounds Per Minute - 100
Magazine - 20
Destiny 2 - How to get the Grand Overture exotic weapon catalyst?
The catalyst for the Grand Overture is super simple to obtain! As soon as you get the gun, head to the tower and talk to Banshe-44. Your trusty weaponsmith will provide the quest free of charge. This quest has three steps in total, and provides your shiny new catalyst as soon as the final part is completed.
This catalyst provides and additonal buff to the weapons stability and handling, as well as an ability that causes defeated enemies to explode on death. Not only that, but missiles will also bilnd enemies when hit. As such, this weapon with the catalyst equiped may be a powerful heavy PvP option that'll lay waste to clumps on enemies at once. Give it a go!
Destiny 2 - What does the Grand Overture do?
The Grand Overture is a massive fully automatic weapon that shoots missiles at enemies slowly after a brief charging period. As missiles hit, users will be able to unload a volley of stocked-up rockets for a brief burst of massive damage. It's also an arc elemental type weapon, allowing you to cut through certain elite foes easily.
For more details on Destiny 2: The Witch Queen exotics weapons, check out our guides on how to obtain the Osteo Striga exotic SMG, and how to wiggle your way to a new Parasite exotic grenade launcher.