All Destiny 2 Emblem codes and Shader codes for October 2021
Only the best space fashion will do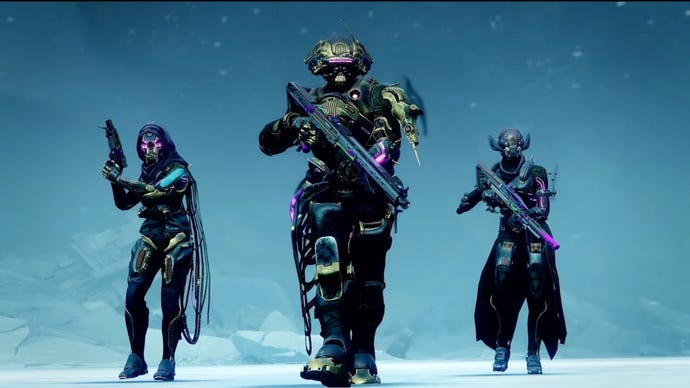 A new month means new Destiny 2 Emblem codes, and August is no exception.
This month sees a considerable number of new Emblems up for grabs, and as always, they cost you nothing other than a few minutes of your time.
Bungie also releases a few Shader codes handy for spiffing up your armor each month. We'll keep our list up to date as new codes release, so make sure to check back regularly.
What are Destiny 2 Emblems?
Emblems are cosmetic items you can add to your guardian's armor. They don't affect gameplay or stats in any way. Normally, Emblems cost Glimmer or have requirements to unlock, but each month's round of goods gives you a generous number of Emblems to pick from without having to do anything.
What are Destiny 2 Shaders?
Bungie also releases a few shader codes each month. You'll use shaders to dye your armor, and, like Emblems, shaders usually require something from you.
How to redeem Destiny 2 Emblem codes and Shader codes
Navigate to the Destiny 2 code redemption page, and choose your platform. Sign in to your platform account, then just add your code and redeem it.
Emblems appear automatically in your Collections, under the Emblems section. However, you'll need to collect Shaders from the Tower's Shader Kiosk.
Destiny 2 Emblem codes October 2021
These are the Destiny 2 Emblem codes for October.
| Destiny 2 Emblem codes | Destiny 2 Emblem codes |
| --- | --- |
| Code | Emblem |
| 7D4-PKR-MD7 | Sequence Flourish |
| JYN-JAA-Y7D | Galilean Excursion |
| RA9-XPH-6KJ | Cryonautics |
| 7LV-GTK-T7J | Future in Shadow |
| X9F-GMA-H6D | The Unimagined Plane |
| A7L-FYC-44X | Flames of Forgotten Truth |
| JDT-NLC-JKM | Ab Aeterno |
| N3L-XN6-PXF | The Reflective Proof |
| 7CP-94V-LFP | Lone Focus, Jagged Edge |
| FJ9-LAM-67F | Binding Focus |
| 7F9-767-F74 | Sign of the Finite |
| X4C-FGX-MX3 | Note of Conquest |
| 3VF-LGC-RLX | Insula Thesauraria |
| JD7-4CM-HJG | Illusion of Light |
| JNX-DMH-XLA | Field of Light |
| 7LV-GTK-T7J | Future in Shadow |
| YRC-C3D-YNC | A Classy Order/Spicy Ramen Emblem |
You can also earn the Share the Glass emblem by carrying 10 Guardians to the Vault of Glass the first time. Acquiring it is currently bugged, but Bungie plans on fixing that in the September 7 reset.
Destiny 2 Shader codes for October 2021
There aren't quite as many Shader codes, as always, but July has two new colors to pick up at the Tower.
| Destiny 2 Shader codes | Destiny 2 Shader codes |
| --- | --- |
| Code | Shader |
| RXC-9XJ-4MH | Oracle 99 |
| 7MM-VPD-MHP | Double Banshee |
If you're still making your way through the new season, make sure to check out our other Season of the Lost guides, including: