Death Stranding's online features won't require PlayStation Plus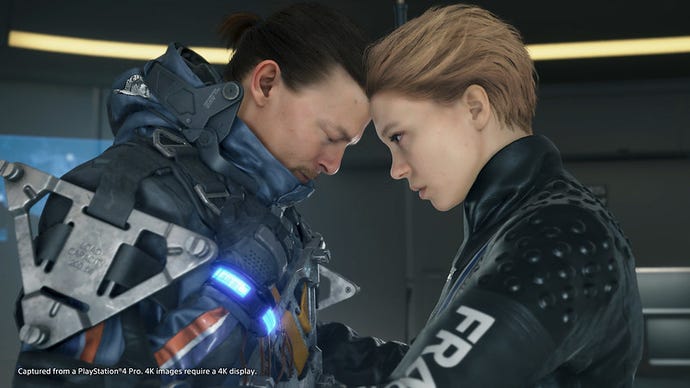 You won't need an active PlayStation Plus subscription to enjoy Death Stranding's light-multiplayer features.
Though it can be hard to quantify what Death Stranding is, one of the game's more clear aspects has been its asynchronous multiplayer mechanics.
As revealed in the recent gameplay deep dive at TGS, Kojima's so called Strand system allows players to see the effects of others on their world. This can be as simple as stumbling upon items they left behind, or using ladders or ropes players installed to help others navigate the world.
All of this can be accessed by anyone who owns the game, without need for a PlayStation Plus subscription. The recently revealed PS4 Pro bundle went up for pre-order on UK retailer GAME.
As spotted by MP1st, the package used on the site bears a very clear message about PlayStation Plus requirement. "Paid-for PlayStation Plus subscription required for online multiplayer. Sold separately. Death Stranding does not require PlayStation Plus subscription," it reads.
This is good news, particularly considering how some games with asynchronous multiplayer have handled it in the past. Notably, FromSoftware's Soulsborne series requires Plus for players to be able to go online at all, which means those without a subscription miss out on player messages, ghosts and so much of what makes these games special.
Most of FromSoftware games also have a traditional, PvP multiplayer component, of course, so you can see why Plus is required for the entire package, but work could have been done to unshackle messages and ghosts from the more direct PvP.
Death Stranding is out November 8 on PS4.