Ark: Survival Evolved's final expansion is now available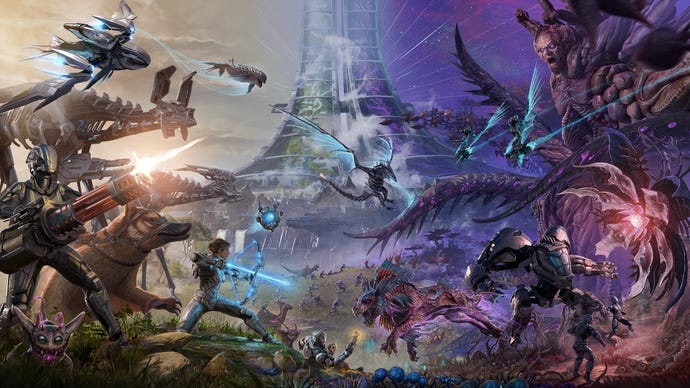 Ark: Genesis Part 2, the final chapter in the survival saga, has arrived.
The conclusion of Ark: Survival Evolved offers the largest map released, new missions, and a story that bridges the gap to the Ark 2 sequel.
In Genesis Part 2, you will explore a new world filled with new biomes and creatures, while participating in story-oriented missions that will test your survival skills.
It also features the final showdown between HLN-A and Sir Edmund Rockwell which takes place on a colonial ship traveling through space.
Here's more:
New History-Oriented Missions: A holographic guide, HLN-A, offers a wide range of engaging new story-oriented missions with varying levels of difficulty, as the survivors gather strength for the final battle against Rockwell. Complete missions to earn new bonuses and Hexagons throughout the map, which can be spent to obtain additional resources, Engram points, TEK items, travel between maps, and much more. Discover the Explorer's Notes and environmental clues along the way to learn even more about the history of the ARK saga.
Expansive Worlds: Get out of the Genesis Part I simulation and enter a gigantic spaceship filled with unique biomes, including beautiful Elisian fields, an exotic twilight realm with highly evolved life forms, the depths of outer space, and even the ever-expanding bowels of Rockwell himself. Be it sentient alien plants, Rockwell's digestive fluids, or asteroids arriving from intergalactic space, each biome presents unique dangers, but also opportunities to acquire new resources and creatures, including the powerful new "Mutagen" that allows you to evolve yet. plus your existing tamed creatures.
New and Strange Creatures: The vast expanses of the world of Genesis Part 2 are filled with brain-controlling Noglins, sleek high-tech Stryders, the adorable Maewing mobile nursery, and even the Astrodelphis starfighter that shoots lasers, launches bombs, can barrel-spin. other new fantastic creatures and evolved R variants of old favorites.
New Equipment: As you face the many dangers of this new world, you will have access to powerful new tools to help you. You will learn how to place remote cameras, do tricks with a Hoversail-type floating skateboard, take care of your eggs in the high-tech Incubator, shoot arrows of pure energy with the TEK Bow, even participate in a strategy command mode in real-time with the new Exo-Mek and much, much more.
As previously mentioned, the expansion is a bridge between the current game and the recently announced sequel, Ark 2. Genesis Part 2 also introduces new voice actors to the Ark universe, with David Tennant (Doctor Who, Good Omens) playing the villain Sir Edmund Rockwell, and Madeleine Madden (The Wheel of Time, Picnic at Hanging Rock, Dora and the Lost City of Gold) taking on the role of robotics partner HLN-A / Helena Walker.
Genesis Part 2 is now available for download as part of the Genesis Season Pass on Steam, Epic Games Store, Xbox One, and PS4.
In addition to Genesis Part 1 and Part 2, the season pass includes a Chibi Noglin ​​cosmetic, a Chibi Shadowmane cosmetic, a new cosmetic armor set, and an in-game AI robotic companion named 'HLN-A' that you can scan additional hidden Explorer Notes, which can be found in the other Arks.