The Legend of Zelda Breath of the Wild Walkthrough
Here's our full Zelda Breath of the Wild walkthrough, detailing how you can complete story and side quests, as well as conquering every Shrine in the game.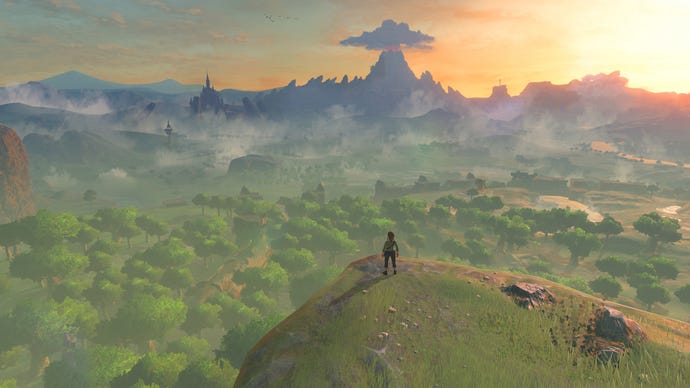 The Legend of Zelda: Breath of the Wild was the debut Zelda game on the Nintendo game, releasing alongside the new handheld console in March 2017. In this complete Zelda Breath of the Wild walkthrough, we'll be providing you with all the information you need to conquer Hyrule in our general Breath of the Wild beginner's guide, as well as providing you with solutions to dungeons, Shrines, boss fights, and much more.
On this page:
Breath of the Wild Walkthrough
Our Breath of the Wild walkthrough provides an in-depth step-by-step guide to each of the game's large areas, the quests handed out within them, and trials set within each shrine. While easy to begin with, things ramp up in difficulty as you progress through the massive adventure. The Breath of the Wild guide will help you master the game's mechanics, while the Breath of the Wild Tips to Survive page includes useful nuggets of information that will make your time with the game easier (and will be expanded on as discover more within Nintendo's epic RPG). For more general Zelda info, head over to our ranking of the best Zelda games.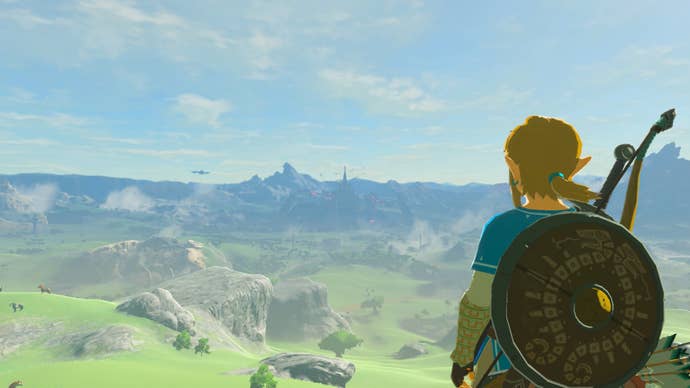 Although Breath of the Wild features a huge open world, the game does encourage you down certain paths with the quests it sets. You'll start in a relatively small area before heading out into new zones that open up as you acquire items and knowledge. There's an awful lot of content here, and it can feel a little overwhelming at points. Stick with our Breath of the Wild walkthrough to get through the early game and then spread your wings.
The following Breath of the Wild Walkthrough follows a fairly linear path through the adventure, but is not the only order to tackle things. With numerous items to discover in the world it's easy to break off from the main quest and go searching for cool things. This walkthrough will also explain how to obtain key quest items that are needed along the way. We've also got information on how to get some of the most wanted weapons and how to locate key areas. There are spoilers, but nothing should be revealed beyond the point of the area in question.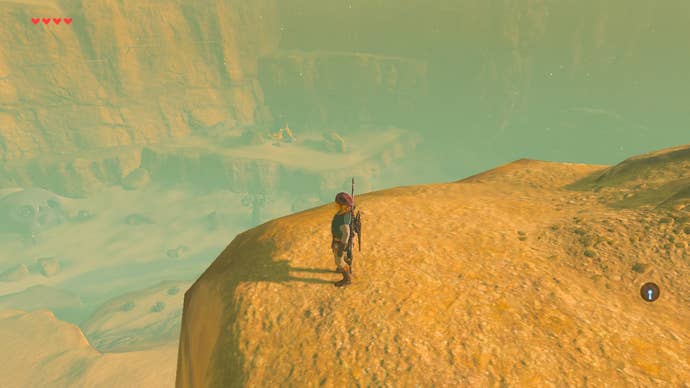 If you're after any specific info, we've got articles on How to get Epona and Wolf Link, How to Get the Camera, How to Tame a Horse in Breath of the Wild, How to Survive Cold Areas, and Secret Treasure Chest Locations. A key skill to get the hang of is cooking, so be sure to read our guide to the best recipes in Breath of the Wild. If none of that takes your fancy, surely how to get the Master Sword will! If all you care about is money, we've also got a handy guide on getting rupees quickly. On a more practical level, you can also buy Link a house and dye Link's clothes various colors. Newcomers to Zelda might also want to take a look at our intro to the franchise to get an idea of where to start.
If you want even more, head to our guide to kill guardians and our tips on how to sail rafts. Anyone unhappy with their heart/stamina choices can respec them, and DLC owners can find the location of the exclusive items.
We also have a complete guide detailing the recently added Xenoblade Chronicles 2 quest for Breath of the Wild. The full quest sees Link having to track down the locations of three red shooting stars, in order to obtain all three pieces of the Xenoblade Chornicles 2 armor set. For a complete walkthrough of the new quest, head over to our Breath of the Wild Xenoblade Chronicles 2 guide.
Great Plateau Walkthrough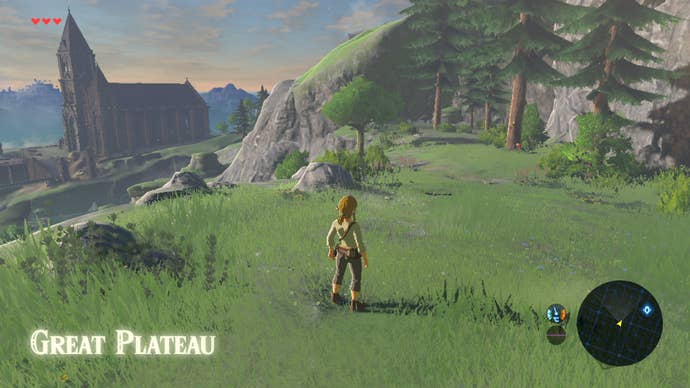 You begin Breath of the Wild on the Great Plateau, an area surrounded by steep cliffs. There's no way to make it down to any of the areas around it, but early on you'll encounter an Old Man who promises to trade you his paraglider in exchange for treasure.
Although initially you're told this treasure can be found in a shrine, it turns out that the deal requires you to find four Spirit Orbs by completing four trials - each trial will also grant you new rune abilities. Once you've got all four orbs you'll need to find the Old Man to progress your journey.
Incidentally, quests are tied to the area you obtained them, even if the actual questing part takes you out of that are.
Link doesn't stand a chance of surviving in the higher altitudes of Hyrule without the Warm Doublet outfit, which in turn opens up entire new areas of the map to be explored.

The Cryonis ability is just one of the many key tools available to Link in Breath of the Wild, allowing the player to temporarily freeze water into blocks of ice.

While they might not seem it at first, both the Old Man and the paraglider have a much larger role to play in the Hyrule adventure ahead for Link.

While only appearing as an optional main mission in the story to overthrow Calamity Ganon, the Captured Memories quest is crucial if you wish to witness and understand all of the events leading up to the return of Ganon 1,000 years ago.
Kakariko Village Walkthrough
Kakariko Village is home to Impa, who the King tells you find after completing the Isolated Plateau Quest. Here you'll be given new quests that will see you adventuring out further into the open world.
While you might prefer to go about your journey on Hyrule entirely on foot, knowing how to capture a horse and tame it in any situation is undoubtedly valuable to Links journey.
Shrine Walkthroughs
Here we give detailed instructions on how to find and solve each Shrine and Trial in Hyrule Kingdom.
Shrines like the Bosh Kala Shrine are one of many that are aimed at helping the player understand the fundamental mechanics in Breath of the Wild. In this case, it's how to take fully take advantage of Link's paragliding ability.

Although not as tough as the Major Test of Strength Trial, the Muwo Jeem Shrine will still test the combat capabilities of Link, as well as teaching the player how to properly parry, block, and dodge incoming enemt attacks.
Breath of the Wild Dungeon and Boss Walkthroughs
If you are struggling to work your way through the game's massive dungeons or failing repeatedly at trying to take down a divine beast or one of the many Ganon bosses, we're here to help.
If you're yet to discover Prince Sidon, the character that the internet is spontaneously obsessed with, then be sure to check out our guide on taking down Divine Beast Vah Ruta, a quest which heavily involves Sidon.

In beating Vah Medoh, Link will come face to face with the ghost of Revali, one of the four champions who stood with him 1,000 years ago when the Great Calamity originally struck.

A different type of Calamity Ganon will always present itself to Link at the end of every Divine Beast dungeon, as the last hurdle in taking back control of the relevant Divine Beast.
Breath of the Wild Guides
If you're after specific info on gameplay mechanic in Breath of the Wild, you'll find it here in our exhaustive list of Zelda Breath of the Wild guides.
Cooking is of the utmost importance in Breath of the Wild, as Link will have to scavenge together whatever ingredients he can from around Hyrule in order to put together dishes featuring a variety of stat boosts.

Having a good stockpile of Rupees for Link is essential in Breath of the Wild, allowing the player to purchase better armor and other equipment, as well as purchasing some key items that travelling merchants throughout Hyrule are pedalling.

Should you wish to kit out Link in the most stylish gear possible, then look no further than our guide on providing equipment with a new splash of paint.

One aspect of Breath of the Wild that is never truly explained to the player is how to sail on a raft, as Nintendo leaves it entirely up to the player to figure out.

The big brother of the Stone Talus, the Igneo Talus represents a huge challenge to Link, as a stronger, more powerful version of the Stone Talus found in the central region of Hyrule.
Weapons and Armor Guides
Need to kit your Link out with some of the best weaponry and shields in Breath of the Wild? We've got all the info for you right here.
Being able to manage your inventory is of the utmost importance in Breath of the Wild, as it means Link won't be left without a weapon to wield in some critical situations and boss battles.
How to Get Special Link Outfits
Breath of the Wild Tips and How to Survive
Early weapons break very easily. It's not hard to get new ones (even a tree branch functions as a basic sword), but make sure you're fully stocked up before entering combat against a bunch of enemies.
Your remote bomb rune ability is useful in combat. Either lob a bomb into a group of enemies or lay one down and lure your foes over it while giving chase.
Remote bombs can be spherical or cuboid. If you're on uneven land the cuboid can be placed down and won't roll away.
Increase your inventory size pretty early on by completing a sidequest from Hestu, a maraca-shaking tree found just outside Kakariko Village (found on the southern edge of the Pillars of Levia, on the cliff edge. A simple dispatching of a few enemies reunites him with his maracas (you'll also need a Korok seed), and you get a bigger inventory in return. Additional Korok seeds will let you expand further. Each time you can chose between Weapon stash size, Bow stash size, and Shield stash size. Korok seeds needed to upgrade a stash increase each time. Once Hestu disappears he can be found in Korok Forest.

Breath of the Wild is full of helpful characters, like Hetsu

Grab any plants or food you see along your journey. Even if you don't have a need for it immediately, it may come in handy later on. These items come is especially useful when cooking food and making elixirs.
At midnight at unlucky nights the Blood Moon comes out, the sky turns red, and monsters that had previously been killed return to the land. This is a dangerous time to be around, so be careful you don't find yourself exposed and out in the open.
Toss bait into water to lure fish. Different bait is required for each type of fish.
Using more of an effect-imparting ingredient when cooking up delicious meals will mean the resulting dish will impart more of that effect when eaten.
Some weapons are useless in melee combat, but if you successfully throw one at an enemy it will deal double damage.
Time side hops and dodges correctly while in combat and you'll be able to initiate a Flurry Attack. A button prompt appears allowing you to hammer Y and unleash a string of strikes.
If you draw your bow while jumping from a high place, time will slow down and enable you to aim with more accuracy.
It's possible to steal enemy weapons from camps. Sneak into enemy territory then grab what you can before entering battle, leaving your foes without a strong means to attack.
Trade in Spirit Orbs at prayer statues in order to get more stamina or extra heart containers. Each prayer requires four orbs, obtained by completing trials within shrines.
If you need more health or stamina to beat a certain boss or perform a certain task you can respec them by visiting a special statue.
If you use a weapon with a certain element against an enemy of the opposite element type, you'll deal more damage. For example, fire on ice.
Ancient weapons are great to use against ancient enemies, like the Guardians.
If you find walking down mountains a little slow, why not Shield Surf by jumping on your drawn shield.
If you're looking for more on Breath of the Wild, be sure to read Nadia's op-ed on why BOTW 2 needs to be as weird as Majora's Mask.. Elsewhere, there's Mike's original review of the game.