Zelda: Breath of the Wild - Rito Village, Warm Clothes and Boarding Vah Medoh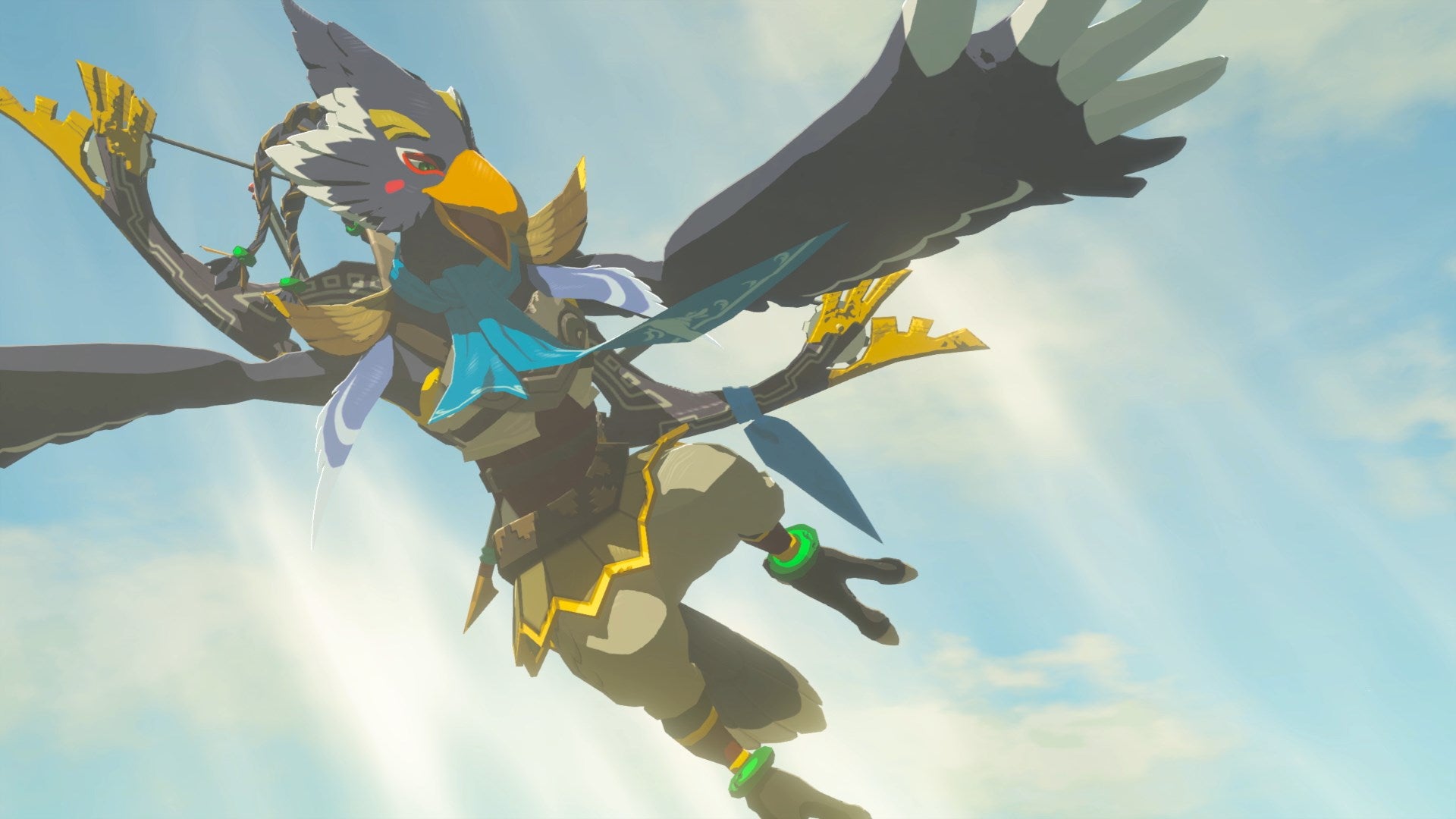 Here's how to get to Rito Village and prepare for boarding Vah Medoh to tackle the first of the divine beast dungeons.
The quest line in the Rito Village is a great one to tackle early, as Vah Medoh is a great Divine Beast to tackle early. I'd recommend doing this either first or second, since getting to it doesn't require too much difficult combat or specialized equipment. The main thing you'll need is some warm gear.
For even more help on your adventure through the ruined Hyrule, check out the rest of our detailed The Legend of Zelda: Breath of the Wild guide.
The Legend of Zelda: Breath of the Wild Walkthrough - Main Quest: Rito Village and Rito Warrior Teba
In order to get this quest line of the Free The Divine Beasts quest started you'll want to go to Rito Village. The village is located in the Tabantha Region in the far West of Hyrule.
The village is surrounded by Lake Totori, and is difficult to miss thanks to a striking tall rock formation nearby. (This formation actually has a use, eventually...) The Rito stable is just to the East of it, and it's a good ways directly north of Tabantha Tower. The Rito stable is one of the best places to gather wood in the game - that's required for some side quests, so take a mental note.
Once at the village, climb to the top floor to meet the elder. Don't let the waypoint fool you into trying to find him on the lower floors: he's right at the top. He'll explain about a dude called Teba, and he might well be a key contact in taking over the Divine Beast Vah Medoh.
He points you to Teba's wife to find his location, and thankfully she and his son are right next door. Talk to them both and they'll tell you his location - there's a Shrine right near the location - the Sha Warvo Shrine - so I'd suggest dropping a pin on it and using that as a waypoint to get to the right place.
Before you go, be aware that over there is one of the very coldest areas of Hyrule. You need warm clothes or a whole lot of spicy food.
Getting warm clothes
The best way to get some warm duds is to head to the store a few floors down right here in Rito village. There they have the Snowquill armour set. You'll want to try to get at the very least the Tunic and Trousers in order to survive.
I can't emphasize enough how important warm clothes are. If you want to go for the elixir and food route, fine, but be aware that you'll need a lot, since the entire dungeon is freezing cold thanks to how high in the air it is. If you can't afford the clothes, it might be better to tackle a different Divine Beast (The Zora's Vah Ruta is more difficult to reach but gives you the armor you need for free) and return to Vah Medoh later.
When ready, glide over towards where Teba is hiding - the flight range near Dronoc's Pass and the Sha Warvo Shrine. He'll give you a task after you persist in talking to him.
All you need to do here is paraglide in the updrafts to blow yourself higher then pull your bow out and fire at targets. You need to hit 5 in a minute and a half, which is loads of time - take it easy and hit the targets, but be sure to practice and use this to get an understanding of how stamina works with this slow-motion mid-air bow firing mechanic.
Boss Fight: Boarding Van Medoh
After this Teba will talk through a plan. You basically just practised for it: you're going to get up near Vah Medoh and while Teba distracts it you'll be tasked with riding up-drafts and firing bomb arrows down at the beast.
Teba will give you 20 bomb arrows. When you're ready with health restoratives and dressed warmly, agree to head into the battle.
Even though Teba's description prepared me, I admit I wasn't fully prepared for everything that this battle entails - it's quite a mad-looking thing, but don't let that daunt you. First thing's first: don't waste those arrows. Get in close so you can be sure you'll hit.
When the cannons lock on to you you'll want to close your paraglider and let yourself free-fall to avoid their homing lasers. Keep doing this, getting closer and closer.
Each turret you have to take down will require two bomb arrows, so if you do this right you won't even need half of what Teba gave you.
Once this encounter is over, you'll find yourself aboard the beast, but Teba is prevented from joining you. Dungeon time!