Suicide Squad: Kill the Justice League finally reveals its true self
Suicide Squad: Kill the Justice League's structure, design and gameplay have been laid bare for the first time.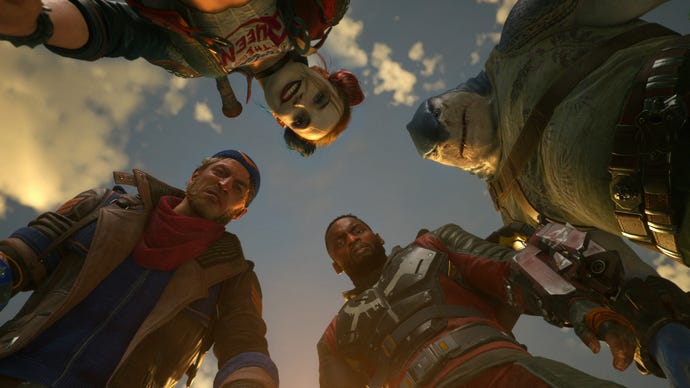 The biggest reveal of Sony's first State of Play livestream of the year was, of course, a deep dive into Suicide Squad: Kill the Justice League. As promised, we got a decent chunk of gameplay, alongside a broader explainer from the developer about how it all works.
Although it comes from the makers of the Batman Arkham series, Suicide Squad looks nothing like the studio's past work.
Rocksteady revealed that Suicide Squad is mainly a co-op shooter, although there are certain legacy brawler elements in there, this looks to be more of a take on Destiny. The game can be played solo, but it's apparent that it's meant to be enjoyed with friends.
When you don't have anyone to play with, bots will replace all remaining characters - so you always have all four of them with you, and you'll even get to switch between them. With that structure also comes plenty of other expected additions, such as loot, gear sets, and a gear score that dictates your overall power.
There are cosmetic outfits, too, though thankfully they are separate from the functional gear, so you can at least look the way you want to without affecting how you play. Speaking of looks, Suicide Squad does have a battle pass that will include cosmetic items, which is one another thing that isn't too surprising, especially given recent leaks.
Suicide Squad's gameplay looks to mix fluid traversal around Metropolis with acrobatic combat. Each of the four villains have unique movement abilities, and play different roles in combat. King Shark, for instance, is the group's tank, whereas Harley Quinn is the fastest, most agile of the bunch.
Much like Destiny, weapons can be upgraded and customised, and they can come from different manufactures to add some variety to the loot you'll find.
Post-launch, Rocksteady said you can expect new playable characters, new missions, new weapons and various bits of content you can play after you're done with the main story.
Rocksteady promised more news to come from now until the game's release on May 26 for PC, PS5, and Xbox Series X/S.