Star Wars Jedi: Survivor sequel seemingly confirmed by Cal Kestis himself
No details on when to expect more, though.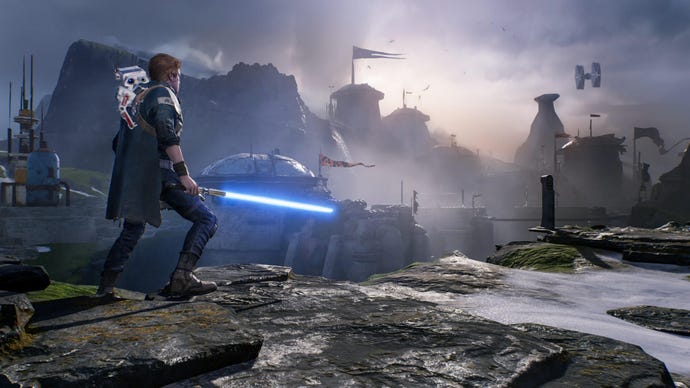 Turns out that a sequel to Star Wars Jedi: Survivor is already in development, as confirmed by the voice of Cal Kestis himself.
As reported by VGC, Cal's voice and motion capture actor Cameron Monaghan confirmed that a third game is in the works during a panel at Ocala Comic Con. "We're working on a third and we're in the process of doing that right now," Monaghan revealed to the audience. "That's a big undertaking and there have been some conversations so far, but hopefully when all things [are] said and done we'll be able to go in and make something really cool."
Watch on YouTube
According to VGC, the panel took place shortly before it was announced that director of both Star Wars Jedi Games Stig Asmussen is leaving developer Respawn Entertainment. Asmussen had previously said that he wanted Star Wars Jedi to become a trilogy, but with him leaving Respawn, following through with that will obviously be someone else's responsibility.
Considering Survivor only launched in April of this year, we can probably safely assume it's early days. Things like vocal performances are normally done quite late into development, so it is interesting that Monaghan appears to be involved so early on, but it could just be about having conversations related to Cal's character.
Back in July there were some job listings spotted that did seem to suggest a sequel to Survivor was already in the works, but a confirmation from Monaghan's mouth himself is obviously a bit more concrete.
Star Wars Jedi: Survivor generally launched to positive reviews, even if it did need a little bit of extra work post release. Connor gave the game 4/5 stars in his review of the game, writing, "Star Wars Jedi: Survivor is a step up from its predecessor and brilliant fun, as long as you don't let that collectible-obsessed plunderer take hold of you. It is not a narrative masterpiece, nor is it the most engaging action game in the world. But it does nothing badly, and excels where it matters."