Star Ocean: The Last Hope gets PAL release date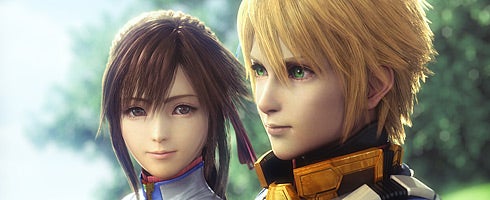 Star Ocean: The Last Hope will release in PAL territories on June 5, Square said today.
The RPG's a 360-only thing at the moment. Just don't lose heart, PS3 people.
Press release after the break.
STAR OCEAN: THE LAST HOPE AVAILABLE ACROSS PAL TERRITORIES IN JUNE
London (29th April 2008) – Square Enix Ltd., the publisher of Square Enix® interactive entertainment products in Europe and other PAL territories, today announces that STAR OCEAN®: The Last Hope™ will be released across all PAL territories on 5th June, 2009, on the Xbox 360® video game and entertainment system.
With this highly anticipated prequel, acclaimed development studio tri-Ace Inc. brings the STAR OCEAN series to Xbox 360 for the first time. STAR OCEAN: The Last Hope continues the series traditions of soaring space opera, blending science fiction with fantasy for a unique RPG experience. The refined gameplay features four party members and team-oriented combat, while maintaining the innovative real-time battle system that has become a trademark of the STAR OCEAN series.
John Yamamoto, president and chief executive officer of Square Enix Ltd. comments, "We are delighted to bringing this exciting new chapter of the critically acclaimed STAR OCEAN series to Europe and PAL territories. STAR OCEAN: The Last Hope is a stunning and captivating adventure, set to delight both fans of the previous adventures and newcomers alike."
For more information about STAR OCEAN: The Last Hope, please visit the official website at www.staroceangame.com