The Six Invitational was Rainbow Six Siege's breakout esports moment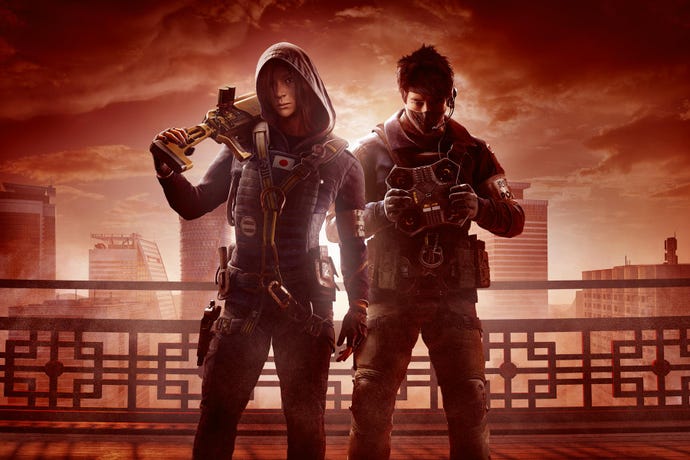 Rainbow Six Siege has had its Dota 2 moment.
more
Alliance vs Natus Vincere in the grand final of The International 3 Dota 2 championship was a game that ultimately changed my life.
Despite getting into Dota a few weeks before TI3, this epic best-of-five that had, at the time, an unthinkable amount of money on the line, was what cemented me as a fan of Dota, and esports in general. I wasn't alone there either. Thousands of others credit that match with getting them into Dota, and the scene exploded as a result.
It is still early days, with the final ending less than 48 hours ago, but it certainly feels like the 2018 Six Invitational final was Rainbow Six Siege's TI3 moment. Off the back of one of the best esports matches I have ever seen live, Siege esports could be in for its own impressive growth over the next year thanks to a new influx of fans.
After six days of competition whittling down sixteen of the best teams in the world to just two, it was reigning champions Evil Geniuses taking on the team many consider to be the best in the world, PENTA Sports, in the grand final. PENTA looked strong, having only dropped one map all event, but that was against EG when the two faced off in the group stage. Since then PENTA had been undefeated. EG meanwhile had only just made it to the final, having been one round away from elimination against Rouge in the semi final.
What followed was an epic best of five, one that will be remembered for a long time and one that can even rival TI3. Evil Geniuses got off to a flying start, taking Clubhouse 5-2, with PENTA looking a little lost. It seemed that on the big stage they had crumbled and that this would be a quick match.
On the following map, Oregon, PENTA looked a little better, but they were still far from the team that had taken down both ENCE and Black Dragons 2-0 in the quarter and semi finals. They pushed EG all the way to a round 11 here, but ultimately came up just short, putting EG on match point heading into the third map.
After this both teams were given a short break, with PENTA choosing to leave the stage and regroup out of the public eye, while EG stayed on stage and soaked in the energy of the crowd, who were firmly supporting the North American side. We don't know the exact details of what was being said backstage, although players have since given us some info in interviews, but it totally changed the fortunes of PENTA.
From this point on PENTA looked like a new team. They came back and took Kafe convincingly, extending the final even further. But it was the fourth map on Bank that really saw the tide turn. With confidence on their side PENTA came back to life, and started to return to interesting on the fly strategies, often pulling out a Montagne, an operator rarely seen in the event, to great success.
As PENTA grew into the match EG started to loose focus. Simple mistakes were made, with some very strange decision making coming in. After looking near unbeatable in maps one and two EG suddenly looked broken, with their only hope being that they had at the very least already guaranteed a map five.
Map five was a fairly even playing field. At 2-2 and on a map no team particularly favored it was anyone's game. Eight rounds in and it was all tied up, meaning overtime would decide the winner. Now in TI3 this is the moment where we got the million dollar Dream Coil that went down as the most important play in Dota history. While that was close to unbelievable the ending of the Six Invitational was a little less impressive, however still an epic moment.
PENTA's Pengu found himself in a 2v1, with EG having enough time to play it smart. However somehow Pengu managed to take down one as the double peak came in, then proceeded to switch weapons and take out the other. In a flash PENTA had become world champions, pulling off a reverse sweep in a best of five and winning out in overtime on the final map.
In the dying moments, as overtime came in on map five, word of this epic final was quickly spreading across social media. More and more viewers were tuning in, with over 180,000 on the primary english stream alone, generating a real buzz around the entire industry. Big names from other games were tweeting about how great the match was, and offering congratulations to the winners.
It's this kind of moment that can really make a top tier esport. Moments such as the TI3 finals, or the xPeke backdoor in League of Legends really boosted the profile of both titles significantly, and it certainly feels like those final rounds could do the same for Rainbow Six. After two years of competition, a few stumbles and a lot of improvement the Six Invitational was finally the massive event every Siege fan wanted to see.
Year three for Siege esports will bring with it more than a few changes. Grassroots leagues continue to improve, a string of competitions will be held at DreamHack events throughout the year and the Pro League will be expanded to six month competitions. However, perhaps the most welcome news is that we will not have to wait an entire year for another massive event like this. The new Paris Major is set to take place in August and promises to challenge the Six Invitational in terms of size.
This is perhaps the best thing Ubisoft could have done. A year long gap between massive events could have seen more than a few fans lose interest, but with a new major coming up in just a few months the memories of this epic final will still be fresh, and people will no doubt tune in once again. It may not hit the great numbers we saw this weekend without another equally as tense final, but there is no doubt that the upcoming competitions will do significantly better than last year, largely thanks to the epic show that PENTA and EG put on.