Second map pack for Call of Duty: World at War coming in June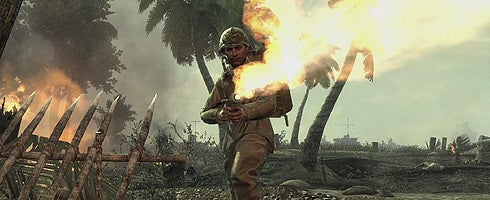 Activision has announced that the second map pack for Call of Duty: World at War will land on PS3 and Xbox 360 in June.
Treyarch has included four new maps, Banzai, Corrosion, Sub Pens, and Zombie Swamp which expands the cooperative Nazi Zombie mode.
The add-on will also bring ten new Achievements and Trophies.
Pricing and PC availability hasn't been announced.
Official announcement is posted below.
SANTA MONICA, Calif., April 30 /PRNewswire-FirstCall/ -- New battle lines have been drawn for one of the most intense and most-played online multiplayer games, as Activision Publishing, Inc. (Nasdaq: ATVI - News) and developer Treyarch, confirmed plans today for Call of Duty®: World at War Map Pack 2. Set for release in June, Call of Duty®: World at War Map Pack 2 will feature three multiplayer maps and one new Zombie map, and appear on the Xbox 360(TM) video game and entertainment system from Microsoft and the PLAYSTATION®3 computer entertainment system.
"Call of Duty: World at War Map Pack 2 underscores Treyarch's commitment to delivering ongoing support, and new multiplayer and co-op Zombie gameplay experiences for our players," said Treyarch Studio Head, Mark Lamia. "Our community has been outstanding and has driven support for Map Pack 1, as well as demand for additional downloadable content like Map Pack 2."
Online, players will compete in "Banzai," and fight for control of a tall, river bridge, deep within enemy territory; face down foes in a shattered Russian train yard in "Corrosion"; and struggle to control a bombed-out submarine base in the close-quarter map, "Sub Pens." In "Shi No Numa" (Zombie Swamp), Imperial Zombies rise from misty swamps in an all new co-op experience, with a level that features a mix of traps, flaming Hell Hounds, Perk machines and the deadly, new Wunderwaffe DG-2, as well as 10 new Xbox 360 Achievements/PS3 Trophies that can be earned along the way.
Call of Duty: World at War is rated "M" (Mature) by the ESRB for Intense Violence, Strong Language, Blood and Gore. For more information and exclusive updates about Call of Duty: World at War, visit www.callofduty.com.