Runic Games to release Torchlight October 27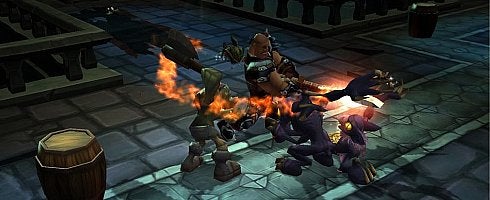 Runic Games has announced that Torchlight, its action RPG with randomly generated levels, will hit October 27 via digital download.
The single-player game has three classes to choose from - the Destroyer, Vanquisher and Alchemist- and an interesting sounding retirement option for maxed out characters to hand over benefits for newly created ones.
Those who want to play online, can do so eventually when Tochlight's online multiplayer version is released at a later date.
Runic is comprised of developers who worked on Diablo, Diablo II, the Lord of Destruction expansion and Mythos, so it should be an interesting title.
Full press release is through the break with the teaser video shown at PAX.
September 4, 2009 – Seattle, WA - Runic Games, Inc. ("Runic Games"), a specialized developer of PC-based entertainment software in the United States, today unveiled at the Penny Arcade Exposition that the highly-anticipated, action RPG, Torchlight, will launch on October 27. Runic Games' development team features the same talent that brought the bar-setting, action RPGs, Diablo, Diablo II and Fate. Torchlight will be available as a fully downloadable game for US$19.99.
Gaming enthusiasts looking for a sneak peak at Torchlight before the official launch date can visit Runic Games at Booth 872 in the Expo Hall during the Penny Arcade Exposition, which runs from September 4-6. On hand will be Runic Games' CEO, Max Schaefer, co-designer of Diablo; and President, Travis Baldree, designer of Fate, to demonstrate the game.
"We have always felt that gaming should first and foremost be about the players and by announcing the launch date of Torchlight to fans at PAX, we're able to give them a sneak peak of the game before its official release" said Max Schaefer, CEO of Runic Games, Inc. "PAX is a unique venue geared towards video game enthusiasts and we are excited to be showcasing Torchlight and look forward to seeing many of our dedicated fans at PAX."
Torchlight sets itself apart from other action RPGs with its intuitive, approachable interface, which enables gamers of all skill levels to quickly immerse themselves into the rich game play and varied world of Torchlight. The level randomizer will ensure that each adventure is unique with different monsters, treasures, puzzles and items for players to find, defeat, and unlock. Through a powerful suite of development tools, Runic Games will empower players and game enthusiasts alike to create and share their own content and levels.
For more information on Torchlight, gamers can visit the official website at http://www.torchlightgame.com/ to view additional game play details, trailers and screenshots.