Psychonauts 2 Interview: Schafer and Titre-Montgomery on mental health, crunch, and development during the pandemic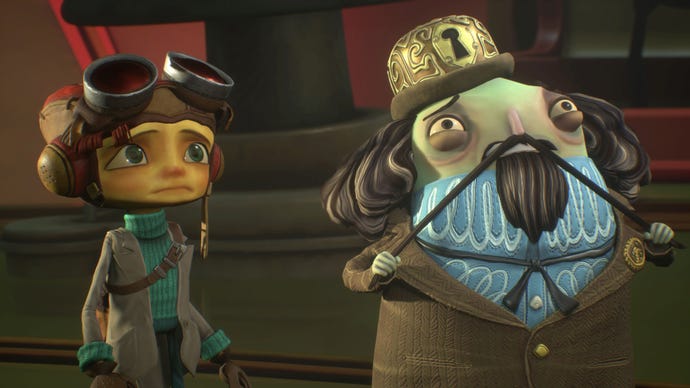 At some point, while wise-cracking with a dodgy snake policeman, jumping on platforms made of floating teeth or boiling a talking egg, it sinks in: Psychonauts 2 is delightfully bonkers.
To be fair, this feeling could easily have hit us at any time when playing through the demo for the upcoming platformer developed by Double Fine. A direct sequel to the cult-classic Psychonauts, Double Fine's 2005 debut game, you play as the psychic Raz, who can project himself into the brains of other characters to explore their inner thoughts and dreams realised as fantastical levels. Here, you use a range of psychic abilities to explore impossible landscapes, solve puzzles and fight the literal manifestations of negative thoughts, like anvil-wielding regrets.
However outlandish, these elements all help to tell relatable stories that touch on mental health issues. Take the psychic Cassie, who we meet in a gorgeous papercraft world. Cassie splits different aspects of her personality into distinct paper-doll personas, only to lock them away in a surreal, dream-like library, unwilling or unable to acknowledge these aspects of herself. With Psychonauts 2, Double Fine is hoping to create a meaningful and lasting experience, whilst making sure that it's fun to explore these colourful worlds right off the bat.
"It's a humanist game, so I hope [players] come out of it feeling good about being human beings," Double Fine Studio Head Tim Schafer says. "We're, at the end, trying to make a really entertaining, fun experience."
Building a dream
Psychonauts 2 was partially funded by $3.8 million raised on crowdfunding platform Fig in 2016, a website founded by former Double Fine COO Justin Bailey. The studio self-funded part of the game's development and publishing rights were originally acquired by Starbreeze in 2017, until Microsoft purchased these rights and acquired Double Fine in 2019.
The original game is known for its creative levels and settings, a trend continued in this demo. In one, you explore a bizarre amalgamation of a hospital and a casino, complete with a pill-swallowing pachinko machine. In another, you prepare meals using sentient ingredients for sock-puppet judges, juggling tasks as a contestant on a macabre gameshow. For Schafer, a Psychonauts level has a few distinctive aspects: an interesting host experiencing difficulties, a unique aesthetic and setting, and a gameplay twist. For example, Raz learns how to astrally project a flat, doodled version of himself to help solve puzzles in Cassie's level.
"It's easy to forget one of those elements, but a really good Psychonauts level has all of them," Schafer explains.
However, it became apparent that Double Fine couldn't use regular development processes for the game, so developers were instead organised into small, cross-discipline teams assigned to specific levels, collaborating and improvising based on story prompts from Schafer.
"Tim will say: we want to do a level about this character's brain, this is their issue and these are the things that we envision happening, and that small nucleus of a team quickly starts rapidly brainstorming and iterating to come up with a prototype of what that could be like," Art Director on Psychonauts 2 Lisette Titre-Montgomery says. "Then it expands from there."
Playing through the demo is frequently a laugh-out-loud experience: you can project yourself into the minds of certain characters to see the world from their perspective, and it turns out some people are worryingly obsessed with bacon. However, the game also tackles some serious issues relating to mental health, similar to the original Psychonauts.
Schafer acknowledged that some aspects of the first game, such as the asylum, could have been handled better in a recent Techradar interview. However, Double Fine is collaborating with the non-profit charity Take This and internal mental health experts provided by Microsoft for Psychonauts 2. Schafer feels that the game comes from a place of empathy and humanity, rather than trying to punch down or alienate others. Additionally, the team has simply matured in the 16 years since the first game's release, adding greater nuance to these depictions. When asked if he feels that it's important to make a game addressing these issues, Schafer answers that it came out of Psychonauts' setting naturally.
"It is something that I enjoy in writing and things that I take in, art that deals with the width [and] breadth of the human experience, it just goes with the territory," Schafer explains. "In general, it's nice to see that change across games - games are really prone to exploiting negative stereotypes about people with mental illness because it's handy to vilify people. People being more aware of the damage that it does has made for not just better characters in general, but better games."
Upholding a legacy
Despite the years between them, Psychonauts 2 feels like a natural succession to the original, picking up where it left off seamlessly. This is no coincidence: Titre-Montgomery wanted to carry over the core of what Double Fine did well in the first game for the sequel. She points to the signature 'wonky' artstyle as an example, which was preserved whilst being enhanced with modern technology.
"When you look at a Psychonauts environment, things are slightly off-kilter, nothing is exactly symmetrical or perfectly the same. That skewing and slight shifting is what makes everything feel a bit dreamlike," Titre-Montgomery says. "For me, it was really focusing [on]: how can we bring that really unique style element with modern technology?"
Developing Psychonauts 2 and the 2017 VR game Psychonauts in the Rhombus of Ruin required Schafer to step back into the shoes of characters he hadn't written for in over a decade. However, Double Fine does "deep lore" for all of their characters, trying to make them feel real, and Schafer thinks that this attention to detail paid off. He recalls going to a voice-over session for Rhombus of Ruin with original cast members, including Richard Horvitz and Nicki Rapp, and directing them as their characters.
"I was just amazed and like: 'oh wow, here we are again, we're right back in it because the characters have just been waiting for us this whole time to come back'," Schafer says.
Reports that Psychonauts 2 was developed with "no crunch" were circulated following a Twitter post written by Double Fine Senior Producer Kevin Johnson in June. Titre-Montgomery says that the studio is "always looking for ways to mitigate crunch", simplifying ideas down without compromising the game's vision.
"It was a constant adjustment: 'we want to make this big moment, how can we simplify it down so that it can be done in a reasonable amount of time and we're not killing this particular team?' For us, it's the day-to-day management, making sure that our vision and scope are in alignment with our goals as a company," she says.
"The first Psychonauts game had a very intense crunch mode and after that is when we said: no more, we're not gonna do that anymore, we see the damage that it does to people but also how it's not necessarily a smart thing to do because it doesn't lead to the best work," Schafer says. "We've tried to eliminate it on every game. It's really hard to eliminate it completely and it's really hard to tell what's going on during quarantine exactly because no-one's in the office, it's not the same. But I think it's definitely something that we are very serious about and try to avoid."
An accessible vision
Psychonauts 2 also drew attention recently for its decision to include an invincibility toggle, one of a variety of accessibility features planned for the final game. Titre-Montgomery and the art team focused on UI related features like remappable controls, size-adjustable text, localisation of in-game signage for different languages and colour-blind modes. Schafer, a Vice-President of the gaming charity SpecialEffect, says Microsoft has provided Double Fine with access to various accessibility-related resources, such as testing and seminars.
"Within our ability to add these features, we've been adding as many as we could just to lower the barriers: there's no reason to have these barriers up. They're often very easy to implement; they're not really advanced tech often, they're just thinking of someone-else's situation and needs," Schafer says.
Schafer speaks positively about Double Fine's experience as a first-party studio with Microsoft. For example, the studio was planning on cutting boss fights from the game entirely before the acquisition.
"We had our financial ups and downs as an indie studio," Schafer says. "The game was going to be the game, but we were lopping things off near the end. I started feeling sad about the boss monsters because I was looking at Psychonauts 1, what great bosses we had [...] When we came into Xbox and they were asking us: what's the right way to finish this game, if that wasn't an issue? I was like 'I really have these things I need to get back in there' and they were very supportive."
Psychonauts 2 will launch day-one on Game Pass, Microsoft's game subscription service, and Schafer feels that it's the "perfect environment" for Double Fine games. Psychonauts is the type of game that finds an audience through word of mouth and previously, people were less likely to take a chance on something new and unique rather than a more familiar experience, Schafer argues.
"New and unique is the kind of game that we specialise in at Double Fine: we really want to make something surprising and unusual that you haven't seen before," Schafer says. "That just fits in better with Game Pass, where you might encounter something that you're not quite sure if it's for you or not, because it's new, but the barrier to entry is so low."
Development during the pandemic
Finishing the game during the pandemic has been challenging for the studio, but Titre-Montgomery says they already had a framework in place for remote working beforehand, allowing them all to get up and running from home in less than a month.
"Overall, it was a lot smoother than we anticipated, but I think the other elements, just the stress and the depression, all the things everyone went through this pandemic [had an effect]. We all were working together and practicing empathy with each other as we were trying to finish this project," she says.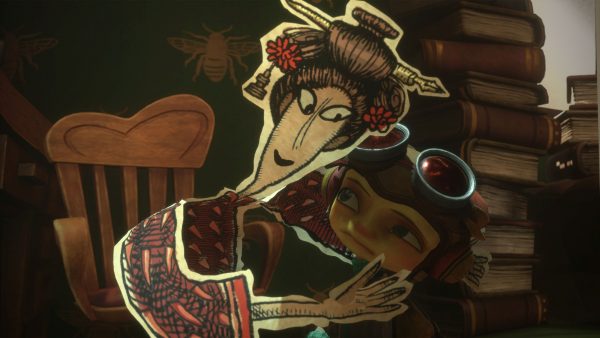 Despite the early start - it's just after 8AM for the two when our interview starts - Schafer and Titre-Montgomery speak enthusiastically about their time working on the game.
"One of the fun things about working in video games is so many different disciplines coming together to collaborate and they all have different ways of working. That can be a challenge, but ultimately that's why we do it," Schafer says. "As long as everybody, in the end, has the same goal - trying to make something great - the situations resolve themselves."
"Overall, it was definitely a challenging experience but it was so creatively rewarding. We were all invested in making sure the player experience was just fun. We all worked together in service of that," Titre-Montgomery agrees.
You can explore Psychonauts 2 when it releases on August 25 on Xbox One, Xbox Series S and X, PC, Game Pass, PS4 and PS5 via backwards compatibility. We played through this demo on Xbox Series S.
For more games coming this year, check out our video game release dates page for a full list of everything coming in 2021 and beyond.