Planet Michael announced as "The Ultimate Michael Jackson Online Game"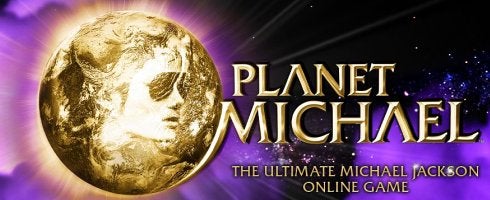 The Estate of Michael Jackson and SEE Virtual Worlds has announced Planet Michael, a massively multiplayer virtual world full of "innovative interactive gaming and social experiences that celebrate Michael Jackson's life as an artist and humanitarian".
According to the press release, it's just the first of a "virtual reality universe of connected planets" tied to licensed franchises
We can't really do this justice ourselves, so here's an excerpt from the press release:
The new planet, currently slated for launch next year, will be an immersive virtual space themed after iconic visuals drawn from Michael's music, his life, and the global issues that concerned him. At its core, Planet Michael is a massive social gaming experience that will allow everyone, from the hardcore fan to the novice, to connect and engage in collaborative in-game activities with people worldwide. Entire continents will be created that will celebrate Michael's unique genius in a way that underscores his place as the greatest artist of all time. Michael's long-time fans will feel at home, as they find themselves in places that seem familiar and yet unknown at the same time, and new generations will discover and experience Michael's life in a way never before imagined.

Planet Michael is one of the first themed planets that SEE Virtual Worlds will publish for the Entropia Universe, a vast dynamic 3D environment created and provided to end users by MindArk PE AB. The Entropia Universe features several existing planets and combines a revolutionary cash economy with cutting-edge graphics. Although Planet Michael is a free-to-download world without monthly subscription fees, the real world in-game economy features gameplay monetization that allows players to take on dozens of different occupations and, in certain instances, contribute to a charitable cause at the same time.
Too...many...jokes.
It's slated to launch in late 2011. Here's the website.