Overwatch 2 is collaborating with One Punch Man, hosting a dating sim, and more in Season 3
Season 3 is going to be packed with content.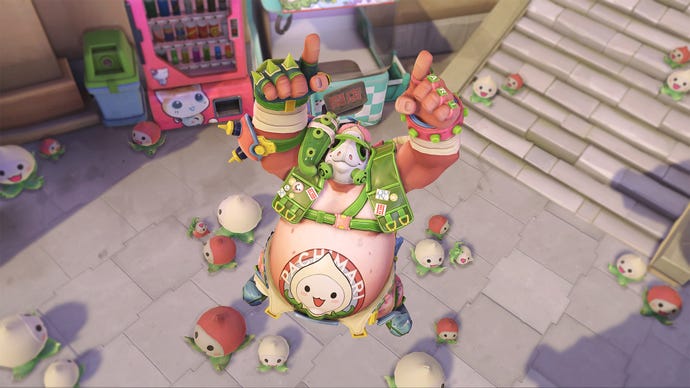 Overwatch 2 is quickly approaching Season 3, and has detailed what to expect of the new season in a new blog post. On top of Asian Mythology-themed skins, Overwatch 2 will also introduce a new map, host a Valentine's Day event, and add an unexpected crossover with One Punch Man.
Take a look at Overwatch 2's Season 3 trailer here.
Overwatch 2 will host its collaboration with One Punch Man, the first ever major IP collaboration for the game, from March 7 to April 6. During this time, One Punch Man themed skins and cosmetics will be introduced to the game, including a Saitama skin for Doomfist, and a legendary skin that players can earn via themed challenges.
On top of this, Overwatch 2 is also gearing up for the pointless holiday that is Valentine's Day next week. The game's Ultimate Valentine's event will kick off on February 14 and run until February 28, introducing a limited-time Hanzo 4v4 game mode, and Support-themed challenges that could see you earning some epic skins.
There'll also be the Loverwatch dating simulator arriving on February 13 (until February 28), which will allow you to engage in a text-based dating sim experience with one of two characters: Mercy or Genji. This runs for about half an hour, and can be accessed from the Loverwatch web client, rather than in-game.
Next up, we'll be in receipt of Overwatch 2's latest map, the Antarctic Peninsula Control map. We got a good look at this last week and how it adds to Mei's backstory, and the map appears to have plenty of sights to see, including an underground drilling station and ice-breaker ship.
What about changes to rewards? Well, Overwatch 2 has said that it'll be giving away more in Season 3 than before, including more rewards for simply logging in and playing the game. Nearly all of the epic and legendary skins from the original Overwatch game, 300 in total, have been added to the Hero Gallery, and are now available to purchase using either Overwatch coins or credits.
On top of this, the price of legendary skins has been lowered from 1900 credits to 1500 credits. There'll also be four earnable skins outside the battle pass, and this season, players will be given the chance to earn additional free cosmetics. And, as if that wasn't a lot as is, the first five tiers of the Season 3 battle pass will be given to players for free just for logging in. Nice.
Last but not least, Season 3 of Overwatch 2 marks the return of PachiMarchi. In a new limited-time game mode named Kill Confirmed, players can earn a new epic skin, PachiMarchi player icons, a weapon charm, and a name card for completing the associated themed challenges.
Overwatch 2's third season is certainly gearing up to be one packed with rewards and events. Is this Blizzard's attempt at making its God-awful in-game monetisation look and feel better? Who knows. Let us know what you think.
Just a few days ago, Overwatch 2 also detailed an update to its Defense Matrix Initiative, explaining the new ways in which it is countering and punishing those who cheat or abuse others in-game.