Microsoft sees exclusive franchise potential in The Outer Worlds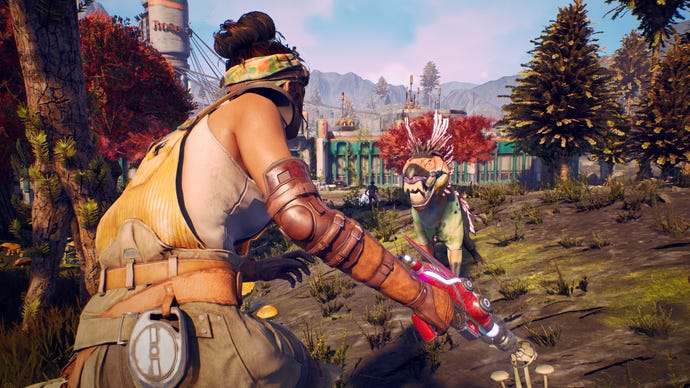 You'll probably need an Xbox-branded ship to travel further into The Outer Worlds.
Obsidian's interstellar RPG is shaping up nicely. But if you were planning on seeing the entire story through without picking up an Xbox, you might want to sit down.
Xbox has been snapping up studios by the shipload in recent years. The Outer Worlds' debut is currently being published by Private Division, Take-Two's indie-ish publishing arm. But Microsoft snapped up Obsidian later last year, adding the RPG veteran to its ballooning first-party lineup.
Not all first-party projects are kept exclusive. Head of Xbox Studios Mike Booty told Game Informer that in some cases, like Minecraft back in 2014, it makes sense to keep the franchise as open and multi-platform as possible.
Not so with Obsidian. With a fresh new universe to explore and exploit, Booty told the outlet that The Outer Worlds is a perfect candidate for exclusivity.
"From what we've seen of Outer Worlds, my hope is that that's something we can build and that it really becomes an enduring franchise and it really starts to grow and we can help expand that," Booty explained.
"I think that it's a great universe they've created and I think about what are the things that you need for a franchise to kind of bear weight? Like what can it withstand? Is it a narrative, is it a set of characters, is it a universe that's big enough that you could start to add onto it?"
Booty later confirmed that the RPG firm is also working on several unannounced Xbox titles.
Like stablemate Psychonauts 2, The Outer Worlds should still touch down on other platforms when it lands this October. But Switch and PS4 players might have to pick up an Xbox if they want to see the rest of the franchise through.
PC players, meanwhile, are probably safe. Microsoft exclusives have a habit of ending up on the Windows Store.