No Man's Sky's latest expedition introduces ridable sandworms
Ride colossal beasts across the desert.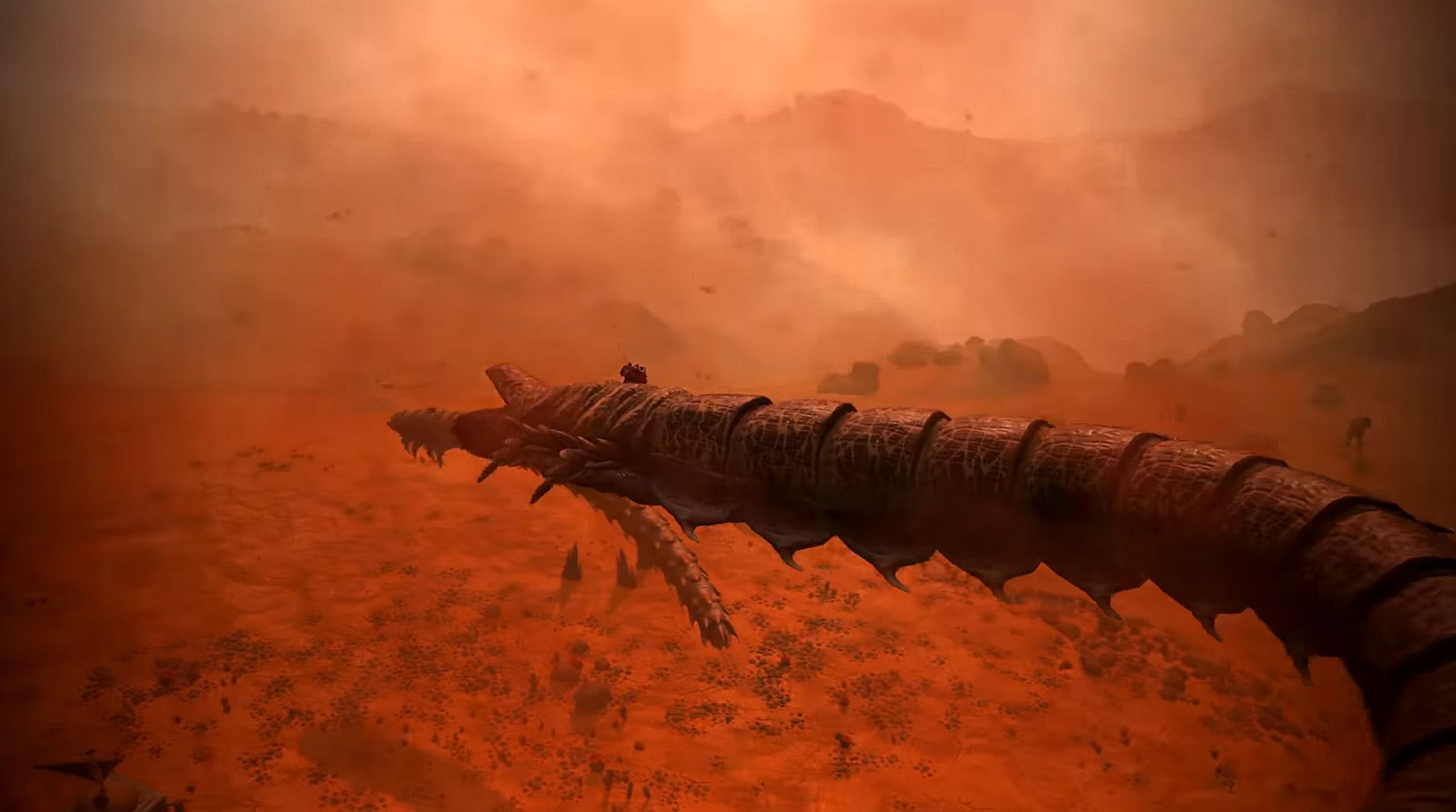 A new seasonal event begins in No Man's Sky today and it's a new expedition.
Expedition Four: Emergence will run over the course of Halloween and is the first expedition to feature a narrative, and is also a mini-update, bringing with it a host of enhancements across the game.
In Expedition Four: Emergence, travelers will find themselves stranded on the planet Wasan, which is prone to dust storms and is infested with Titan Worms. Your job is to locate the Titan Worm impact sites, destroy the Hungering Tendrils, and collect the Vile Spawn that lingers behind.
Across the universe, planets have been blighted by the activity of these Titan Worms. These massive sandworms inhabit deserts and blackout the sun as they arc overhead. They also tend to "defile the terrain" with their cursed dust.
As you cleanse planets of cursed dust and hunt down the Titanic Sandworms, you will "unravel the threads of a dark narrative." Completing the expedition route will reveal the history of a dark cult, and you will confront the Atlas with the evidence you uncover.
Completing phases of the Emergence expedition will also earn you Thematic Rewards which can be redeemed across all of your save games.
You can also earn a rather huge trophy which is an eerie skull that once belonged to a large legless cousin of the titan sandworm. There's also the Flesh Launcher firework launcher which sends out fireworks that explode in a splatter of slime, plasma and wormlets.
Alongside the Expedition, there are also a bunch of improvements and new content to be enjoyed across the game.
This includes more varied sandworms, each enhanced with a variety of new biologies and types. They can now be found with a broader selection of more variants.
Speaking of sandworms, you can now tame and grow a tremendous sandworm companion to feed, pet, and ride. Sounds fun.
Richer particle effects can also be expected, which means that meteors, muzzle flashes, explosions, burrowing fauna dust, billowing smoke and laser impacts can be seen throughout the game thanks to being revamped.
The Ghastly Trail customization will now apply a uniquely organic effect to the Jetpack's exhaust nozzles, ejecting gooey fluids and tiny worms during flight.
The update will release on all platforms today, and the full patch notes are available below.
No Man's Sky 3.70 Patch Notes
Significantly improved sandworm geometry and textures.
Significantly improved sandworm particle effects.
Improved a number of particle effects, including combat frigate weapon flashes, freighter explosions, distant laser impacts, creature digging effects, Sentinel Walker landing effects, meteors, and meteor impacts.
Fixed a rare crash that could occur when retrieving friend details.
Introduced a significant memory optimization.
Fixed a number of memory-related crashes on Xbox Series X.
Fixed a memory-related crash on Xbox Series S.
Fixed an issue that could cause some settlement buildings to lose their construction terminals.
Fixed an issue that could prevent advancement when constructing small settlement buildings.
Fixed an issue that could cause the Multi-Tool to lose upgrades when switching Multi-Tools if the selected next tool was already active.
Fixed an issue that caused movement and combat behavior problems with the patrol drones aboard derelict freighters.
Fixed an issue that could cause Expedition saves to download incorrect data and become corrupt if reloading from the pause menu.
Fixed an issue where some saves would be incorrectly listed as 'Incompatible' if they became corrupted. Corrupted saves such as these are now recovered to the alternative manual/auto slot.
Fixed an issue that could cause save game loss on PC if the game crashed during a save.
Fixed an issue that could cause the game to crash on the frontend if save data had been corrupted.
Fixed a number of snapping issues with sloping roof parts.
Fixed a number of snapping issues that could occur in complex scenes.
Fixed a number of snapping issues related to roof cap and gable parts.
Fixed a visual glitch with the shadows on timber roofs.
Fixed a number of snapping issues with vertical glass tunnels.
Improved snapping for utility parts, including refiners and solar panels.
Fixed an issue that could cause ramps to remove their attached doorways when deleted.
Fixed a collision issue with the shelf panel base parts.
Fixed a number of snapping issues with the freighter corridor and room base parts.
Fixed a number of snapping issues with decorative saloon parts.
The hexagonal table is now correctly grouped with other tables in the build menu.
Improved text descriptions for a number of base parts.
Fixed an issue that could cause particular species of exotic butterfly to fly into the ground.
Fixed a number of control bindings issues for Vive controllers.
Fixed a number of control binding issues when using a DS4 pad to drive Exocraft on Steam.
Fixed an issue where pinned repair instructions could ask for half the necessary requirements to craft products that would be used in the repair.
Fixed an issue that could prevent reward titles that have already been claimed from showing as owned.
Fixed an issue that could prevent the mission to guide players to a settlement from working correctly if they declined several settlements.