Conference report: Nintendo 3DS dated for February 26 in Japan, March in US and EU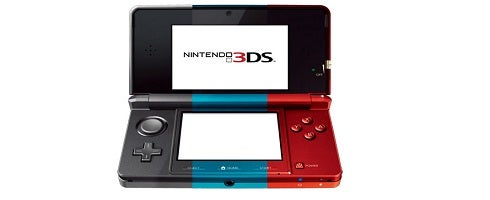 3DS will launch on February 26 in Japan and March in America and Europe, Nintendo said in a Japanese showcase today.
The price given for it was 25,000 yen for Japan. No price was given for America and Europe.
Specific launch plans for both US and EU will be announced "later."
Nintendo will be bundling a 2Gb SD card with the system at launch come February.
Company president Satoru Iwata also confirmed that Game Boy and Game Boy Advance titles will be sold as VC games.
He also said Nintendo will sell "classic games" that are viewable in 3D.
Kicking off its conference by vaunting Pokemon Black and White's success in Japan last week and dating Mistwalker's The Last Story for next January, Nintendo president Satoru Iwata got into the meat: 3DS's launch details.
Iwata told the audience that Nintendo has been pursuing 3D tech with the hope of allowing gamers to move through gaming spaces free at will.
"If you don't have software that makes use of the 3D display, you cannot show the charms," he said.
"If there is no expectation for hardware spread, people will not develop software."
He went on to show screenshots of upcoming games for the console, such as Resident Evil and Metal Gear Solid, before showing a promo movie which featured an augmented reality game.
Knowing Mii, knowing you
Miis were announced for 3DS, and a Mii creation studio was shown during the presentation.
The console allows you to take a picture of your face and adjust it to turn it into a Mii. You can convert it into a QR code which can go onto an SD card to share with other 3DS systems.
Iwata said 180 million Miis have now been made since the feature debuted with Wii in 2006.
He then introduced something known as the Tag Mode Mii Plaza, and explained in detail 3DS's tag functionality, where games can communicate together while the console is in sleep mode.
A light on the upper right of the 3DS will tell you if you have passed a nearby 3DS unit and have shared data.
Namco Bandai then took to the stage for Ridge Racer 3D, with the publisher saying it would like to use tag mode for the title.
Capcom's Yoshinori Ono then showed off Street Fighter IV 3DS, where he explained he wanted to make a game where you can fight anywhere.
You'll be able to use Wi-Fi to receive requests to fight.
Next up was Konami with Love Plus 3D. The guy on stage for the game said he'd like to use tag mode to allow you to tell lies to your girlfriends.
No, we don't get it neither.
3D TV for all
Nintendo also announced a partnership with Japanese TV channel Fuji TV, where it would provide free and daily 3D clips on an experimental basis.
Following the announcement of the launch timing, a video was shown of games for the system including MGS, Zelda: Ocarina of Time, Animal Crossing and more. Watch it below.
Iwata then showed a video of third-party developers who have pledged its support for 3DS, including Kojima Productions, Level 5's Akihiro Hino and Square Enix's Tetsuya Nomura.
Capcom showed its support by announcing two new games: Resident Evil: The Mercenaries, which is separate from Resident Evil: Revelations, and Mega Man Legends 3 Project.
And there we are. Classic titles in 3D, new games and a worldwide 3DS launch next spring.