New Orleans Saints quarterback Drew Brees is coverboy for Madden NFL 11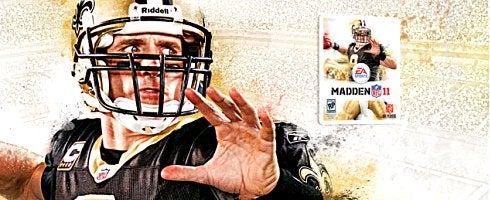 EA announced today that New Orleans Saints quarterback Drew Brees has been chosen by fans to be featured on the cover of Madden NFL 11.
The choice was made through the first-ever online consumer vote for the cover, thanks to Doritos, apparently.
Brees beat out Minnesota Vikings defensive end Jared Allen and Indianapolis Colts wide receiver Reggie Wayne.
"The Madden NFL franchise holds a special place in popular culture and the cover is a coveted position for players all over the league," said New Orleans Saints quarterback Drew Brees. "I'm honored to be the first cover athlete chosen by Madden NFL fans and it's a great way to cap off an amazing year for the Saints and the city of New Orleans."
Drew Brees was named Super Bowl XLIV MVP after leading the New Orleans Saints to their first ever Super Bowl title.
Let's hope he doesn't also become the recipient of the Madden curse, as he's already sustained quite a few injuries already in his career.
Madden NFL 11 will also introduce two new initiatives that further enable fans to influence the game.
Now through April 26, fans have the ability to vote on three match-ups through the Madden NFL website and determine which teams would be featured in the Madden NFL 11 game demo: a Super Bowl rematch, or a replay of one of the Conference Championship games.
During the 2010 NFL Draft, fans will have the opportunity to influence rookie player ratings in Madden NFL 11 via online votes on the Madden NFL website.
Madden NFL 11 will be available August 10 on Xbox 360, PS2, PS3, Wii, and PSP as well as iPod, iPhone and other feature phones.
Check out some of the first shots through here.