Deluge of Madden NFL 11 screens hit the net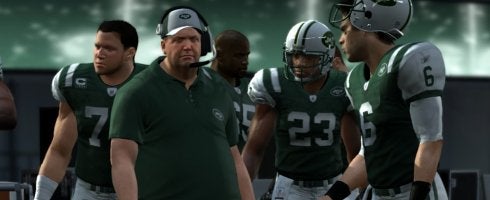 American football may be known as the sport of beer, brats, pretzels, and men smashing their heads into one another, but in the world of videogames, it's associated with EA Sports and the Madden NFL series.
To promote Madden NFL 11, EA Sports released a substantial number of screenshots of the game this week, showing all things offensive, defensive, encroachment, double coverage, and even a couple beer guts.
A demo for the game featuring the Colts vs The Jets, is expected to arrive this month, and while there isn't a confirmed date for it, EA has previous released demos for the series after football team ratings are known, so some speculate the demo will arrive on July 23.
The New Orleans Saints' Drew Brees is the coverboy for the title, and the first trailer for the game can be seen here.
Madden NFL 11 will be available August 10 on Xbox 360, PS2, PS3, Wii, and PSP as well as iPod, iPhone and other mobile phones.
The new screens can be found over on Hooked Gamers.