More prominent industry vets join Tango Gameworks as new mysterious artwork appears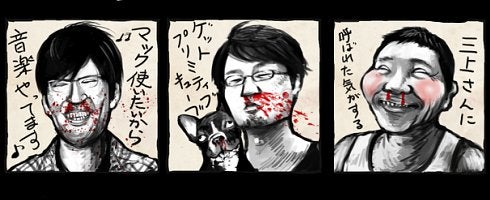 Tango Gameworks has updated its staff page with three additional members joining Shinji Mikami and Ikumi Nakamura, with each one holding previous ties to Capcom, Platinum Games and Clover Studios.
First up is Masafumi Takada, who was hired on as sound director and composer. Takada's credits include Vanquish, Infinite Space, Super Mash Bros. Brawl, No More Heores, God Hand, and Killer 7 just to name a few.
Naoki Kataki, who previously worked as the environment and art director on Okami, Vanquish and the GameCube remake of Resident Evil, has been hired on as the firm's lead art and environment director.
Lastly, and certainly not least, is Shinichiro Ishikawa who was a programmer on Bayonetta, Devil May Cry, Mega Man Legends, Okami, Resident Evil Code: Veronica, Vanquish, Viewtiful Joe, and X-men. His position at Tango is programmer.
The update to the staff page wasn't the only bit of newness - there's also a new screen featuring more mysterious artwork. This time, it's not ants, or a weird groin bowl, but some sort of monster thingie.
Still no word on what the team is working on, but we bet Zenimax knows all about it.
Thanks, Andriasang.