All Mighty No. 9 backers to receive a demo in September on PC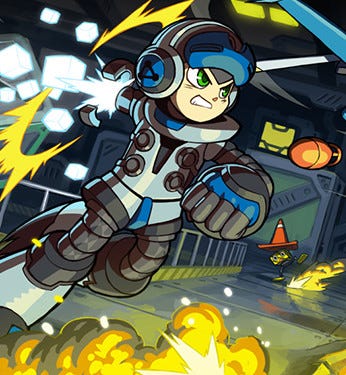 Mighty No. 9 Kickstarter backers will be handed a three-stage demo code on September 15.
Comcept boss Kenji Inafue announced the news at a PAX Prime panel today, also noting the demo will be PC only.
The three demo stages are different the rewards for higher Kickstarter tiers, which means those who pledged more money will still recived extra content.
Backers can find more information on the demo through the Kickstarter page once signed in.
He also said all backers will receive a Steam code next week for Mighty Gunvolt, hinting around that Mighty Gunvolt 2 could be something to expect in the future.
"It's quite likely you would see Mighty Gunvolt 2 before you'd see Mighty Gunvolt 1 on other platforms," he said.
In related news, Azure Striker Gunvolt was released on Steam today.
Comcept announced earlier this month Mighty No. 9 had been delayed into Q1 2016 after originally set for release in April 2015 before being delayed into September.
Thanks, Eurogamer.