Metro Exodus: release date, pre-order, gameplay and more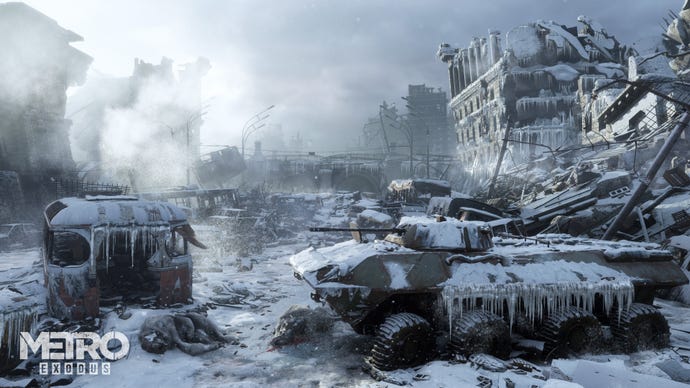 It's not long until Metro Exodus hits the shelves, so let's take a look at what you can expect in the latest title from 4A Games.
Metro Exodus is the latest title in the popular stealth shooter franchise, with an incredible trailer shown at E3 that's generated a lot of hype around it.
Set to be the most gripping and exciting instalment yet, Metro Exodus pairs survival mechanics with immersive stealth gameplay that will keep you on tenterhooks the whole time. We'd recommend playing the game with headphones to get the full experience.
The release date for Metro Exodus was brought forward in December, so it won't be long before you can experience this new adventure for yourself.
Metro Exodus release date
Metro Exodus releases on February 15 for PS4, Xbox One and PC.
Metro Exodus pre-order
There are four versions of Metro Exodus available to pre-order:
Standard Edition (Digital and Physical)
Gold Edition (Digital)
Aurora Limited Edition (Physical copy)
Spartan Collector's Edition
On their respective platforms, both the Standard and the Gold Editions of Metro Exodus come with an Xbox One digital code, a Dynamic PS4 theme, a digital artbook and OST for the PC and physical copies also come with the Creatures of Post-Apocalyptic Russia poster. The Gold Edition also comes with Metro Exodus Expansion Pass.
The Aurora Physical Edition comes with the above, alongside a steel book, The World of Metro art book and a Bespoke Metal Case inspired by The Aurora.
Finally, the Spartan Collector's Edition features a Premium Artyom Resin Statue, Artyom's Memories Postcards, Spartan Order dog tags and patches and bespoke barrel packaging.
There's also the Xbox One X Metro Saga Bundle, which includes a 1TB Xbox One X Console and Metro 2033 Redux, Metro: Last Light Redux and Metro Exodus. The package also comes with a controller and one-month trials to Xbox Game Pass and Xbox Live Gold.
Metro Exodus story
Metro Exodus picks up two years after the events of Metro Last Light in 2036.
You'll be reprising the role of Artyom, following him and his wife Anna as they head east in search of a better life.
Fleeing Moscow is no easy feat as there are all sorts of weird and wonderful creatures - like mutated lobsters - and hostile humans to contend with, as well as a pretty unforgiving landscape. You'll be travelling with the Spartan Rangers as you travel eastward, away from the harsh nuclear winter in the metro onboard a locomotive called the Aurora, your new hub.
Beyond that, we're not sure how Artyom's story will end. What we do know is that the best gameplay features from the previous games have been enhanced, with audio playing a bigger role than ever.
There's still the delicate blend of survival, stealth, horror and first-person shooting in Metro Exodus. It's not a completely open-world game, but there are plenty of non-scripted areas to discover where you'll need to make sure you know your controls off-by-heart to react quickly and effectively.
For more on Metro's history and the politics behind it, check out Kirk's interview with Dmitry Glukhovsky, as well as the three-part video series detailing the making of Metro Exodus.
Metro Exodus gameplay
Kirk was lucky enough to play the Metro Exodus preview, which you can read more about here. While it is undoubtedly easier to play Metro games on the PC, console players can count on getting a refined system for controllers.
Regardless of which platform you're starting on, getting your head around the survival mechanics of Metro games can be a bit challenging and overbearing at times. Some weapons are pneumatic and require you to power them up between use, and you'll frequently need to wipe the blood from your visor if you want to see anything.
There's also a heavier focus on audio in Metro Exodus, a la Hellblade. Whether you're running from a snarling pack of dogs or holding your breath while trying to sneak your way through an area, playing with headphones really immerses you in Metro's frightful world. If it gets too overwhelming, you can always play with your speakers on and hope you can hear something sneaking up on you in time.
The preview showcased three areas: The Volga, The Caspian and the Taiga, each set in a different season. Seasons will influence which enemies you may find and how other NPCs react to the world around them, as well as bringing new factions and hazards to the forefront of the story.
The Caspian Desert shows our protagonist that, since the bombs fell, not everyone was living in abandoned metro tunnels. Drivable vehicles will also be available for the first time, allowing you to bound over the dunes of the desert with ease, further enforcing this new-found freedom the Spartans have longed for.
Metro Exodus photo mode
Yes, there will be a photo mode available in Metro Exodus across all platforms.
Metro Exodus endings
Metro's author, Dmitry Glukhovsky, has kept the ending somewhat vague. Metro 2033 and Last Light both had multiple endings, but it's unclear if there will be one true ending or if the ending could branch off in different ways. We can hope it'll be influenced by in-game decisions like The Witcher 3 and not the pick a colour, any colour approach as seen in Mass Effect.
Metro Exodus weapons
Much like in Red Dead Redemption 2, you'll need to keep your weapons in tip-top condition if you want a fight to swing in your favour. As is the norm in Metro games, there is always the chance your gun will jam at the most inopportune times and you'll need to head to a workbench to clean and maintain your weapons.
Your backpack offers a lot in terms of crafting and inventory management, but the bulk of your weapons maintenance must be carried at workbenches which are spread across the various locations in Metro Exodus.
You'll have to scavenge for materials and crafting what you need, including ammo, to use as currency in Metro Exodus as opposed to solely watching your ammo levels and trading accordingly.
In Metro Exodus, the customisation system has evolved so that you can now customise weapons while out in the field. You'll also be able to take out scopes and other attachments off the weapons you find and attach them to weapons you regularly use, making the gameplay that bit more personal and immersive.