Injustice 2 tramples May NPD charts, poor old Prey not so hot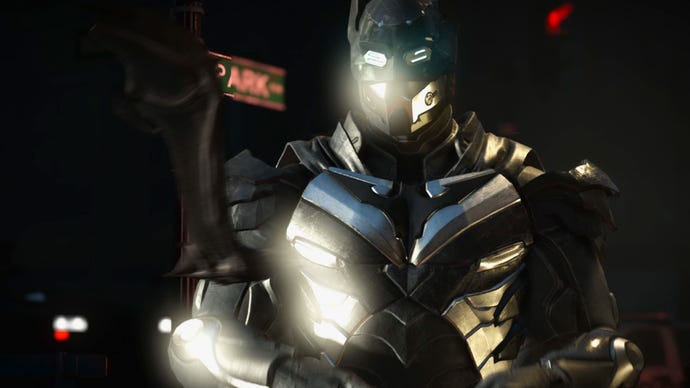 Injustice 2 outdid the new Mario Kart and left Prey in the dust - before Wonder Woman released to rave reviews.
The NPD Group has released its monthly report on US retail spending,and the May 2017 edition contains few surprises.
Injustice 2 did as well on the US charts as it did in the UK, and has already become one of 2017's best-selling games. A nice result for NetherRealm's hefty, polished fighter.
Injustice 2 did the business despite strong competition from Mario Kart 8 DX, the second major first-party release for Switch. The Switch's smaller install base means even Breath of the Wild couldn't take top spot on the charts, and as the console is playing catch-ups to more established hardware that's unlikely to change anytime soon.
Switch did generate some good hardware numbers, though; while PS4 took the crown as the best-selling console of the month, Switch was the "primary catalyst" for a 7% year-on-year increase in total hardware spend.
That's not to say the rest of the hardware scene is looking bad. NPD analyst Mat Piscatella said that the combined install base of PS4 and Xbox One is 29% greater than the previous generation at this point in its life cycle.
While hardware and accessories bumped upwards thanks to Switch, general and software spend fell across the board. To be fair, May 2016 it was a tough month to compare to, with Overwatch, DOOM and Uncharted 4 giving great results.
Software
Injustice 2 and Prey were the only triple-A releases of May 2017, and couldn't perform as well as the big three of May 2016.
We've already mentioned Injustice 2's stellar performance, but Prey doesn't have as pleasant a story to tell. The sci-fi immersive sim came in fifth place, behind the year's old GTA 5 and Nintendo-exclusive The Legend of Zelda: Breath of the Wild. Unless Prey had stacks of digital sales, it looks a bit grim - which is a shame, as it's really good. Never mind Prey; perhaps cult status will give you a long sales tail.
Although the growing current-gen install based, launch of Switch and some top early 2017 releases have cheered everyone up, the fact is that software sales year to date for 2017 are flat against 2016 - no growth at all.
The only other comment the NPD made on software was to say that portable spend rose 10% year-on-year thanks to Fire Emblem Echoes: Shadow of Valentia.
Here's the full top 20 software chart from the May 2017 NPD. No digital sales data was available for titles marked with an asterisk, while Overwatch has two asterisks to indicate Battle.net sales data was unavailable.
Top 20 software May NPD 2017
Injustice 2
Mario Kart 8 Deluxe*
Grand Theft Auto 5
The Legend of Zelda: Breath of the Wild*
Prey*
Tom Clancy's Ghost Recon: Wildlands
Fire Emblem Echoes: Shadow of Valentia*
NBA 2K17
MLB 17: The Show
Overwatch**
Tom Clancy's Rainbow Six: Siege
Horizon Zero Dawn
Call of Duty: Infinite Warfare
Call of Duty: Black Ops III
Mass Effect Andromeda
Farpoint
Battlefield 1
Nier: Automata
Minecraft
FIFA 17
General May NPD 2017 results
Total industry spend fell 11% year-on-year to $542 million.
Driven by Switch sales, hardware rose 7% year-on-year to $147 million.
Console software sales fell 20% year-on-year to $271 million, while PC software plummeted 48% to $12 million.
Accessories climbed by a tiny 1% to $112 million.
May NPD 2017 expanded software top ten charts
No digital sales data is available on titles marked with an asterisk. Overwatch is marked with a double asterisk to indicate digital sales data does not include Battle.net sales.
Xbox One software top ten, May 2017
Injustice 2
Tom Clancy's Ghost Recon: Wildlands
Prey*
Grand Theft Auto V
Overwatch**
Forza Horizon 3
NBA 2K 17
Mass Effect: Andromeda
Call of Duty: Infinite Warfare
Tom Clancy's Rainbow Six: Siege
PS4 software top ten, May 2017
Injustice 2
MLB 17: The Show
Prey
Grand Theft Auto V
Horizon Zero Dawn
Tom Clancy's Ghost Recon: Wildlands
Farpoint
NBA 2K17
Overwatch
Nier: Automata
Switch top ten, May 2017
Mario Kart 8 Deluxe*
The Legend of Zelda: Breath of the Wild*
Ultra Street Fighter II: The Final Challengers*
Disgaea 5 Complete*
1-2 Switch*
Lego City: Undercover
Puyo Puyo Tetris
Super Bomberman R*
Just Dance 2017*
The Binding of Isaac: Afterbirth+
Portable (3DS and Vita) top ten, May 2017
Fire Emblem Echoes: Shadow of Valentia
Pokemon Sun
Pokemon Moon
Super Mario Maker
Mario Kart 7
Mario Sports Superstars
Super Smash Bros.
Poochy and Yoshi's Wooly World
The Legend of Zelda: Ocarina of Time 3D
Super Mario 3D Land
2017 year to date top ten, all formats
Tom Clancy's Ghost Recon: Wildlands
For Honor
The Legend of Zelda: Breath of the Wild*
Horizon Zero Dawn
Grand Theft Auto V
Mass Effect: Andromeda
Resident Evil 7: Biohazard
NBA 2K17
Injustice 2
Call of Duty: Infinite Warfare
Top ten for 12 month period through May 2017
Call of Duty: Infinite Warfare
Battlefield 1
NBA 2K17
Madden NFL 17
Grand Theft Auto V
Overwatch**
FIFA 17
Tom Clancy's Ghost Recon: Wildlands
Final Fantasy XV
For Honor