Mario Kart 8 Deluxe, Persona 5 top April NPD, Black Ops 2 outsells Call of Duty: Infinite Warfare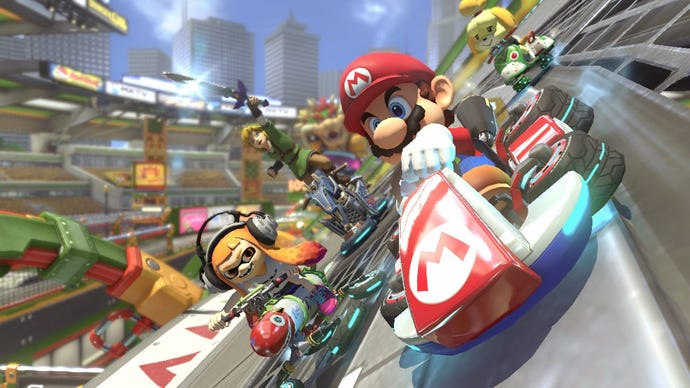 The April NPD is in, and there's a lot to celebrate.
As previously reported, Mario Kart 8 Deluxe was the bestselling game in the US in April, according to the NPD's latest monthly report. The company ranks Mario Kart as the all-time best-selling racing franchise in the US.
This is excellent news for Nintendo, as it proves the new console isn't a one hit wonder - although The Legend of Zelda: Breath of the Wild, the erstwhile one hit, also sold gangbusters this month. Switch was the bestselling hardware of the month with over 280,000 sales, too.
The console's launch has been great for the wider industry, as well. With this month's 10% year-on-year increase in total industry spend, we've enjoyed two consecutive months of year-on-year growth - a performance unequalled since November 2015.
According to the NPD, Switch's hardware performance saw the highest April hardware dollar sales figure since 2011.
Nintendo's continued momentum could mean a great deal for retailers and the traditional games business; market growth helps everyone, and a third horse in the hardware race isn't a bad thing at all.
April NPD 2017 software charts
Persona 5 came in second behind Mario Kart 8 Deluxe, and had "the strongest debut month for any title in Persona franchise history, with packaged dollar sales five times that of the previous best-selling debut, Shin Megami Tensei: Persona 4," according to NPD analyst Mat Piscatella. Reaching the second slot is a remarkable feat for an exclusive, let alone a hardcore 200 hour JRPG. Nice one, Atlus and Sega.
The other item that has everyone talking this week is Call of Duty: Black Ops 2, a game from 2012, charting one cheeky slot above last year's Infinite Warfare. It's not unusual for a Call of Duty game to chart a full year or even 18 months after release, but this is a bit extreme. The phenomenon is easily explained; Black Ops 2 recently went backwards compatible, so a bunch of Xbox One owners have picked up the Xbox 360 release. It's just funny and a bit sad for Activision and Infinity Ward - that more people wanted to play a 2012 game last month than the latest effort.
The rest of the chart is mostly business as usual, stacked with old favourites - although it's nice to see the excellent Nier Automata holding on.
Here's the full top 20 combined PC and consoles sales chart by revenue for April 2017:
Mario Kart 8 Deluxe (no digital sales included)
Persona 5 (no digital sales included)
The Legend of Zelda: Breath of the Wild*
MLB 17: The Show
Tom Clancy's Ghost Recon: Wildlands
Grand Theft Auto 5
Mass Effect: Andromeda
NBA 2K17
Overwatch (no PC digital sales included)
Call of Duty: Black Ops 2
Call of Duty: Infinite Warfare
Horizon: Zero Dawn
Lego City Undercover
Kingdom Hearts HD 1.5 + 2.5 Remix
Lego Worlds
Tom Clancy's Rainbow Six: Siege
Battlefield 1
For Honor
Nier: Automata
Minecraft
Hardware and general April NPD results
Total industry spend in the US for April 2017 was $636 million, up 10% from $577 million in April 2016.
By sector, hardware jumped 37% to $195 million. Switch was the bestseller, as already mentioned, but the NES Classic came in second. It's hard to find either system in shops at the moment, although at least the Switch hasn't been cancelled for no good reason.
Accessories increased 4% to $125 million, and that's down to the Switch, too: the Pro Controller was the top selling peripheral.
In software, console sales grew 6% to $304 million, but PC software fell 57% to $11 million. Unsurprising in a month where single-platform exclusives were the major driving forces.
As ever, remember that while the NPD is expanding its scope to include some sources of digital sales, it still can't account for a significant slice of total industry revenue, such as subscriptions, microtransactions, rentals, used game sales and more.
Further software charts - April 2017 NPD
PS4
Persona 5* (no digital sales included)
MLB 17: The Show
Tom Clancy's Ghost Recon: Wildlands
Horizon Zero Dawn
Grand Theft Auto 5
Kingdom Hearts HD 1.5 + 2.5 Remix
Mass Effect: Andromeda
NBA 2K17
Call of Duty: Infinite Warfare
Overwatch
Switch (no digital sales included)
Mario Kart 8 Deluxe
The Legend of Zelda: Breath of the Wild
Lego City Undercover
1-2 Switch
Puyo Puyo Tetris
Super Bomberman R
The Binding of Isaac Afterbirth+
Just Dance 2017
Skylanders Imgainators
Xbox One
Tom Clancy's Ghost Recon Wildlands
Mass Effect: Andromeda
Grand Theft Auto 5
Overwatch
Forza Horizon 3
NBA 2K17
Call of Duty: Infinite Warfare
Lego Worlds
Tom Clancy's Rainbow Six: Siege
For Honor
Portables (3DS, Vita)
Mario Sports Superstars
Pokémon Sun
Pokémon Moon
Super Mario Maker
Poochy and Yoshi's Wooly World
Super Smash Bros.
Mario Kart 7
The Legend of Zelda: Ocarina of Time 3D
Super Mario 3D Land
New Super Mario Bros. 2
Top selling games of 2017 through April - all formats
Tom Clancy's Ghost Recon: Wildlands
For Honor
The Legend of Zelda: Breath of the Wild
Horizon Zero Dawn
Mass Effect: Andromeda
Resident Evil 7: Biohazard
Grand Theft Auto V
NBA 2K17
Call of Duty: Infinite Warfare
MLB 17: The Show