Hey, you got your "PS3" in my Mass Effect 2 source code! (Updated)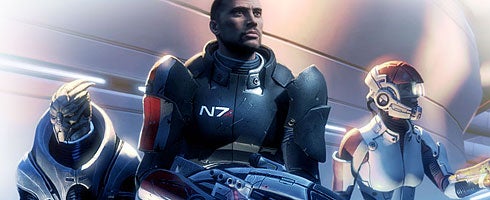 Update: BioWare's yanked PS3 players hopes back down to earth, saying that "the Unreal Engine is cross platform, hence the PS3 code. This was brought up back in Mass Effect 1 days as well." Thanks, Soong.
Original Story: Shepard and co. may be trading high fives and somewhat suggestive ass-slaps with Master Chief in the locker room right now, but a few lines of Mass Effect 2's source code point to a potential PS3 version of the spacefaring sequel.
Discovered by PushSquare, the cracked PC source code reads:
[SFXGame.BioSFHandler_CharacterR?ecord2]
m_nMaxRenegade=1900
m_nMaxParagon=1957
m_srXPFormat=340881
m_srSpendTalentPointsMessageXBox?=348754
m_srParagonRenegadeMessageXBox=3?48755
m_srSpendTalentPointsMessagePC=3?48753
m_srParagonRenegadeMessagePC=348?755
m_srSpendTalentPointsMessagePS3=?348755
m_srParagonRenegadeMessagePS3=15?3007
So, is it concrete evidence or a cruel joke? Our guess: it's somewhere in the middle. Does a PS3 version of Mass Effect 2 exist right now? Maybe. Maybe not. Did it exist at some point? Almost certainly. Previous "whoops" moments from BioWare lend credence to this idea.
We'll shoot an email in BioWare's direction and find out what's what. Well, just so long as it doesn't get eaten by their notoriously spotty spam filter.