Genshin Impact expansion brings the Inazuma area to the game on July 21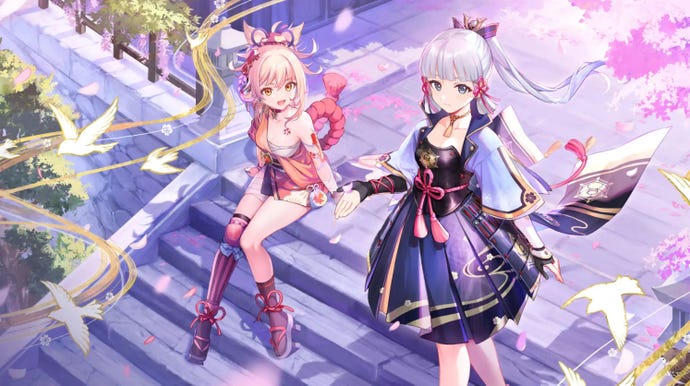 Later this month, an expansion to Genshin Impact will be released and it adds an entirely new area to the game.
Genshin Impact Version 2.0 will be released on July 21 and along with the addition of the Inazuma area, it includes three new playable characters, cross-progression between platforms, additional Serenitea Pot functions, and more.
With the update, you can also expect enhanced character shading and Haptic Feedback support for the PS5 version.
Inazuma will be the third of the seven major cities to be brought to the game, and it is located across the sea. Unlike Mondstadt and Liyue, the area is surrounded by the sea on all sides and consists of six main islands. This area is ruled by the ElectroArchon and features completely different cultures, creatures, and mysteries.
Among the various new characters of Inazuma, Version 2.0 will introduce three of them as new playable characters. One of the new characters is Kamisato Ayaka, the daughter of the Yashiro Commission's Kamisato Clan, who should be familiar to players since closed beta testing. The character will be added as a five-star Cryo sword user.
Yoimiya is the other five-star character joining the game, and she's a Pyro archer and an expert in fireworks. The last character, Sayu is a new four-star ninja character who wields an Anemo Visionanda giant claymore bigger than herself.
With the expansion, you can also expect new Boss Enemies and loot. The Hypostasis family will see a new Pyro member joining -the Pyro Hypostasis. Another new boss, the Perpetual Mechanical Array which seems to have some kind of connection with the Ruin Guards in Mondstadt and Liyue will also appear in Inazuma.
After its debut in Version 1.6, Maguu Kenki will also be found as a World Boss and a source for Character Level-Up Materials in Inazuma.
You can check out new screens for the update below.
The game is available for download on PS4 and PS5 from the PlayStation Store, on Android from Google Play, on iOS from the App Store, and on PC from Epic Games Store or the Genshin Impact official website.