Fortnite: Season 2 - Where to find Kingsman umbrellas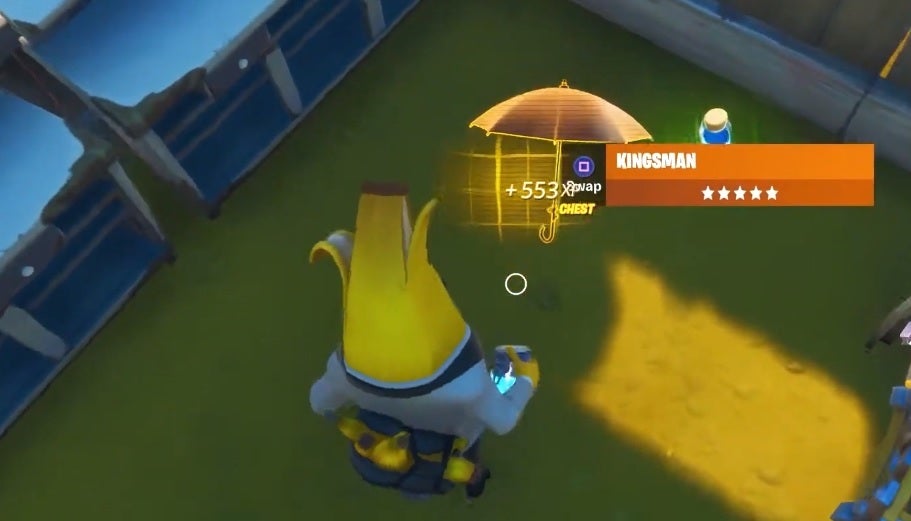 You'll need to grab a Kingsman brolly and shield yourself from damage in this week's Fortnite challenge.
Bulletproof Kingsman umbrellas were recently added to Fortnite and this week, you'll need to deflect 200 damage by using one. They are a fairly common drop and you're more likely to find them in Henchmen areas like The Agency or The Yacht.
You can find Kingsman umbrellas in chests, particularly blue ones, though they can appear as floor drops in Henchman areas. You can also charge up an attack using the umbrella as well as protecting yourself, so it's worth picking one up if you find them.
Block Damage with a Kingsman
When you pick up a Kingsman, you'll be able to deploy it and use it as a shield, dodge with it and use charge to attack opponents. To complete this challenge, you'll need to block 200 damage from opponents which will be easier if you're facing the likes of a shotgun or a sniper that deal immediate high damage.
Of course, you'll only be protected from the front, so be mindful of your surroundings. They can only take so much damage, so weigh up whether you'd rather a longer stint with an opponent armed with an assault rifle or a short, risky 1v1 with a shotgun.
The Deadpool skin is now available for Battle Pass owners and you can follow all the latest Deadpool challenges here.
You can check our Henchman challenge guide here, which tells you where to find Henchmen, bosses and how to open ID Scanner doors and chests. You can also check out our guides on where to find Lockie's Lighthouse, Apres Ski and Mount Kay, where to find secret passages, Shadow safe houses and how to visit Coral Cove, Stack Shack and Crash Site without swimming in a single match.