Fortnite's Loot Lake event is happening today - watch what happens here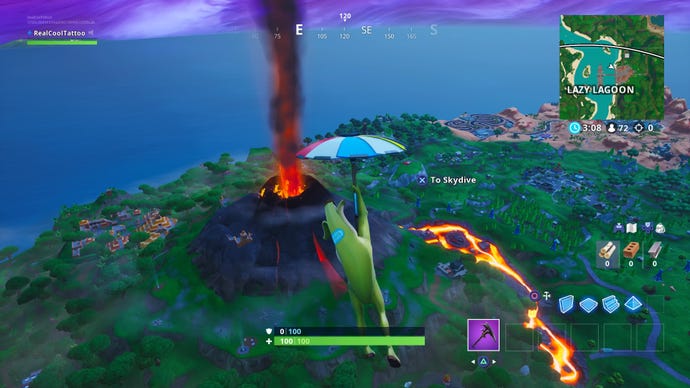 As this Fortnite season comes to a close, things are hotting up around the volcano and it all culminates today At Loot Lake, the Nexus Event tasked players with unlocking runes disappearing and reappearing around the map.
Over the past few days, these mysterious runes have been converging on Loot Lake around the metal structure at its centre, with the monitors in surrounding buildings showing images of vaulted weapons and items like the Drum Gun and Tactical SMG.
This fuelled speculation that we'll be able to vote on an item to bring back from the vault, which was all but confirmed by leaked assets in the most recent Fortnite patch.
Fortnite Loot Lake Unvaulting Event
As of today, May 4, all of the runes have been unlocked, and a door has appeared. All will be revealed when the event kicks off at 12pm PDT, 3pm EDT, 8pm BST around Loot Lake.
You can watch it all unfold right here through Ali-A's stream or hit up your favorite Fortnite streamer on Twitch.
A recap of what has led up to today is below.
Fortnite Volcano Eruption
At 5PM GMT on May 1, the final rune flickered at Loot Lake and reappeared above high above the mouth of the volcano.
After a moment of calm, tremors started and the lava inside started to bubble.
As the tremors intensified and the volcano began to flash, the community started to feed the volcano materials until the rune vanished and reappeared at Salty Springs.
With the whole map now shaking, a bar in the middle of the rune seems to be slowing filled up, with players speculating that the volcano will erupt when it reaches its peak.
Interestingly, it looks like the event bugged out a bit, with the rune disappearing from above the volcano too quickly. After briefly going missing all together, the rune went and hid behind some trees in Salty Springs - which community members helpfully pointed out is the 0 coordinate on the compass.
The meter is still filling up however, so you can still contribute to the event by throwing materials and ammo into the volcano!
So we are doing something?

Throw stuff in the volcano so the green will rise!

Something will happen when the green is all the way up! pic.twitter.com/1BBB2NFnue

— FortTory - Fortnite leaks & news (@FortTory) May 1, 2019
It remains to be seen what will actually happen when the big top blows, but the hottest tips are that Titled Towers and Retail Row are going to be completely destroyed and the Dragon Eggs around the throne in the heart of the volcano will hatch.
For more leaks and rumours on what's going to happen in Fortnite Season 9, take a look at our full page.