Final Fantasy 16 had a helping hand from PlatinumGames and the team behind Kingdom Hearts
Some strong pedigree behind the upcoming JRPG.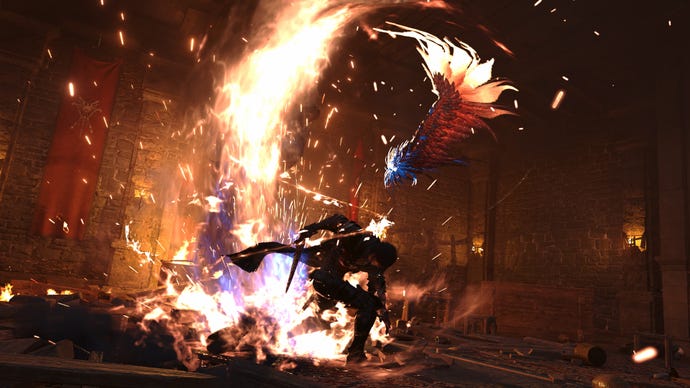 It turns out that Final Fantasy 16 got a helping hand from both PlatinumGames and the studio behind Kingdom Hearts during its development.
Final Fantasy 16 is obviously leaning incredibly hard into the action genre, which was no surprise when it was revealed that Devil May Cry 5 designer Ryota Suzuki was on combat direction duties. Now, as part of a pre-launch celebration stream for Final Fantasy 16, it's been revealed that both PlatinumGames and the team that works on Kingdom Hearts took part in the development process for the latest entry in the JPRG series.
PlatinumGames president and CEO Atsushi Inaba shared a video message as part of the live stream, saying, "PlatinumGames was graced with the opportunity to develop a part of Final Fantasy 16. We'd never had an experience to work on a title in this manner, so it certainly took us by surprise when we were first approached. But the development staff, myself included, were all extremely excited for this opportunity, saying things like 'it's the Final Fantasy' and 'we'll never get another chance to work on Final Fantasy'. So we gladly accepted this opportunity and made it happen."
Inaba also shared that Takahisa Taura, director of Astral Chain and designer on Nier: Automata, "led the development staff and the team on the PlatinumGames side."
As well as this, Kingdom Hearts 4 co-director Tai Yasue also shared a video message talking about how his team was involved, saying, "I'm happy to announce that, in fact, the Kingdom Hearts development team had a part in developing Final Fantasy 16. We joined forces on the battles and such, but to be honest it came as a surprise when the idea was initially brought to us… I mean, even if it's coming from Naoki Yoshida, the man with an asteroid named after him, we were thinking about politely declining.
"That being said, as we got to know more about the game's plan and story, the entire team wanted to make this work, no matter what. Although it was a wild undertaking, there was ultimately something to gain through its development."
Producer Naoki Yoshida noted during the stream he couldn't share which specific parts of the game both studios worked on, but once the game is actually out he will share who worked on what.
Final Fantasy 16 is finally almost out (June 22, to be precise), but you can already try it out with a two hour long demo that just came out today.