Final Fantasy 15's Stadia-Exclusive Content Looks Rough as Hell
Of monster trucks and men.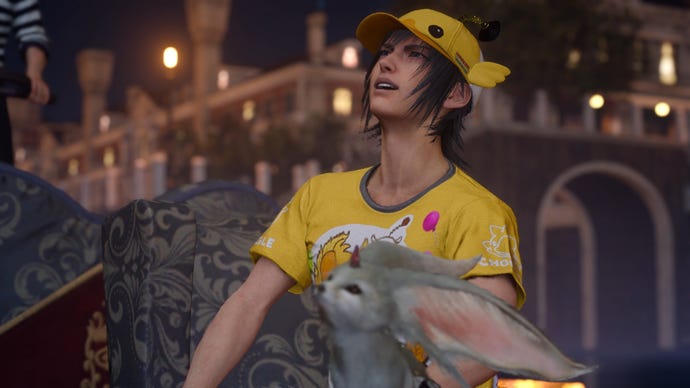 This article first appeared on USgamer, a partner publication of VG247. Some content, such as this article, has been migrated to VG247 for posterity after USgamer's closure - but it has not been edited or further vetted by the VG247 team.
You'd be forgiven for forgetting that Final Fantasy 15 has exclusive content only available for Google Stadia. I have just now discovered this exclusive content for Google's platform, and it's... something.
The tweet thread that starts out below has something magical about it. It's like watching a car crash unfold. Literally, because all the monster truck version of Final Fantasy 15's Regalia does is crash into things over and over again.
noctis r u ok#FinalFantasyXV #crazychallenges #Stadia pic.twitter.com/iBmz2ms81m

- Noah Sanchez (@realnoahsan) March 8, 2020
If you thought the monster truck mode above was bad, wait until you see the mode below. Noctis has to fly around the map in the airship version of the Regalia, collecting odds and ends for Cindy back at her garage. These odds and ends are vehicles and evil Empire troops, however.
Up next is this flying challenge where you have to fly the Regalia "Type-F" and collect tons of cars and soldiers with your ship for points before heading to the finish line. This is... um pic.twitter.com/RSFvyTSMOB

- Noah Sanchez (@realnoahsan) March 8, 2020
I need to know how this content came to be. Firstly, how is there still new content for Final Fantasy 15 being made in 2020, and secondly, who over at Square Enix decided that this is the content that would entice Google Stadia owners to buy the game. There are some things that I am simply destined to never know.
Here's a look at Noctis emptying all his trash, I mean prizes onto the Hammerhead base! Cid & Cindy didn't even bat an eye. Noct left before they could say anything! (Do you notice him flying away at the end )#FinalFantasyXV #Stadia #CrazyChallenges pic.twitter.com/M21UD4Utck

- Noah Sanchez (@realnoahsan) March 8, 2020
Well, that was all a bit much. In other Final Fantasy news, there's now barely a month until Final Fantasy 7 Remake launches on April 10, 2020. Hopefully it'll be a little better than what's shown off here.