EyePet - 15-minute play movie and photos of final version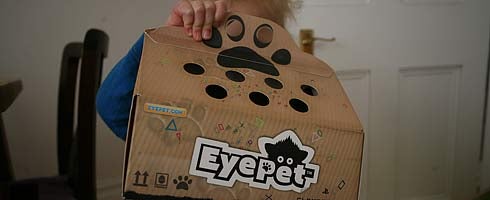 A final version of PlayStation Eye game EyePet turned up this morning in an amazing expanding pop-up box thing containing the camera, final code and the little paw pad used to control objects on the screen.
I filmed myself playing it with my daughter, with support from my twin sons, for about 15 minutes - get the movie and photos of the pack after the break.
You'll see the game show you how to set up your room, fix the lighting, how to position the camera, and so on. You'll also here me say, "Come on Mr Egg." This isn't usual. The video shows the first stages of your little monkey's life, with you hatching him, warming him up, giving him a name and helping him bounce around on a trampoline.
To be honest, it's the cutest game in the world. Ever. Hit the link to see why.