Everything you ever wanted to know about the CA SCOTUS decision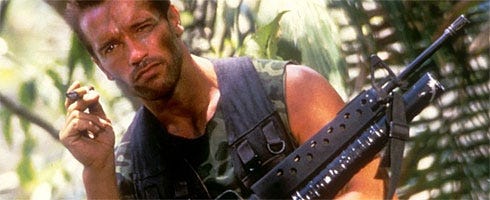 The SCOTUS blog has posted up a giant preview of the arguments we can expect from both sides of the Schwarzenegger v. Entertainment Merchants Association review before the Supreme Court on November 2.
See, Ted? Maybe you should say things the MGP can take "out of context" more often.
The post should tell you everything you need to know about the imminent ruling, which, if passed, will make it illegal to sell mature-rated games to minors in California.
CA governor Schwarzenegger has already tried and failed to get this through the Court, which chucked it out previously based on the fact that it's obviously unconstitutional.
GamePolitics describes the update as a "great read". We're going to completely disagree with that on common sense grounds, but what the hey. Check this out:
Discussing whether violent video games deserve any First Amendment shield, the state brief contended that — for minors — there is no real difference between "offensively violent" expression and "sexually explicit material." Thus, the state makes its argument for extending the Ginsberg flexible standard for minors' access to expression from obscenity to violence. A strict scrutiny standard for evaluating expression, the state brief asserted, should be reserved for use in evaluating adults' access to "a robust marketplace of ideas" that is not appropriate for children.
Yeah? Knock yourself out.