Elden Ring retains its crown, Switch and PlayStation 5 still selling well - June NPD
Elden Ring remains the best-selling game of 2022 year to date.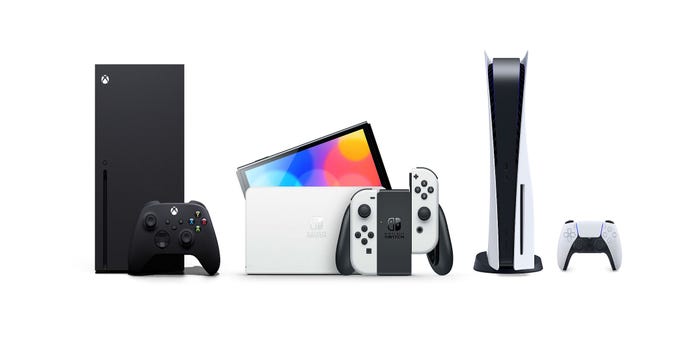 The NPD Group has released its June 2022 report covering video game hardware, software, and accessory sales in the US.
According to the NPD, total videogame industry spending declined 11% year-over-year (yoy) to $4.3 billion despite growth in subscription spending. Year-to-date spending declined 10% to $26.3 billion compared to June 2021.
For the month of June, hardware spending fell 8% yoy to $371 million, and console spending reached $2.1 billion, a 9% yoy decline.
PlayStation 5 generated the highest dollar sales for the first half of the year and for June, with Switch leading in both periods in unit sales.
June PlayStation 5 dollar sales experienced double-digit percentage growth when compared to a year ago.
Elden Ring was once again the best-selling game of the month on the software chart, and remains the best-selling game of 2022 year-to-date. Elden Ring has placed first in dollar sales in four of its first five months in market.
April's number one title, LEGO Star Wars: The Skywalker Saga, was once again the second best-seller for the month, followed by Overwatch which returned to the chart for the first time since October 2019. Its reentry is attributed to the release of the Overwatch 2 beta.
F1 2022 debuted in fourth place, followed by Call of Duty Vanguard, just one of four Call of Duty titles sitting in the top 10.
Final Fantasy 7: Remake was the ninth best-selling game of June 2022, which is a significant jump after placing 159th in May. The rise is attributed to Square Enix's promotional events leading into the Final Fantasy 7 25th anniversary.
Have a look at the best-selling games for June below, courtesy of the NPD's Mat Piscatella. Best-selling games per platform are at the bottom.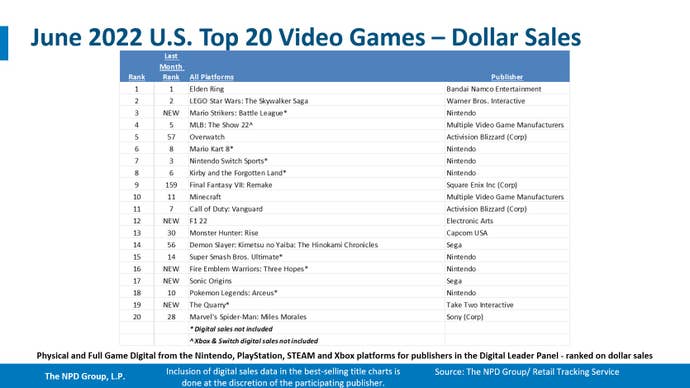 Mobile sales were sluggish in June and spending was down 10.7% yoy compared to 12.6% in May. The decline was largely driven by Google Play, while Apple's App Store saw minimal growth at 0.16%.
Blizzard's Diablo Immortal charted in on the top 10 by revenue for both iOS and Android.
The top 10 earning mobile games for June 2022 were: Candy Crush Saga, Roblox, Pokemon Go, Coin Master, Evony: The King's Return, Royal Match, Diablo Immortal, Bingo Blitz, State of Survival: Zombie War, and Clash of Clans.
With accessories, June spending fell 15% yoy to $176 million with year-to-date spending declining by 14% yoy to $1.1 billion.
PlayStation 5's DualSense Wireless Controller Midnight Black was the best-selling accessory for the month. At the same time, the Xbox Elite Series 2 Wireless Controller led all accessories in year-to-date dollar sales.